Yg ni prequel untuk movie baru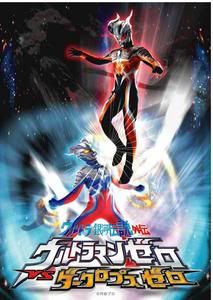 [spoiler]
Google translate Japan> English
Related Information:
Original DVD film
"Legend of Zero Gaiden Ultra VS Ultra Galaxy Dakuropusuzero"
STAGE Ⅰ "cosmic conflict" was released November 26
STAGE Ⅱ "Zero Fantastic Voyage" was released December 22
Leading to grand prologue movie work?
Give in completely new? Ultra zero? Original story
Work appeared in the original DVD! !
December 2009 opening of the movie Legend Ultra Galaxy Monster Battle: Ultra THE MOVIE 』debuted at zero? A new adventure is a very popular zero Ultraman Ultra Hero No. 1 now decided that the original DVD release as a work in two volumes. That's Ultraman [Zero Gaiden Legend 』is Dakuropusuzero Ultra Galaxy vs.
Ultraman 45th anniversary film series will go live on December 23 Decisive Battle [Zero Ultraman THE MOVIE! Burial 』Galactic Empire! This prologue will be released as the DVD is a completely new and Urutorahirosutori Ultraman hero to zero. Also, TV series and was also active in theater work, use Monster "Ray" and spacecraft Supesupendoragon boss "Hyuga" appeared in the story also highlights the important 役回Ri! "Monster Battle" zero Ultraman character and charm you can enjoy a series of action drama and story telling is what we all expect is a core user base of both children and the main target.
2 Volumes / 3,990 yen each (tax included) / BCBS-3949 (first Volume), 3950 (Book 2)
Volume 1 first: this title will be 25 minutes + 15 minutes will benefit video / single-sided single-layer /
Dolby (Stereo) / 16:9 (Squeeze) / Vista Size /
Every inclusion benefits ☆: Work description
Image Award every ☆: Making of PV Nonteroppuendingu Other
※ Product specifications are subject to change is scheduled.
[Cast]
Ray: South Shota
Hyuga: Konishi Hiroyuki
Ultra Zero Voice: Mamoru Miyano
[Staff]
Producer: Oooka Shiniti
Oversees Producer: Masahiro Kakureda
Planning: Okazaki Satoshi Hamada Kenzi
Producer: Shibuya Yasuhiro 仲吉 治人
Writer: Araki Norikazu
Director: Hi can be kept
(Production: Tsuburaya Productions Release vendors: Bandai)
© Tsuburaya Pro[/spoiler]
Lagi gambar Dvd Gaiden
[spoiler]
[/spoiler]