ACT FOUR
INT. EMPIRE STATES BUILDING - MAIN - NIGHT
Michael and Dean enter, they keep their guns trained ahead of them. Michael presses the button for the elevator.
INT. HIDING PLACE - NIGHT - FLASH BACK
Pre-Teen Jeff and Teenage Michael watch the television, suddenly the wall bursts open. A SHADOWED FIGURE nears them. Teenage Michael hurries for his gun.
The shadow closes in on Pre-Teen Jeff cowering in the back. Teenage Michael fires! The figure disappears. Teenage Michael watches over Pre-Teen Jeff.
TEENAGE MICHAEL
Thereís some things you need to know.
INT. EMPIRE STATES BUILDING - ELEVATOR - NIGHT
Michael and Dean ride the elevator to the top, staring at the numbers.
FLASH CUT TO:
MONTAGE:
- Teenage Michael showing Pre-Teen Jeff how to fight, clean guns and target practicing.
- Teenage Michael and Teenage Jeff hunt a ghost through a ghost ship, the Yeti in Alaska, and the ghost of an Indian on a reserve.
INT. EMPIRE STATES BUILDING - ELEVATOR - NIGHT
The elevator doors open, Michael and Dean leave.
INT. UNDERGROUND TUNNELS - NIGHT
Lauren nears the cage, she looks in. Sam stands besides her. Inside DANIEL, mid twenties, looks up and spots them. He jumps to his feet and runs over.
LAUREN
Weíll get you out of here.
EXT. EMPIRE STATES BUILDING - TOP - NIGHT
Abaddon watches over the city below, he turns and looks around sensing the hunters.
Michael and Dean make their way through, suddenly a spark of electricity erupts behind them. They spin around, guns aimed. Too late. Dean is sent hurtling back!
Michael stares Abaddon down, Abaddon smirks.
ABADDON
Iíve got to hand it to you Michael, you did a fine job delivering Dean Winchester to us.
Michael narrows his eyes, tense. Dean withers on the ground below, defeated.
INT. UNDERGROUND TUNNELS - NIGHT
Sam and Lauren continue to sneak past the caged cells. Suddenly a black robed figure appears behind them. More black robed come into focus as they step out from the darkness. Sam holds Lauren tight as Ellis closes in.
EXT. EMPIRE STATES BUILDING - TOP - NIGHT
Michael fires off rounds of bullets towards Abaddon. Abaddon dodges each hit. Dean gets up, locks eyes with Michael and runs off. Abaddon strikes an unsuspecting Michael to the ground.
INT. UNDERGROUND TUNNELS - NIGHT
The black robed hold tightly to Sam and Lauren. Ellis circles around them.
ELLIS
Sammy, Sam, Sam, what are we ever going to do with you? You keep on switching sides, donít you? One second you're ignorant, the next you're normal, now what are you?
SAM
Iím free.
ELLIS
Youíre doing yourself and this world a great dis-service you know, why canít be more like Alex? Now, heís cool! But you, are you bipolar or something?
Sam grits his teeth, struggles to get free.
ELLIS
Whoah, easy, easy. It was just a question. No need to get all hostile. Weíre all family here right? Well, I mean youíre above us, but you waste everything thatís been given to you. You deny who you really are.
SAM
Iím not Samuel!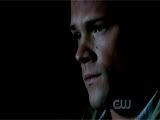 ELLIS
Yeah, okay. If you havenít noticed, the devil is winning. His son is the President for Christís sake! How much better can it get?
SAM
What do you really think youíll get from all this?
ELLIS
What do I stand to gain? He will come back to judge the living and the dead. Those who align themselves with this worldís rightful owner will be revered on high while you mud monkeys become our servants.
SAM
Donít you get it? Heís using you! The devil hates mankind, no exceptions. Youíre signing your death sentence!
Ellis, boiling with anger, punches Sam. Wipes his hair back and motions to the black robed figures.
ELLIS
Lock him up with the others. Tell Reynolds we have his half-brother.
The black robed forcefully drag Sam and Lauren away. Sam BREAKS FREE from the hold! He knocks them out.
EXT. EMPIRE STATES BUILDING - TOP - NIGHT
Abaddon hunches over Michael, hands pressed in towards his throat. Michael struggles against his grip.
ABADDON
After all these years, youíre still just a child crying about who killed Mommy and Daddy. Be careful who you trust; maybe then they wonít leave you for dead.
Michael squirms, fighting to get free.
INT. HUNTERS BAR - NIGHT - FLASH BACK
Michael relaxes at a hunter's bar talking with a group of hunters, his eyes catch Kate's. He wander over towards her. In the back, Jeff plays at a pool table. Michael extends his hand to Kate.
MICHAEL
Michael, Michael Miller.
Kate takes it.
KATE
Kate.
They exchange smiles, connecting.
EXT. EMPIRE STATES BUILDING - TOP - NIGHT
Michael reaches for the gun.
MICHAEL
I know who my friends are.
Michael grabs it, aims and fires. Abaddon explodes in a debris of electricity. The gun shot echoes.
INT. BLACKMOORE HOTEL - MICHAELíS ROOM - NIGHT - FLASH BACK
Dean moves for the door. Michael watches on, hand roaming around the gun.
Dean stops, looks back.
DEAN
I hope, that in time, you can come to see me as an ally.
Dean leaves. Michael stares at the gun, feeling his world fall apart around him. He raises the gun, aims it at his head. Closes his eyes. Cries. He throws the gun aside.
INT. BAR - NIGHT - FLASH BACK
Michael sits at a bar, he hasnít shaved for weeks, and his eyes are weary and show signs of depression. He takes another shot. In front of him are rows upon rows of shot glasses.
INT. UNDERGROUND FIGHT CLUB - NIGHT - FLASH BACK
Michael fights against an opponent. Rough. Knuckles cracking. Bone against bone. Michael rages on.
INT. HOTEL ROOM - NIGHT - FLASH BACK
Michael lays in bed besides a bottle of alcohol, crying. He stands and throws the beer against the mirror. He walks over towards it and stares at his reflection.
INT. HOTEL ROOM - BATHROOM - MOMENTS LATER - FLASH BACK
Michael shaves his beard, setting his life back on track.
EXT. HOTEL - MOMENTS LATER - FLASH BACK
Michael rearranges the guns in the trunk of his car. He closes it and moves towards the drivers side. He gets in and drives off.
INT. UNDERGROUND TUNNELS - NIGHT
Sam closes in on Ellis. Ellis backs away. Lauren watches on with a grin across her face.
LAUREN
Fight back Sam, theyíre monsters. Look at what they did to everyone here. Donít show them mercy, donít show them compassion. Kill them.
Samís anger continues to build. He holds out his hand, sending Ellis clear across the room. He inches across the ground. BLACK ROBED GUARDS stand behind him backing away in fear. Ellis grins, laughing.
ELLIS
You really think youíre any better than us? What makes you so different?!
Sam closes in on them. He holds out his hand, suddenly a SPIKE rises in the air and IMPALES a guard through his head. Sam closes his fist, another guard chokes death. Another spontaneously combusts. Wind rushes in. Lauren watches in awe as the guards are brutally killed without mercy.
LAUREN
Thatís it! Youíre better than they are.
Sam stands over Ellis, face covered in blood.
SAM
Iím the good guy.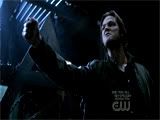 Sam sends out his hand, Ellisí head is yanked off! Blood sprays everywhere. Sam turns towards Lauren, emotionless. Cold.
INT. EMPIRE STATES BUILDING - TOP - NIGHT (Windowsill by Arcade Fire)
The lights blink on and off. Dean leans against the wall. He takes out a black canvas, preparing to inject. Around the corner, Michael approaches.
MICHAEL
What are you doing?
Dean scowls, rolls his eyes, turns around to face him.
DEAN
Please donít say youíre going to give me a lecture too.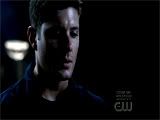 MICHAEL
Does Sam know?
Dean doesnít answer.
MICHAEL (CONTíD)
Why not?
Dean looks away, wraps a strap around his arm. Pulls on it tightly. Michael reaches out and stops him. Deanís eyes narrow, teeth clench.
DEAN
Donít.
MICHAEL
You donít need it.
DEAN
What do you know?!
MICHAEL
I know what happened to me. Heaven is found in a bottle. Just one. Then two. Two becomes three--
DEAN
Your point?
MICHAEL
You really think youíre in control? Youíre not. Youíre not using it, itís using you.
DEAN
How would you know?
MICHAEL
Because Iím three months sober. I know how easy it is. I dropped off the map, gave up. Did things I feel sorry for, even tried to kill myself. But in the end, whatís happened isnít in our control. What does happen is.
Dean smirks, laughs, pulls tighter on the strap around his arm.
DEAN
Iím not you.
MICHAEL
Youíre above it, arenít you?
DEAN
Hell yeah.
MICHAEL
Then I guess youíre special among the million other addicts out there whoíve said the same thing.
DEAN
F.uck you, I know what Iím doing.
Dean lets go of the strap, reaches for the syringe. Michael stands still, pleading.
MICHAEL
Donít.
DEAN
I need it.
Dean injects. Michael exhales, at a loss.
MICHAEL
Iím sorry.
DEAN
For what?
MICHAEL
Knowing whatís on the other end, that eventually itís gonna kill you.
Dean smirks, then shrugs it off. Michael nods, understanding.
EXT. NEW YORK CITY - STREETS - NIGHT
Sam walks along at a fast pace. Lauren hurries over to him.
LAUREN
Sam, Sam?!
Sam stops, turns to face her. Eyes stained with tears.
LAUREN (CONTíD)
What is it?
SAM
What I did, it wasnít right.
LAUREN
You saved them.
SAM
I didnít have to cross the line, they didnít deserve to die. I lost control.
LAUREN
What you did, it was amazing.
SAM
Amazing? Iím the son of the devil... itís not right.
LAUREN
Youíre afraid of what you can do.
SAM
Wouldnít you be?
LAUREN
Not if I decided to use what I have to do what I thought was right, you were a hero in there Sam. Thereís nothing to be afraid of.
Sam sighs, looks on with conflicted feelings of despair and freedom. Daniel approaches, Lauren notices.
LAUREN (CONTíD)
Well, we better get going.
SAM
Will I ever see you again?
LAUREN
I hope so.
Lauren kisses him, Sam smiles. Lauren and Daniel walk away.
INT. IMPALA - NIGHT
The Impala speeds along the city streets. Dean keeps his eyes focused on the road, eyes red from drug usage. Sam looks out the window, cold. Samuel appears in the back passenger seat laughing successfully. Sam's reflection through the window shows Samuel grinning. On top.
EXT. IMPALA - NIGHT
The city falls apart. The homeless, the addicts, the young and the hopeless.
INT. PARKING GARAGE - NIGHT
Karla approaches her car, she stops sensing someone following her. She turns to spot Felix.
KARLA
I knew you were going to come for me eventually.
FELIX
They can't ever know, this is our world, our time.
KARLA
This country belongs to the people.
FELIX
Let them rot.
Felix aims, fires, BANG! Karla collapses, dead. Blood oozes along the pavement and leaks into the gutters. Felix walks away. A sheet flies through the wind reading: WHERE IS OUR FREEDOM?
END OF EPISODE