UNKNOWN LOCATION, UNKNOWN TIME, NIGHT
Sam and Dean are now standing at opposite ends of the room. Sam is on edge, wary.
SAM
How many times are you wrong about a hunt, Dean?
DEAN
I'm never wrong.
SAM
How many times am I wrong about a hunt?
DEAN
Are you going somewhere with this?
SAM
I think I was wrong, once.
DEAN
When?
SAM
Iím not sure. Iím not sure of anything anymore. It could have been the future. It could have been the past. It could have been an alternate universe. I donít know.
DEAN
Now youíre just being ridiculous.
SAM
Iím not. I donít think this is real, Dean. And this thing Ö this reality that I think is real Ö I donít think that is real either.
Dean grimaces, frustration growing. Sam takes a step towards him, suddenly he stops and winces as...
FLASH CUT TO:
EXT. CHURCH - CHRISTMAS DAY
We are overlooking a small, cathedral type church. It is snowing and is a beautiful Christmas day. We see the Impala and the Camero parked alongside each other in the church parking lot along with many other cars.
INT. CHURCH - CONTINUOUS
Candles are lit everywhere. Dean, Kate, Sam and Jessica sit near the front of the church and watch the service.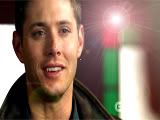 A small boyís choir walks onto the stage. The music begins with the organ, low and rumbling mysteriously throughout the church. The atmosphere is far from joyful. Jack is one of the soloists.
CUE MUSIC: CAROL OF THE BELLS
The sound of the boys singing is ethereal and mournful. Kate and Jessica smile, enjoying the music. Dean is happy but not obviously. Sam is pensive. Everything seems to be making him uncomfortable.
EXT. CHURCH - DAY
Kate and Jessica walk together with the boys towards the cars. Dean and Sam walk behind them.
SAM
Dean Ö what happened between you and Dad?
DEAN
What do you mean, what happened?
SAM
Iím a little fuzzy on things at the end. Did he say anything to you?
DEAN
What are you talking about, Sam? Youíre talking about Dad like heís dead!
SAM
(surprised)
Where is he Ö for Christmas this year?
DEAN
Probably Australia. I would think so because of his job, you know.
SAM
His job?
DEAN
Why are you acting all stupid all of a sudden, Sam? You know what he does! He trains Marines. Couldnít come home for Christmas because of that.
SAM
Yeah. Too bad. Just us guys, then.
DEAN
(laughs)
Yup, and I make a mean pumpkin pie! Youíll be lucky if you live through it!
SAM
So Ö have you seen any deer at your place lately?
DEAN
Tons. Itís like they know that Iím not deer hunting this year so theyíre around all the time.
(beat)
Hey, did you hear they found those missing people?
SAM
No. What happened?
DEAN
There were a few cars that got stranded on that road by our house. Too much snow. Stupid people decided to try and walk to find help. Froze to death out in the woods about five miles away from the road.
SAM
Wow. Pretty sad.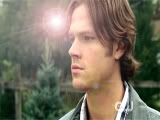 DEAN
Yeah. And they were trying to make it out to be some snow monster. A yeti or something. You and me both know that yetiís are a myth!
SAM
Yeah. A myth.
DEAN
Right, so you and Jessica are coming back to our house for dinner?
SAM
Yeah. Weíll meet you there.
EXT. DEANíS HOUSE - DAY
INT. DEANíS HOUSE - DAY
The whole Winchester family is sitting around the dining room table. There are loads and loads of food on the table. The conversation is lively and they all seem to be having a good time. Sam is still acting reserved.
JESS
We decided weíre going to name her Rachel.
KATE
Thatís a pretty name!
JESS
Yeah. It was my grandmotherís name. Sheíll be Rachel Marie Winchester. Sam picked her middle name.
KATE
I like it already! I canít wait to see her!
JESS
Me neither! Iím so excited! I always thought it would be such a drag to be pregnant and all but Iím really enjoying it so far. I just canít wait to see her now!
DEAN
Yeah, and I bet Uncle Sammy here canít wait for that little baby to come out, either.
Sam is lost in thought and Dean jabs him in the ribs to get his attention.
SAM
Yeah. Canít wait!
DEAN
You okay there, Sam?
SAM
Iím fine. Just a lot of food. Trying to concentrate on getting it all down.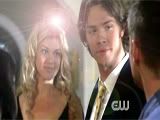 DEAN
Just wait until you get some of my pie!
KATE
Oh, heís been raving about that pie for weeks. Itís up to you to decide how you like it! I wonít tell you anything!
DEAN
I learned how to make it from my patrol partner.
SAM
Patrol?
DEAN
Yeah, didnít I tell you? I got a car! I get to patrol now. No more office work at the police station!
KATE
It was awful trying to get this guy to settle down after work every day. Iím glad theyíve finally got him doing something that involves some movement!
JACK
Daddy! I finished! Can we open presents!
DEAN
Thatís up to your mother.
KATE
I think we can eat dessert after presents. Gives our stomachs some time to digest all that food!
INT. HOUSE - LIVING ROOM - DAY
Jack and Daniel are busy tearing through wrapping paper and opening presents. The adults are watching. Sam is still pensive.
FLASH CUT TO:
UNKNOWN LOCATION, UNKNOWN TIME, NIGHT
Sam is standing closer to Dean now.
SAM
I think Iím starting to understand.
DEAN
Understand what?
SAM
I know what is real.
DEAN
What are you inferring?
SAM
This Ė
(he turns, spreading his arms out)
This whole perfect life, me getting married to Jessica, becoming a lawyer, you and Kate getting married and having kids Ö itís too perfect.
Dean tilts his head down, he looks back up at Sam grinning. Face slightly stretched, mannerisms more chameleon.
DEAN
Well, what did you expect?
SAM
I thought you would be better than that. At least give me an illusion I can believe.
DEAN
But this
is
everything you wanted. Everything you wished for.
SAM
No. Not like this. I can never have what I want. Jessica is dead. Six Twenty Six happened. Dad is dead. The world is falling apart.
(beat)
The question is Ö who are you?
Dean does a slight bow, a gesture of a magician.
DEAN
I am Dantalion.
Samís eyes widen as Dean shifts into a man smaller in stature, looking almost like a rat. Sam winces in pain as the room blurs and shifts around him.
FLASH CUT TO:
INT. LIVING ROOM - RESUMING
Jack and Daniel are still throwing wrapping paper around the room. Dean and Kate are holding hands, watching the boys. Jessica is watching the scene happily. Sam turns to her and takes her hand.
SAM
Jess Ö can we go someplace else for a minute?
JESS
Sure Ö Why?
SAM
I need to talk to you.
JESS
Okay Ö
SAM
(to Kate and Dean)
Will you excuse us for a moment?
KATE
Sure. Donít be too polite, now!
As they leave the room, Dean calls out behind them.
DEAN
The guest bedroomís upstairs!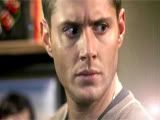 Jessica blushes but Sam doesnít even seem to hear his brother.
INT. HOUSE - KITCHEN - CONTINUOUS
Sam takes Jessica to the kitchen and sits her down at the table.
JESS
Whatís wrong, Sam?
SAM
I need to know something, Jess.
(beat)
When did you first decide that I was the man for you, that you could spend the rest of your life with me?
JESS
(laughs)
What is this? Twenty questions time? Why so urgent?
SAM
Please, just answer me?
JESS
Okay Ö uh, probably pretty soon after we started dating.
SAM
Jess Ö I love you. I would make the world spin for you if I could. I love you so much and with all of my heart and my soul. I donít know how Iíve managed these past few years without you.
JESS
What are you talking about, Sam? Weíve been married these past few years!
SAM
(shakes head)
Just forget everything Iím going to say. I just have to say it since youíre here.
JESS
Why are you acting so strange?
SAM
Itís not important, Jess. What IS important is that I love you.
JESS
Sam, youíre scaring me.
SAM
(concerned)
Donít be scared, Jess.
(beat)
I love you. I love you deeply and so much and I want to spend the rest of my life with you.
JESS
Is this like a proposal all over again?
SAM
(laughs)
No. Itís just Ö I have to get this off my chest. Iím sorry, Jess. Iím sorry for any pain that Iíve caused you. Iím sorry for everything. And I love you.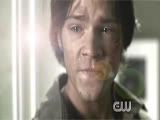 JESS
I love you too, Sam.
Sam and Jessica KISS.
FLASH CUT TO:
UNKNOWN LOCATION, UNKNOWN TIME, NIGHT
SAM
Dantalion. Demon of deception.
DANTALION
You could say that. I prefer other titles, but if thatís what helps, go right ahead.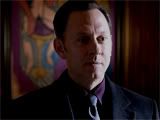 SAM
Why do this? Why put me into a world of perfection? Why grant my every wish and make something that could never be true?
DANTALION
Itís what you want, isnít it, Sam?
SAM
No! Yes! I Ö I donít know.
DANTALION
Itís what youíve ALWAYS wanted, Sam.
(beat)
I can make it permanent. Just said the word and youíre back in your pretty little world with your pretty little lady and your perfect family.
SAM
Why?
DANTALION
Why? Because you deserve it, Sam.
SAM
No. That isnít why. Demons always have ulterior motives. Whatís yours?
DANTALION
(sighs)
If you must know Ö I was sent to stop you.
SAM
Stop me? From what?
DANTALION
From making it to the end of the world, Sammy boy. If you donít watch it now, youíre going to become a great man. Too powerful for your own good.
SAM
So what happens then?
DANTALION
You have two choices. The blue pill or the red pill. Blue pill says you go back to perfecto land. Red pill lands you straight back in reality. Death, destruction, chaos, etcetera.
SAM
Youíre actually offering me a choice?
DANTALION
Yeah. I am.
SAM
Why would you do that?
DANTALION
Because either way, you are going to choose happy land or youíre going to try to kill me. Since I donít really want to die, Iím giving you the safe choices for me.
SAM
You know what Iím going to choose.
DANTALION
I do.
SAM
Then why are you giving me a choice?
DANTALION
Thereís always the possibility. Youíve seen your brother. Heís suffering. He canít take this whole world-falling-apart-and-he-canít-do-anything-to-stop-it crap. Heís going to fall soon and heís going to fall hard. Do you want to be there to see that? And you Ö youíre the only one holding him together now. Do you think you can do that forever? Do you WANT to do that forever?
SAM
I do.
DANTALION
Why?
SAM
Because heís my brother. Weíre there for each other. Weíre stronger together. Always have been and always will be.
DANTALION
I never could understand that.
(beat)
I guess thatís what separates you and us.
Dantalion looks down at the floor, then looks up at Sam, his eyes glowing black.
DANTALION (CONT.)
Say goodbye, Sammy.
FLASH CUT TO:
INT. MOTEL ROOM - NIGHT

MUSIC CUE: "THE SNOW CAME DOWN" TRANS-SIBERIAN ORCHESTRA (1:50)
Sam awakes with a start on his hotel bed. He is covered in dirt and blood. Dean is lying on the bed next to him, likewise covered in dirt and grime. Dean is asleep and snoring with his arm flung over his face.
Sam jumps out of bed and goes over to Dean.
SAM
Dean! Dean, wake up!
DEAN
Leave me alone, Sam. I want to sleep.
SAM
Did Kate call you?
DEAN
Kate hasnít called me since that last argument we had days ago. Forget it Sam and let me sleep.
Sam stands and grins. Things appear to be back to normal. He sees their bag of weapons on the floor. He turns to the bathroom.
SAM
Iím taking a shower.
DEAN
Good. You need it.
Sam stops at the window on the way to the bathroom. He stares out at snow floating slowly to the ground. It is evening. In the reflection of the glass we can see Kate, Dean, Jessica, Sam, Jack and Daniel sitting in the living room of the Winchester home, happy and laughing together. Jessica turns and looks at Sam in the window. She SMILES.
SAM
(whisper)
Goodbye.
END OF EPISODE