TEASER
CUE MUSIC: "DREAM ON" AEROSMITH
Open to BLACK. Voices flood in, REPORTERS.
REPORTERS (O.S.)
We are hearing word in now... Mysterious deaths plaguing local community... Beliefs of mutants running rampant... Security footage captured this man using...
STATIC. Open to...
EXT. WASHINGTON STREETS - SECURITY FOOTAGE FEED - DAY
The Impala speeds by, two black vans behind. The Black Van LIFTS into the air and WHAMS against the street corner.
EXT. LAS VEGAS - SECURITY FOOTAGE FEED - NIGHT
Activity in Vegas, people running for cover. Fire spreads. A car FLIES through the air. Off in the distance we can see demonic Letum surrounded by flames.
INT. OFFICE BUILDING - HALLS - DAY
POV. CAMERA
An EMPLOYEE faces the camera, signs of fear etched across his face.
EMPLOYEE
I don't know how he did it, but Patrick electrocuted Stanley, our boss. How can a man do something like that?
IMAGES fly across the screen showing PATRICK and ELEMENTAL WOMAN, fugitives.
EXT. FRONT YARD - NIGHT
A couple of TEENS fool around on a camera. Suddenly a MAN runs by on the streets, as fast as a car.
FLY ACROSS YOUTUBE showing a display of various videos having captured signs of mutants.
INT. PRESS CONFERENCE ROOM - NIGHT
President Reynolds faces reporters, each eager to ask questions.
REPORTER
Any information regarding sightings of mutants?
REYNOLDS
No comment, next question?
EXT. CITY STREETS - DAY
People march by on the streets hoisting up signs reading: YOUR KIND ISN'T WANTED HERE. FREAKS AREN'T HUMAN. ALL
MEN
ARE CREATED EQUAL.
EXT. FOREST CLEARING - NIGHT
People gather around a man tied to a cross, fire spreads across and engulfs the man.
INT. MILITARY BUNKER - POWERED BASE - NIGHT
Fly through seeing mutants locked up behind cages. Reynolds watches on, pleased.
VOICES FLOOD IN.
SPEED FLY BACK to OUTER SPACE as the EARTH ROTATES.
END OF TEASERACT ONE
INT. HOTEL ROOM - NIGHT
Dean hangs up the phone, glances over at Sam searching the internet, beside himís a picture of CHARLES MARTINS.
DEAN
Howís it coming?
SAM
Itís getting there, should be able to leave by tomorrow morning.
DEAN
Yeah? Well change of plans.
SAM
What? No, Dean, I have to do this. I have to fix what I did. I canít live with myself without knowing I at least tried something.
DEAN
I get that Sam, thatís why youíre going.
SAM
And what are you doing?
DEAN
That was Kate, thereís this killer she wants me to help her track down. Think it might be our area of expertise and hunters arenít exactly that wide spread anymore.
Sam nods, exhales, shuts off the laptop.
SAM
Okay, so, we go our separate ways, you deal with this and...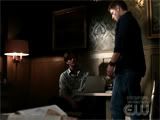 DEAN
Are you sure?
SAM
Yeah, positive. No problem.
Dean nods, he gathers his bags, moves for the exit.
SAM
Be safe, okay?
Dean stops, turns back to face his brother.
DEAN
You too.
Dean leaves. Sam looks back down towards the photograph.
EXT. APARTMENT COMPLEX - NIGHT
Police cars swarm around a run down apartment complex.
INT. APARTMENT COMPLEX - HALLS - NIGHT
POLICE OFFICERS roam the halls, conversing about the case. Dean and Kate walk past them, they notice the yellow crime scene tape ahead of them. They step over it and approach.
INT. APARTMENT COMPLEX - CRIME SCENE - NIGHT
The crime scene shows signs of a struggle. Blood is splattered across the walls. Dean takes in the area, he glances over to the side to see the dead body of a middle aged man. A look of pure terror is etched across his face. Glass in his eyes. Dean approaches, bends down.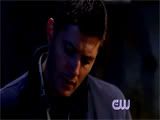 DEAN
Whatever it was, it sure as hell scared the crap out of him.
KATE
That would match what our one witness who managed to get away said, looked like some kind of monster. Elongated black head with fangs.
DEAN
Doesnít sound like any monster Iíve ever heard of.
KATE
Maybe it wasnít a monster, what did Bellum say to you again?
DEAN
Iíd really like to not remember it.
KATE
What did he say?
DEAN
That demons were the chosen ones, that there was going to be a new beginning.
Kate motions towards the words written on the wall in blood, the words ďwe are the chosen onesĒ barely discernible. Dean backs away.
DEAN (CONTíD)
That doesnít make sense though, when was the last time a demon ever wrote anything?
KATE
I donít know, never heard of it.
DEAN
Youíre the cop, youíre missing one key piece of the puzzle. Look at the eyes Kate, glass.
KATE
Windows to the souls.
DEAN
No, he wanted whoever it was to see him. That isnít demon behavior. Weíre dealing with a guy, a guy who obviously thinks heís the chosen one. Hey, maybe God had another son, another Jesus?
KATE
Thatís not funny.
DEAN
Come on, just a little. Want to know what is funny?
Kate glances over at Dean.
DEAN (CONTíD)
To think I used to get harassed and looked down on for even drawing pictures of monsters and guns, now weíre living in the age thatís only monsters and guns.
Dean takes out his flask and guzzles it down. Kate frowns and shakes her head.
KATE
I donít think thatís necessarily a smart thing to do when the worldís coming to an end. We need to be ready for anything.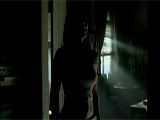 DEAN
No, youíre absolutely right. This isnít what should be done, but itís what has to be done.
Dean pockets the flask, takes another look at the dead body.
DEAN (CONTíD)
Sorry bastard.
Dean turns and leaves, Kate watches on.
EXT. LITTLE HOPE - STRETCH OF ROAD - DAY
MUSIC CUE: "PEACE TRAIN" CAT STEVENS
The Impala drives along the curving stretch of road, passing a classic town sign reading: LITTLE HOPE.
EXT. LITTLE HOPE - TOWN - DAY
The weather is beyond beautiful. Children play on a playground, supervised by their parents. Couples stroll by hand in hand. Itís a classic, small conventional town.
The Impala drives through, Sam looks out the window observing the sights around him. A smile spreads across his face. Hopeful.
EXT. LITTLE HOPE APARTMENTS - DAY
A brown-brick apartment complex, flowers in some of the windows. Children play outside skipping along chalked squares. Old women hang their clothes along a cord outside their windows.
INT. CHARLESí APARTMENT - BEDROOM - DAY
CHARLES MARTIN, a handsome man in his late twenties, faces a mirror as he examines his dress suit and dress pants. He takes a tie and fastens it.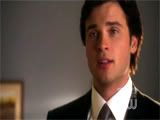 He leaves.
INT. CHARLEíS APARTMENT - MAIN - CONTINUOUS
The room is cluttered with certificates of commendation. Pictures of a happy family. Charles with his girlfriend STACY at a town fair. Charles walks through, he grabs his cell phone, briefcase and leaves.
INT. LITTLE HOPE APARTMENTS - HALLS - DAY
Charles closes his door, locks it. He passes through the halls. An ELDERLY WOMAN peeks her head out of her room.
ELDERLY WOMAN
I thought that was you Charles, sneaking off so soon?
Charles stops, turns to face her smiling.
CHARLES
You caught me Mrs. Humphrey.
ELDERLY WOMAN
Just wanted to thank you for fixing the leaky faucet yesterday, didnít know what Iíd do now that Hank isnít around.
CHARLES
Least I can do.
ELDERLY WOMAN
Must have one busy day ahead of you, go on, go on.
Charles smirks.
CHARLES
Have a good day.
Charles leaves. Elderly Woman smiles.
ELDERLY WOMAN
Such a good boy.
Elderly Woman re-enters her apartment.
EXT. LITTLE HOPE APARTMENTS - MOMENTS LATER
Charles leaves the apartment complex. He notices the kids playing, then looks towards the sky. A RAINBOW forms in an awkward, wavy spiral. A beyond fascinating sight. The kids stop playing and look to the sky in awe.
EXT. LITTLE HOPE - TOWN - DAY
Sam walks along the streets, hands stuffed in his pockets, taking in the welcoming atmosphere of the small little town. He looks up towards the sky, seeing the rainbow. Taken off guard.
INT. PEACE SALES CORP. - CUBICLES - DAY
Charles walks through the office space with other workers hustling around on the job. He takes a seat at his cubicle, filled with more photographs of his family and girlfriend. One newspaper is tacked to the cubicle wall with the headline: MARTINS CUTS ANNUAL TOWN RIBBON.
Charles starts up his computer. A black screen, suddenly green text spreads across: I KNOW WHAT YOU ARE.
Charles stares at the words in horror, it cuts out as the computer boots up. Nobody else notices.
EXT. DINER - NIGHT
Cars drive through the busy city streets, kicking up rain from the gutters. A small diner rests on the curb, inside Dean and Kate can be seen sitting by the window.
INT. DINER - NIGHT
Dean stares down at his barely touched food. Kate notices.
KATE
Anything on your mind?
DEAN
Just Sammy, the last case really hit him hard. Iím worried about him.
KATE
There wasnít anything you could have done.
DEAN
Yeah, yeah, I know. But, heís been blaming himself for it, for everything Samuel did. I feel kind of guilty leaving him alone like I did.
KATE
Why did you?
DEAN
I donít know, he thinks they can be saved, these freaks.
KATE
What do you think?
DEAN
How many were ever good? I know Iím generalizing, but come on Kate. Samís the only one on the road of the righteous and even he took a detour.
KATE
So why spend your time trying to save someone whoís probably gonna go bad anyway?
Dean sighs, looks out the window.
DEAN
Probably think Iím some mutant hater, a mutist or whatever.
KATE
I think youíre just being honest.
DEAN
I think I may have figured out what weíre up against.
Dean pulls out a picture of Charles Martin, slides it across to Kate.
DEAN (CONTíD)
His nameís Charles Martin, Samís zeroing in on him. His powerís the ability to control hallucinations with his imagination.
KATE
What does this have to do with our case?
DEAN
I think thatís what weíre dealing with.
KATE
What? A mutant?
DEAN
Think about it. Chosen ones. Description that fits no monster we have ever heard of before. What if somehow heís able to get inside our heads make us see things we donít want to see? Make us afraid.
KATE
Whatís the motive though?
DEAN
Getting rid of everyone he sees as below him. Wiping out humanity.
KATE
So, weíre looking for a mutant who controls fear on an ego trip?
DEAN
You have any better ideas?
Dean glances behind his back to see a news report showing signs of recent mutant activity.
INT. HOPES AND SPIRITS BAR - NIGHT ("THAT AIN'T MY AMERICA" LYNRYD SKYNRD)
The bar is warm and welcoming, classic and homey with patrons gathered around. Sam enters, Charles passes by. Sam stops at the bar.
SAM
Kryptonite.
The BARTENDER serves a Kryptonite and passes it along to him. Samís eyes dart around, taking everything in. On the television set a news feed reports on mutant activity.
ROSCOE, a slight red-neck posing in small town appearance, grunts at the news. Beside him are other bar attendants KARL, ALEX, and LENNY.
LENNY
Jesus, just when you thought things couldnít get any worse.
ALEX
This whole worldís going to hell.
ROSCOE
The main problem is those freaks out there, acting like theyíre human.
KARL
I heard one up in Boston had the power of making people kill themselves.
ALEX
Thatís nothing. You hear about those corpses that appeared across Ohio looking like they were struck by lightning or something?
ROSCOE
God help us if oneís living here.
LENNY
You mean, here, a mutant in Little Hope?
ROSCOE
Makes me sick just thinking about it. Thinking he could be talking to our kids, talking to our women, shopping here, working here.
BARTENDER
Thereís no mutant in Little Hope.
KARL
How you know?
BARTENDER
I would have spotted him by now, small town like this, everybody knows everyone, especially around the pub. Weíre safe.
Roscoe leans in towards him.
ROSCOE
Maybe thatís exactly what they want us to think.
Roscoeís eyes dart over to Sam. Sam tries to avoid contact.
ROSCOE (CONTíD)
Youíre new around these parts.
SAM
Just passing through.
ROSCOE
Nameís Roscoe.
SAM
Sam.
ROSCOE
Well, Samuel what do you think? Any stories from out where youíre at?
SAM
I donít think theyíre all bad.
Roscoe laughs.
ROSCOE
They ainít human, thatís bad enough.
Sam stares down at the bar, then across at the others.
He gets up and leaves. Roscoe smirks.
ROSCOE (CONTíD)
Sure is a strange fella, ain't he?
Roscoe motions for a refill on his drink.
EXT. PARK - DAY
Charles and Stacy walk along the crowded park, hand in hand. The weather is beyond perfect.
CHARLES
I donít know where Iíd be without you.
STACY
Hey, youíve got me.
Stacy faces him, places her hand across his cheek. He leans into it smiling, seeking comfort.
STACY (CONTíD)
And Iím not going anywhere. Ever.
CHARLES
I donít know if youíd feel that way if you knew the truth.
STACY
The truth about what?
Charles exhales, he walks off. Stacy follows him, they cross over a small stone bridge leading over a lake.
CHARLES
About what I am.
STACY
The greatest guy I know?
CHARLES
Iím serious here.
STACY
Then tell me.
CHARLES
Iím afraid to. I have everything going for me here, I donít want to ruin it.
STACY
Thereís nothing you could ever say that would make me stop--
CHARLES
Iím a mutant.
Stacy takes a step back, somewhat rattled.
STACY
What?
CHARLES
Ever since I was young, I had the power to control my imagination. Make people see things.
STACY
You're just playing around, right? You're not a mutant. You're normal.
Charles exhales, he motions towards the sky. Stacy slowly looks up to see the clouds pushing in together to create the letters "nope." Stacy takes a step back, frightened. She looks at Charles, he simply nods.
STACY
You never hurt anyone did you?
CHARLES
You know me, I don't hurt people.
STAY
Know you? What are you going to tell me next? That you're an alien too?
CHARLES
I'm still me. That's the only thing I've ever hidden from you. But, I'm tired of running, I couldn't lie to you anymore.
STACY
Who else knows?
CHARLES
My parents, thatís all, with the atmosphere the world is in now...
Stacy exhales, mind racing, starting to ease up.
STACY
I understand.
Stacy takes a step towards him.
CHARLES
So youíre not afraid?
Stacy smiles, wipes the hair away from her eyes.
STACY
I'll learn to live with it.
Charles smiles, beyond relieved.
CHARLES
How did I get so lucky?
STACY
(Puts her fingers to her lips)
Shhh...
Charles and Stacy kiss. In the waters below them the lake currents form into hearts and couples embracing.
STACY
It's okay. How'd you first find out that--
CHARLES
I was different? It was an accident at first, just experimenting, seeing what I could do. How far I could go. Wanted to see if I could make other people see my imaginary friends. I still remember the look on my parent's face the first time they met Harold.
STACY
Harold?
CHARLES
A three foot tall, talking, walking dog.
Stacy suppresses her laughter, Charles shrugs it off.
CHARLES
I was a big Snoopy fan. Over the years, as I got older, I learned how to harness it, make more hallucinations and perceptions real. Even to the point where I could control the weather.
STACY
So the reason itís sunny and nice every day...
CHARLES
Ever since I met you.
Stacy swoons, not knowing what to say. The exchange flirtatious smiles.
EXT. LITTLE HOPE - TOWN - DAY
Charles walks along the streets, Sam corners him. Charles tries to move aside, Sam doesnít let him.
CHARLES
Is there a problem?
SAM
I need to bring you in. I know what you can do. Iím a mutant too.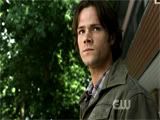 Charles walks off, turns the corner down a narrow alley. Sam follows him. Charles stops to face him, just out of reach from the passing civilians.
CHARLES
I didn't do anything wrong. You donít think that I know I'm different? I know, I just don't let it effect my life. I don't hide from who I am.
SAM
You're hiding from themÖ
CHARLES
I won't do anything to them.
SAM
No, but if they found out who you really areÖ
CHARLES
They won't accept me?
SAM
Wouldn't be the first time.
CHARLES
So, what are you saying?
SAM
Come with me, leave this place before someone finds you. The government's already onto you and they'll be here, they'll drag you in.
CHARLES
Let them.
Charles continues on his way down the alley, Sam follows.
SAM
What?
CHARLES
I'd rather die myself, than die in fear. I'm not going to let their fear of what they don't understand impact my life. I have a life here, a girl.
SAM
Does she know who you are? What you can do?
CHARLES
And she accepts me. I'm happy here, I'm not running.
Charles stops to face Sam.
SAM
Who said it's running? It's surviving. What exactly did you think was going to happen? That you would settle down, marry her, start a family?
CHARLES
Why not?
SAM
It's not the time, things are starting toÖ
CHARLES
I know. I can see it. Everyone can. Why do you think everyone's afraid? The world's coming to an end. All I want is to be happy, act like there's nothing wrong.
SAM
But, that isn't real.
CHARLES
Well, it can be. It should be. I'm not going with you, I'm not going to hurt anyone. If they can't accept me for who I am, what I can do, then that's their problem - not mine. You shouldn't run either.
SAM
Who's said I'm running?
CHARLES
I know that you're trying to help, but, I don't need it.
Charles walks away. Sam exhales, he lets him go.