TEASER
FADE IN:
EXT. GRANT MEADOWS - NIGHT
Three Spanish youths (JOSE, SERGIO, HUNNAN) walk through a broken down neighborhood, each holding beers. The yards are filled with decaying ornaments.
SERGIO
No way man, I say next time we go out there we stay out on the boat for a while see what we can find.
HUNNAN
I almost caught that fish.
JOSE
Almost being the key word.
Sergio and Jose laugh, take a seat beside the fence.
HUNNAN
Yeah, yeah, laugh it up now. But, youíll see.
SERGIO
Good luck finding Nemo.
JOSE
Okay, next fishing trip if you donít catch something, I say you pay us both, twenty dollars.
HUNNAN
You know I donít have that kind of money.
JOSE
Okay, ten.
HUNNAN
Why do we have to do this?
SERGIO
You seem so confident.
HUNNAN
Alright, alright, ten it is.
Jose digs into his backpack and pulls out a camera. Sergio laughs.
SERGIO
Whatís that for?
JOSE
To preserve the moment so Hunnan doesnít go back on the deal.
Jose points the camera at Hunnan.
JOSE (CONTíD)
So next time, if you donít catch Nemo youíll give us both ten dollars. Put your money where your mouth is amigo, pay up.
HUNNAN
Deal.
The friends laugh. A rock is thrown in their direction. They stop laughing and look over to their side.
SERGIO
Itís probably nothing man, fell out of a tree.
Sergio and Hunnan laugh. Jose zooms in to see a short shadowed figure, a BLUE HAT GNOME, moving sideways.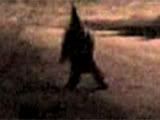 The Gnome stops, locks eyes with Jose. Jose drops the camera, he lets out a scream.
SERGIO (CONTíD)
What is it?
Jose glances back and forth between them. He points, the Gnome is gone.
HUNNAN
Thereís nothing there.
JOSE
No, I swear.
Jose picks up his camera, itís busted. He hits it repeatedly.
JOSE (CONTíD)
Come on, come on.
Sergio and Hunnan start to leave, Jose watches on.
JOSE (CONTíD)
No, wait I can prove it.
SERGIO
Itís late, Iím heading home.
Jose looks back down at the camera, at a loss.
INT. JOSEíS BEDROOM - NIGHT
The lights are off. Jose sits by his computer watching the video footage repeatedly of the Gnome moving sideways. The door tilts open. Jose jolts as he spins around to face his mother BETH.
BETH
Go to sleep Jose, you have school tomorrow.
Jose exhales, nods shuts down his computer. Beth closes the door. Jose moves over to his bed and lays down, he has difficulty sleeping then closes his eyes.
The door slightly tilts open, Jose remains asleep. A figure creeps up onto his bed, CRAWLING closer and closer. Jose stirs and opens his eyes to come face to face with the GNOME staring down at him.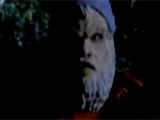 Jose screams. The Gnome places his hand over Joseís mouth. Then places a finger against his lips signaling for him to be quiet. Joses struggles, terrified. The Gnome chuckles as it takes out a KNIFE.
GNOME
Sleep sleep time.
The Gnome goes in for the kill as we...
BLACK OUT!
END OF TEASER

ACT ONE
EXT. DESERTED ROAD - DAY ("THE BOYS ARE BACK IN TOWN" THIN LIZZY)
The Impala drives by on a desolate road kicking leaves up behind it. Woods on both sides.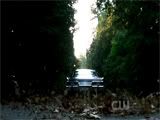 INT. IMPALA - CONTINUOUS
Dean glances over at Sam reading through a local paper.
DEAN
Find anything?
SAM
I think so.
DEAN
What is it?
SAM
Several victims found dead. No sign of forced entry, hell no signs of anything at all. Each victim was found stabbed.
DEAN
Okay, what the hell are we dealing with Sammy? I mean Casper doesnít stab people.
SAM
Beats me, but I say we start by questioning Joseís mother. Maybe thereís something the police missed.
DEAN
Just like old times?
Sam glances over at Dean, off guard.
DEAN (CONTíD)
I mean, letís face it, when was the last time we had an honest to god hunt without the police barging in, some demonic entity or horseman?
Sam nods. He closes the paper and slides it away.
EXT. GRANT MEADOWS - DAY
Halloween decorations mark the houses. The Impala drives through and pulls to the side. The Winchesters get out, glance around. Dean takes out their box of fake IDS and grabs two.
DEAN
Itís Halloween already?
SAM
Guess so.
DEAN
God, Iíd love to be them, you know?
Sam glances over at Dean. Dean watches as kids play nearby in Halloween masks. Dean smiles. He shakes it off, then approaches the house. The Winchesters knock, Beth opens the door.
BETH
Hello?
DEAN
Weíre from the local police department maíam, just thought weíd give the place a look over.
Beth moves aside, the Winchesters enter.
INT. JACKSON HOUSE - FOYER - CONTINUOUS
Dean looks around the house, Sam clears his throat.
SAM
Was there anything unusual the night Jose died?
BETH
He seemed a little more jumpy than usual, but didnít think much of it at the time. I donít understand though. I locked all of the doors in the house and the downstairs windows.
DEAN
What about upstairs windows?
BETH
Thereís no way anybody could climb. Do you think they may have used a ladder?
Dean moves for the exit, motions to Sam.
DEAN
Hey Baracus, check out the bedroom, Iíll be checking the exterior.
Dean leaves. Beth guides Sam through the house.
EXT. JACKSON HOUSE - MOMENTS LATER
Dean circles around the house, he looks up at the windows perched above. Thereís miniature scales jutting out from the design. Too small for somebody to climb up. He stops and glances over to see Sergio watching on.
DEAN
Hey, you knew him didnít you?
Sergio hesitates, then nods.
SERGIO
He was my best friend. I canít believe he was right.
DEAN
Right about what?
Sergioís hesitant to continue.
INT. JOSEíS BEDROOM - DAY
Sam examines the room, Beth stands nearby.
BETH
He was on his computer before he went to sleep, watching some kind of home video he made with his friends. The technical wizardry of these kids these days is simply astounding.
SAM
Wizardry?
BETH
Yeah, you know special effects.
SAM
Can I see the tape?
BETH
Itís still on the computer.
Sam moves over to the computer, he accesses the file.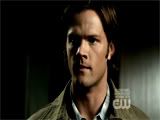 EXT. JACKSON HOUSE - DAY
Dean approaches Sergio, he stops, leans against the fence.
DEAN
What exactly happened?
SERGIO
He thought he saw something, whatever it was it scared him. Didnít believe him at the time.
DEAN
Did you see it?
Sergio shakes his head.
SERGIO
He was the only one, whatever it was it had to be small though or really far away.
Deanís eyes glance back over at the house, the scales. Sam leaves, Dean approaches.
DEAN
You find anything?
Sam nods, glances over at Sergio.
SAM
Thereís a tape. Youíve gotta see it to believe it though.
DEAN
Youíre telling me? From the sounds of it weíre dealing with a killer dwarf.
Sam nods, somewhat put off. Deanís taken aback.
INT. HOTEL - DAY
Sam powers up his laptop, Dean hunches over his shoulder. They watch the camcorder video. The gnome walking sideways, it statics out at the face then the camera falls.
DEAN
So, what do you think? The seven little dwarves got angry?
SAM
I think itís a gnome.
DEAN
You mean like a garden gnome?
SAM
It wouldnít be the first time.
DEAN
Theyíre made out of plastic.
SAM
So are puppets.
Dean takes a seat on the bed opposite Sam.
SAM (CONTíD)
You never heard of the Argentina gnome?
DEAN
Argentina gnome?
SAM
Couple guys come back from a trip, on their way they spot a gnome moving across the street. There was a flood of sightings.
DEAN
I canít believe weíre actually talking about killer lawn ornaments.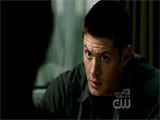 SAM
Actually itís said they derive from the Greco-Roman God Priapus, who would teach her followers to dance and then commit acts of war.
DEAN
The perfect combo. The question now is, how do we stop it? Go around breaking peopleís gnomes in hopes we smash the right one?
Sam looks over at Dean, then out the window.
EXT. CEMETERY - NIGHT ("JUST ANOTHER DAY" OINGO BOINGO)
Preteens (MARK, LIBBY, PAUL) stride through the Cemetery. Mark guides the others through. Paulís startled and nervous.
PAUL
I really donít know about this man.
MARK
You want to prove youíre brave enough to be one of us right?
PAUL
Well, yeah, but...
MARK
Then you gotta stay the night.
PAUL
My parentís are going to be worried about me.
MARK
Chickening out?
PAUL
Iím not afraid.
MARK
Then prove it. Come on Libby, letís leave the cry baby alone.
Mark and Libby get on their bikes and ride off. Paul remains behind. He sits down next to a gravestone. The wind stirs, shadows creep along. Paul shivers.
PAUL
Be cool, nothingís gonna happen. Monsters donít exist. Theyíre not real.
The bushes around him shake and rattle. Paul jolts up, starts to back away.
PAUL
Thereís nothing here. Just my imagination.
Paul trips and falls back. Paul screams. He looks up to see a YELLOW HAT GNOME looking down on him. A wide smirk spread across itís face. Paul screams he moves back, manages to get to his feet and runs. More Gnomes emerge, CHASING him away.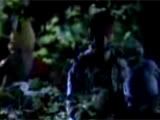 Suddenly a PLASTIC HAND emerges from the dirt and YANKS at Paulís foot. Tripping him. Paul crashes to the ground. The hand belongs to Joseís grave.
The Gnomes circle around Paul, each watching on and laughing as he panics.
Out of Joseís grave emerges JOSE GNOME! Jose joins the other Gnomes. RED HAT GNOME hands Jose a knife.
RED HAT GNOME
You can do the honors.
Jose Gnome closes in on Paul, the other Gnomes hold him down. Jose Gnome stares towards the sky chants in an ancient tongue. Breaks out into laughter as he goes in for the kill and we...
BLACK OUT!
END OF ACT ONE