TEASER
EXT. ABANDONED WAREHOUSE - NIGHT ("MAGIC" BRUCE SPRINGSTEEN)
TEXT: NORTHWEST COAST
We see the Impala parked outside of a rundown building next to a river.
INT. ABANDONED WAREHOUSE - NIGHT
Sam is lurking in the darkness, a knife in his right hand, eyes ready and alert.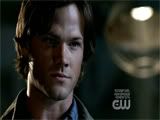 He slowly walks through the long hallways, crouching behind old crates and checking out his surroundings before moving on.
POV. UNKNOWN
An unknown watcher follows parallel to Sam, gradually moving closer.
CLOSE UP on Sam as he notices something is off. He pulls a gun from the back of his jeans and aims it, holding the knife next to the gun.
INT. ABANDONDED WAREHOUSE - ANOTHER LEVEL - CONTINUOUS
Dean is likewise hunting like Sam, gun and knife out, dodging between crates for cover. He sees something lurking ahead and raises his gun.
POV. UNKNOWN
The camera rushes towards Dean from behind. He turns at the last minute but is knocked over by an unknown assailant.
OVERHEAD VIEW
Dean and his unknown assailant, twisting and turning, punching, kicking and fighting desperately. Deanís gun goes flying into the shadows. It is too dark to tell who the attacker is, but the assailant manages to get on top and get the upper hand. He raises his knife.
At the last second, we see Dean under Sam, he's unnaturally calm.
Sam doesnít hesitate, and the knife DESCENDS.
"This is what will be."
BLACK OUT!
TEASERACT ONE
INT. UNMARKED POLICE CAR - DAY
TEXT: COLORADO MOUNTAINS, TWO DAYS EARLIER
Rhodes and Underlay are driving through remote roads. Rhodes is driving while Underlay reads some files.
RHODES
I don't get it, what's so important about the Winchester brothers that the President set up an elite task force to hunt them down. I mean, shouldn't we be focused on more important tasks?
UNDERLAY
More important?
RHODES
The world's been falling apart lately. Multiple spree killings, mass reports of suicide, I think we should be investing more man power into finding out what the hell is actually going on. Not to mention the rise in the drug scene.
UNDERLAY
Dean and Sam Winchester are a threat to national security, their terrorists and you just want to see them walk?
RHODES
I didn't say that.
UNDERLAY
No? Then get back into the game, we're on to them and sooner or later they're gonna slip up and when they do I want to be there.
RHODES
Just tell me, is this because of what they've done or is this personal?
Underlayís phone buzzes. He flips it open, reads the message and turns to Rhodes.
UNDERLAY
Looks like our boys were spotted in Cape Lookout.
RHODES
On the coast?
UNDERLAY
Itís close to Canada.
RHODES
What are they doing there?
UNDERLAY
Maybe theyíre trying to cross the border, escape the law?
RHODES
Maybe Ö If so, we arenít going to get there in time.
UNDERLAY
Doesnít matter where they go. They cross the border, they fly to Brazil, China Ö we follow them.
Rhodesí phone buzzes. He takes it out, keeps his eyes on the road, and checks the screen. It reads ďText message: Kate Ryder.Ē Rhodes closes the phone without reading the message.
EXT. MOTEL TALIHIJUA - DAY
TEXT: CAPE LOOKOUT
Sam is driving with Dean in the passengerís seat as they pull out of the motel parking lot.
INT. IMPALA
Dean stares out the window, somewhat out of it. Sam glances over at him.
SAM
Our last lead was here, Dean, and that was less than 10 hours ago.
DEAN
Strange place for a djinn.
SAM
Not really. People think of them as being from desert areas or Arabic countries because of Aladdin Ö but in reality they can be found anywhere.
DEAN
Lucky us, attack of the homicidal blue manís group Robin Williams.
SAM
Shut up Dean.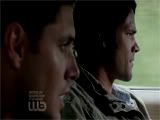 DEAN
What? He was a genie.
SAM
Thereís a difference between a genie and a djinn. Genies arenít real. Djinns are.
DEAN
But genies grant wishes Ö just like djinns.
SAM
And djinns brutally kill the people that they grant wishes to.
DEAN
I dispute the brutally killing part.
SAM
But they do kill their victims.
DEAN
So where to?
SAM
The last place there was a sighting.
EXT. SUBURBAN NEIGHBORHOOD - DAY
The Impala cruises through nice, white American homes before stopping at house number 3982. Dean and Sam step out and walk up to the house. Dean knocks on the door.
After a moment, a young woman, PAT, opens the door.
PAT
Yes?
SAM
Weíre sorry to bother you, maíam, but weíve been sent from Homeland Security to ask you some questions about your brotherís disappearance.
PAT
Oh! Um, would you like to come in?
INT. HOUSE Ė DINING ROOM - CONTINUOUS
Pat, Sam and Dean sit down at the dining room table. The house is small and neat. Very ordinary.
SAM
Could you tell us how it happened?
PAT
(shaken)
Well, my brother ... he and I rent this house together to save on money since both of us are going to college. I was making dinner on Wednesday when he came home. Everything was normal. He Ö he was in the study and then Ö he shouted.
DEAN
What did he say?
PAT
He didnít say anything. It was more like he was just surprised. I ran to the study and he was struggling with something Ö this is going to sound crazy.
SAM
(gently)
Weíre here to listen.
PAT
He looked like he was fighting with someone Ö but there was nothing there. I yelled at him to stop but he didnít seem to hear me. He fell Ö he fell through the window, and when I ran outside to help him Ö he was gone.
DEAN
Gone?
PAT
There was broken glass everywhere. I knew he wasnít dead because the studyís on the first floor, but there was no sign of him. I called the police and they looked everywhere. He just Ö he just vanished.
SAM
Weíre going to do everything we can to find your brother, maíam.
PAT
(crying)
I just Ö I have a feeling heís dead. I donít know what it is Ö but I wonít be surprised.
DEAN
Weíll call you as soon as we have something.
PAT
Thank you so much. Heís only been missing two days, but Ö
SAM
Weíll do all we can.
INT. IMPALA - DAY
Dean is driving, Sam is in the passenger seat
SAM
Djinnís have lairs. Usually in ďdead zoneĒ areas. They usually take their victims to the lair and drain them there.
DEAN
ďDrain?Ē
SAM
They feed off of peopleís dreams, wishes, thoughts, ideas. Once theyíve got everything from you Ė
Sam jerks his hand across his throat.
DEAN
So it looks like we need to find a dead zone area.
SAM
Probably a graveyard or abandoned house, empty construction site.
DEAN
And it canít be far from here since Patís brother and the other guy that disappeared in the same way were from this town.
SAM
We need a map.
EXT. GAS STATION - DAY
Dean walks back to the Impala with a map and gets back into the car.
DEAN
Looks like we have one of four places.
Sam takes the map and looks at four circled locations on the map.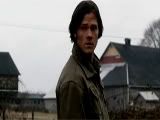 SAM
Two graveyards, a construction site and an abandoned warehouse.
DEAN
I say we hit the graveyards first. Seems like the most obvious place.
EXT. ABANDONED WAREHOUSE - NIGHT
The Impala pulls up outside of the warehouse and Dean and Sam peer up at the five story building, rundown building.
DEAN
Well Ö this is the last place. If itís not here weíre going to have to come at this from a new perspective.
SAM
Letís go.
INT. WAREHOUSE - NIGHT
Dean and Sam push open a loading dock door and peer inside. Inside it is dark, dusty and empty, except for a few large crates scattered about. The brothers switch on their flashlights and step inside. As they talk they walk through long corridors and expansive rooms, checking their surroundings carefully.
SAM
Have you heard from Kate recently?
DEAN
Just the same old stuff. Work. Not much going on except the world falling apart.
SAM
So Ö when this is all over Ö do you have any plans?
DEAN
Plans?
SAM
You know Ö letís say that five years from now, itís all over. No more hunting. What are you going to do?
DEAN
Itís never going to be over, Sam.
SAM
Well, what if it is?
DEAN
Iíll be dead.
SAM
DeanÖ
DEAN
You donít get it, do you? This isnít some ghost or something, this is the end, as in the end. Game over. Judgment Day. Itís a war.
SAM
Iíd go back to school. Finish my degree. Get a normal job. Start a family.
DEAN
Who would you start a family with?
SAM
Iím sure thereís someone.
DEAN
So youíre over Jessica?
SAM
Iíll never forget her Ö but I know she would want me to move on.
DEAN
Fair enough.
SAM
Come on, there has to be something you want to do.
DEAN
I donít know.
SAM
What about Kate? You two seem to get along pretty well.
DEAN
(shakes head)
Not well enough.
Sam begins to say something else but Dean suddenly freezes, holding up his hand to silence his brother. Dean looks to his right and Samís eyes widen.
SAM
Oh my God Ö
They turn to their right to see a door ajar next to them. Inside, three bodies covered in blood are hanging by the necks from the rafters above. Blood is streaming from their eyes, ears, mouth and nose.
Dean covers Sam as they enter the room, checking every corner of what appears to be a small office space. Itís empty.
Sam checks the pulse on the bodies and shakes his head.
SAM
Theyíre all dead. Cold, too. Must have been here a while.
DEAN
How often do these djinns need to feed?
SAM
I donít know.
The brothers tense when they hear a door creaking behind them. They take cover behind some crates and watch as a shadowy figure enters the room, carrying a limp body over its shoulders. The brothers cannot get a good look at the djinn but they see a rope thrown over the rafters above. The rope is fastened, there is a moment of silence, and then the djinn leaves the room. Dean and Sam quietly get up from their hiding place. Sam checks the door while Dean goes up to the new victim tied to the rafters. It appears to be a young man in his twenties, blood trickling from his nose and ears. Dean checks his pulse then turns around in surprise.
DEAN
Sam. This guyís still alive!