Caption Challenge 13 - Voting Phase 1
Summer has finally ended and along with it the long drought of views of our favorite Winchester boys. This will be the voting for the winner of our last Caption Challenge for the summer. Hopefully you all had fun and it made the wait a little easier to bear.
We have 11 entries for you to review and vote for a winner.
Phase 1 Voting Begins Wednesday, September 9, 2009 and Ends Friday, September 11, 2009:
Select your favorite caption from each of the two groups. PM your vote to Raven524 and include the Group A or B and the number of the caption (1, 2, 3, etc). Please select only one caption from each group. Also, voting for yourself is not allowed.
All votes must be in no later than 9:00 P.M. EST on Friday, September 12, 2009.
Phase 2 Voting Begins Saturday, September 13, 2009 and ends Sunday, September 14, 2009:
From the top Two votes, you will need to select the winning caption. PM your vote to Raven524 and include the number of the caption you think is the funniest. Please select only one caption. Voting for yourself is not allowed.
All votes must be in no later than 9:00 P.M. EST on Sunday, September 14, 2009
Group A: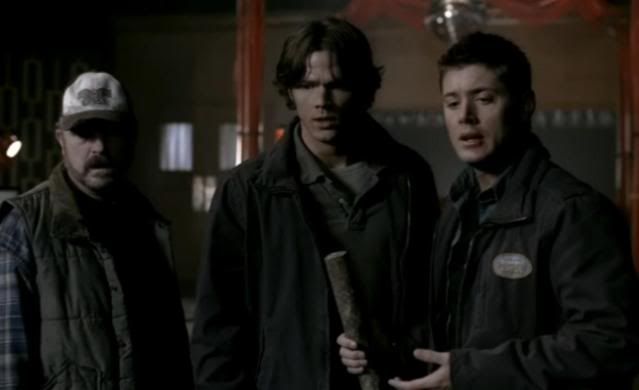 1) Bobby: Are they doing what I think there doing?
Sam: Man I did'nt know an angel could bend that way. I did'nt know Uriel and Cas like each other
Dean: Sam take the stake and poke my eyes out please – Libra
2) Dean: "Wait!!........Those were the Ed and Harry shapeshifters, right?......Right?!?"
Sam: "Dude......you just killed the Ghostfacers."
Bobby: "Idgits!!!" –tngmd
3) Dean: "You guys saw Monty Python and the Holy Grail, right? Where the bunny tore the guys head off? Should we run? I think we should run..."
Bobby: "It's just a rabbit, Dean..."
Sam: "I think it just growled..." –Salchan
4) Bobby: "Is that who I think it is?"
Sam: "Unfortunatly."
Dean: "Yep, (then smiles widely) Miss September on the 'Busty Asian Beauties' calendar." – NikkiKarley
5) Dean: "OMG, does that chick actually have three butts underneath that hoop skirt?"
Sam: "No, Dean, those are three boobs".
Bobby: "You two can't tell the difference??" -DeanSam1
Group B: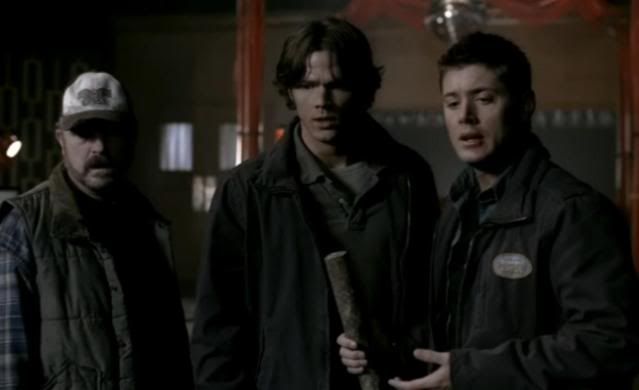 6) Bobby: Did ya kill it?!
Sam: Yeah, we think so.......wait!
Dean: Dude ... is it a good thing his eyes are glowing like that ... or ... ahh this can't be good! - Crockett85
7) Dean: Hey! You see that, right? That guy, right there, on the tv. It's that show... about the fake psychic or whatever? Well, is it just me, or does the bad guy look a helluva lot like Bobby?
*both brothers turn to the trucker hat-wearing man in question*
Bobby: *squints at tv* Ya idjits. That Stinky Pete fella don't look a thing like me. *mumbles* Like I'd ever be caught dead in that get-up... -bamagyrl222
8) Dean: "Hey, Caz, I can see you and Anna are kinda busy . . . but i thought you guys didnt have any . . . junk." - Jojo's Striped Sweater
9) Dean: "Wow, that guy from The Vampire Diaries does have a really cute butt". – Wendigoone
10) Dean " of all the scenes in Silence of the Lambs to act out, why did Cas choose the Buffalo Bill striptease? - Fill-osopher
11) Dean: I don't think I can do this. Bobby you wanna take the honors?
Bobby: Gimmie a minute I'm still trying to process a Captain Kangaroo Shapeshifter wearing a beaded evening gown. ---Dean Winchester
Good Luck to You All!