Welcome to Supernatural TV Caption Challenge 13!
Time for week thirteen of the Caption Challenge! Listed below is a Screen Shot from an episode of Supernatural. We will be selecting from all four seasons.
The Challenge is to come up with a funny caption for the Picture.
Keep the Caption to no more than three sentences
and submit it to Raven524 with a PM (you can send me a private message by clicking on the 'PM' button at the bottom of this post.). Please keep in mind that all captions must be PG13 appropriate. Sorry, only one entry will be accepted.
To enter:
Please title your PM:
Caption Challenge 13
Then put your caption in the message followed by your screen name.
For example: Dean: "You want me to park it Where?" - Raven524
That will make it easier for me to compile all the entries for voting each week.
A new screen cap will be posted each week on Tuesday, so keep checking back on that day to enter!
Phase 1 of Caption Challenge 12 voting will be posted shortly!
Ready? Here we go with
Caption Challenge 13!
Here is the Image for this week (Can you guess the episode—this one should be easy!)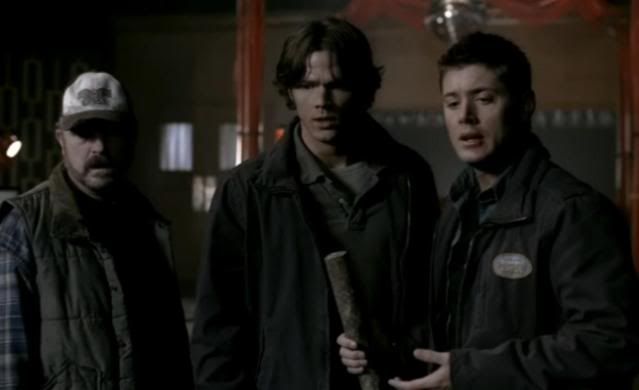 All entries must be PMed to Raven524 no later than Sunday, September 6 at 9:00 EST P.M.
Have Fun!!
The Sn.TV Admin/Mod Team