Supernatural TV Caption Challenge 5 WINNER!
All the votes have been tallied and the winner for this weeks Caption Challenge is...
#4: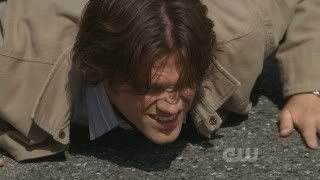 Sam: No Dean there is no mouse underneath the Impala, now get out of the tree and help me up!
by Pockets
Congratulations!!!
Check out the Challenge section on Tuesday for this week's Caption Challenge. Looking for something else to pass the time? Why not check out the new Fan Fic Challenge where you can choose to either write a crossover story or write about the first time a SN Character was injured. Even if you're not a writer, check it out and cast your vote for your favorite entry.
Your Choice Fan Fic Challenge
Also don't forget the 2009 Supernatural.tv Awards. New categories are now open for voting, why not pop in and cast you votes!
Vote for 2009 Supernaturall.tv Awards
Thanks to everyone for making this a fantastic summer of Supernatural fun!