Caption Challenge 5 - Voting Phase 1
Congratulations on all the entries. We have 21 fantastic captions for you to review and vote for a winner.
Phase 1 Voting Begins Tuesday July 14, 2009 and Ends Thursday July 16, 2009:
Select your favorite caption from each of the five groups. PM your vote to Raven524 and include the Group (A, B, C, D or E) and the number of the caption (1, 2, 3, ect). Please select only one caption from each group. Also, voting for yourself is not allowed.
All votes must be in no later than 9:00 P.M. EST on Thursday, July 16, 2009.
Phase 2 Voting Begins Friday, July 17, 2009 and ends Sunday, July 19, 2009:
From the top five votes, you will need to select the winning caption. PM your vote to Raven524 and include the number of the caption you think is the funniest. Please select only one caption. Voting for yourself is not allowed.
All votes must be in no later than 9:00 P.M. EST on Sunday, July 19, 2009
Group A: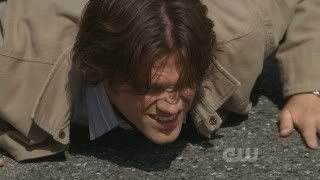 1) Sam: "Dude, next time you need a disguse skip the contacts."
2) Sam: "Dean! I said I was sorry for eating your pie! Now get off of me! And for God's sake, quit putting your dirty socks in my face!!"
3) Sam " Uh Dean, just exactly how drunk was I last night?"
4) Sam: No Dean there is no mouse underneath the Impala, now get out of the tree and help me up!
Group B: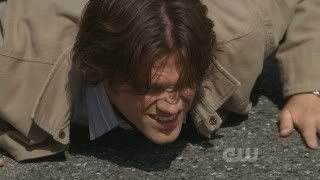 5) Oooo, I found a penny!
6) Sam, looking at Dean's shoe: "Is that...is that hair gel?"
7) Sam: What's that smell?
Dean: First you're psychic, and now you just morphed into a 6'4 dog?
Sam: Shut up, I think I found us a port-a-potty.
8) Never sing a song like "The ants go marching one by one" to Jared. He can get a tad literal.
Group C: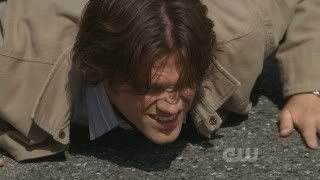 9) Sam: HOLD UP DEAN! MAJOR WEDGIE!
10) Sam: Okay Dean you win, I can't carry you any more
Dean: Come on Sammy, are you backing out, you only got one block left
Sam: Fine but when I'm done we never speak of this again
11) Sam: Dean, this isn't funny anymore. Get off of me!
Dean: You do the crime you do the time *sits on Sam's back and farts again*
Sam: It was just a tiny scratch....how many cheese fries did you eat?
12) "Aaagghh! DEAN!! Those tacos did taste funny ... uhggh ... I'm gonna hurl!!"
Group D: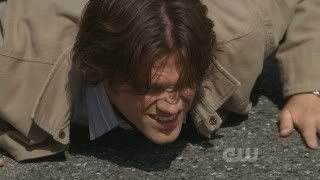 13) Sam: "Just one more push up and I will be the world's strongest man - yes!"
14) Sam: "i don't push up dean, I push the world down."
15) sam - 'thie ground tastes funny'
16) Sam: "Damn, what am I doing wrong? MJ sure makes that moonwalk look easy!"
17) Dean:Come on Sam, tell me the truth....
Sam:Dean I promise, I didn't eat your piece of pie!!
Group E: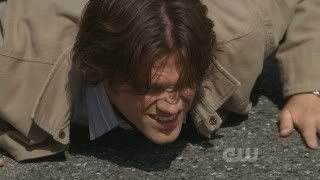 18) Sam: Uncle! You're the hotter Winchester, now get off me, Dean!
19) Sam woke up to find himself sleeping in the parking lot of the motel they were renting. All Sam could remember was matching drink for drink with Dean, trying to win the 'last man standing 'bet.
Sam looked up at Dean with his squinting, blood shot eyes and asked "So did I win?"
20) *Mission Impossible Theme* Sam: "I'm way more awesome than Tom Cruise."
21) Sam: "Man! Cavity searches suck!"
Good Luck to You All!