EXT. TEXAS Ė MORNING - 1835
The streets of the town are beginning to fill with people. SAMUEL COLT staggers out of a hotel, loaded with saddlebags and gear. He has changed out of his fancy clothes into much rougher garb, sporting the leather trousers, vest of a cowboy, a cotton shirt and tan cowboy hat. He has added a gentlemanís flavor to the outfit by wearing a string tie around his neck. He stands in the street, looking back and forth, then spots something across the street and cuts across the crowd towards the porch of the saloon.
POV SAMUEL
CLINT FISHER is sitting in a chair on the porch of the saloon, smoking a cigar with a few other men and watching the streets in front of them.
CUT TO WIDE ANGLE of the street as Samuel shoves his way through the people and horses traversing the street and stops, breathless, in front of the porch.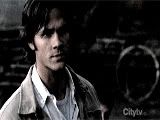 CLINT
Took you long enough.
He throws the cigar to the ground, then stands, stretching luxuriously.
CUT TO BIRDíS EYE VIEW of the town, panning slowly along the streets until we arrive upon two figures riding their horses out of town Ė Samuel and Clint; Samuelís horse is laden with luggage, and Clintís horse only has one saddlebag, a rifle, and a wrapped package that looks suspiciously like a guitar.
The pair rides out of town into the surrounding plains.
INT. TEXAS BAR Ė NIGHT
Dean and Sam are stare at Karl with looks of disbelief on their faces.
DEAN
So he just went with this Fisher guy? No background check or anything?
KARL
You have to remember that this was the Old West. There was no such thing as background checks. You trusted a man by his word and by what gun he carried on his hip. Fisher was a man of few words and many weapons, however, and Colt was naÔve when it came to the ways of the mountain men.
SAM
So Clint couldnít be trusted?
KARL
Just listen to the story!
EXT. TEXAS MOUNTAINS Ė EVENING Ė 1835
Clint and Samuel are sitting at a fire as their horses drowse in the background. Clint stares at the fire, poking it nonchalantly with a stick while Samuel watches the stars. A full moon is rising.
SAMUEL
So, you grew up here?
CLINT
Mostly.
SAMUEL
Howíd you get to be a guide?
CLINT
Word travels fast in these parts.
Itís not easy to get this man to talk. Samuel looks around the campsite.
SAMUEL
You play guitar?
CLINT
Sometimes.
SAMUEL
I give up.
He rolls down his bedding next to the fire and settles down for the night.
MUSIC CUE: "TRIAL BY FIRE" MARCO BELTRAMI
Suddenly, the mountain man is startled out of his thoughts by an eerie howl cutting through the night air.
Samuel sits bolt upright as Clint snatches his rifle and stares into the darkness surrounding their fire.
SAMUEL
Was that a wolf?
CLINT
That wasnít a wolf.
SAMUEL
Then, what else could it be?
CLINT
Stay here.
He takes his rifle and disappears into the surrounding darkness. Samuel is left alone; he can hear the tramping of Clintís feet fade into the distance. Soon, the only sound is of the crickets and the crackling fire. The horses nervously tug at their picket lines. Samuel turns by the fire, trying to see into the darkness surrounding him. The eerie howl sounds again, and then shortly after Ė
BOOM!!!
The resounding shot of a rifle echoes off the mountainside, rolling and undulating down through the trees. Samuel is startled and retreats to the edge of the fire, grabbing a fiery brand from the flames and brandishing it before him. Movement sounds in the forest around him. Something is watching him.
SAMUEL
Clint?
POV Samuel
Something is rustling through the undergrowth in the forest. Samuel bravely holds the flaming stick in front of him.
SAMUEL
Hello?
Clint emerges from the underbrush, alone.
CUT TO WIDE ANGLE OF CAMPSITE
CLINT
Put that stick down.
SAMUEL
What was that?
CLINT
Nothing.
SAMUEL
Well then, what did you shoot at?
CLINT
(beat)
Rabid wolf.
SAMUEL
You said it wasnít a wolf.
Clint says nothing but lays his rifle down next to the fire and proceeds to reload it, taking out a small box with several dozen bullets inside. Samuel catches the glint of them in the light of the fire.
SAMUEL
Are those silver?
Clint nods.
SAMUEL
How can you afford silver bullets? And how could you waste one on a rabid wolf?
CLINT
It wasnít wasted.
SAMUEL
(frustrated)
What do you take me for? Do you think that Iím some sort of stupid city man who will believe anything you say? A normal man would not go around shooting at things in the night with silver bullets.
Clint stops reloading the rifle and looks at Samuel, straight in the eye. Samuel is frozen by his gaze.
CLINT
There are a lot of things in this world you arenít aware of, kid. One of those things is something that I hunt. You wouldnít believe any story I had to tell you, and Iím certainly not going to start sharing stories. You can trust me to show you what you need for your gun, but other than that, donít delve into my life.
Samuel stares at him, then Clint drops his gaze back to the fire.
SAMUEL
Who are you?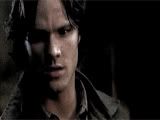 Clint stares into the fire for a long time, distant memories running through his mind.
CLINT
You donít want to know about my life, kid.
EXT. FOREST Ė NIGHT Ė FLASH BACK
A cabin, burning in the forest. Screams of agony. A man running towards the fire. The flames illuminate the manís face, itís Clint, thereís a sheer look of desperation in his eyes.
CLINT
(screams)
Sarah!
EXT. CAMPFIRE Ė NIGHT
Clint shakes his head, willing the memory away. Unconsciously, he rubs at the white scar.
CLINT
Change of terms, kid. I donít want your twenty dollars anymore. I want you to make me a gun.
EXT. MOUNTAINS Ė MORNING
Clint and Samuel are riding single file up the mountainside. The terrain is rocky and there is not much plant growth in the rocks. A hot sun beats down from above.
SAMUEL
I need hard minerals. Ones that wonít melt under high heat.
CLINT
Top of this mountain, you might find what youíre looking for.
SAMUEL
Enough to mine?
CLINT
This is Indian country. You donít want to mine here.
SAMUEL
I could buy it from them.
CLINT
You have that kind of money? Theyíll drive a high price. They know this land is worth something. The United States government is selling things cheap, but anything that belongs to the Indians isnít going to be so cheap. Thatís if they even decide youíre worth selling to. More than likely theyíd just kill you. They know that if you donít get what you want, youíll be back with firesticks and death. Theyíre running out of places to go. Theyíre holding on firm to what they have left.
SAMUEL
How do you know so much about the Indians?
CLINT
I was raised by them.
SAMUEL
What?
CLINT
My family was killed. They took me in and I learned their ways, how they work, how they talk. Their stories, their legends.
SAMUEL
Did they kill your family?
CLINT
No.
(changing subject)
How much do you need for your guns?
SAMUEL
Uh Ö Iíll just start with one. Iíll make the one you want first. If it works Iíll be back.
(beat)
This gun is going to be different.
He points at Clintís rifle.
SAMUEL
You have to reload your rifle each time you shoot at something.
CLINT
And youíre going to make one thatís better?
SAMUEL
A new pistol. A pistol that will have a revolving chamber so you donít have to reload each time you fire off a shot.
CLINT
I have a cousin. Heís a gunsmith, too. Nameís Winchester. Heís working on a new rifle.
SAMUEL
Donít tell me he has the Samuel idea.
CLINT
Donít know. I have a feeling the armyís going to hire him. Theyíve been pestering him for a while. His nameís Samuel, too
FLASH CUT TO:
INT. TEXAS BAR - NIGHT
In the midst of noise and merriment and drinking and games, Dean and Samuel are listening intently to Karlís story.
DEAN
Did you just say Winchester?
KARL
Didnít know that your family line stretched back that far, did you?
DEAN
We were never into the family tree.
SAM
Thereís hundreds of Winchesterís out there that arenít even remotely related to us. How do you know this one is?
KARL
You kids may not keep track of the family line, but trust us Ė we have. Youíve got quite an interesting history.
DEAN
So are you saying this Clint guy is a relative?
KARL
Distant cousin. He was cousin to Samuel Winchester who created the gun that won the West Ė the most popular rifle of its time. The family line was cursed, too. His daughter went crazy and thought spirits would kill her if she didnít continue constructing a house for as long as she lived.
SAMUEL
She didnít leave any children.
KARL
But Samuel Winchesterís cousin, Clint, did. Fisher was his working name. His children claimed his original name.
EXT. MOUNTAINS Ė MORNING Ė 1835
SAMUEL
Times like these, having a new gun might do us some good.
CLINT
Have any family in the military?
SAMUEL
No. You?
CLINT
My brother. Heís stationed at the Alamo.
SAMUEL
The Alamo? Never heard of it.
CLINT
Itís by the Mexican border. Doesnít get much action.
LATER:
Clint is kneeling and holding the reins of his horse, inspecting the rocky ground. Samuel overlooks him from his horse. A wide, flat, rocky expanse is around them at the top of the mountain.
SAMUEL
What is it?
CLINT
(shakes head)
We shouldnít be here.
SAMUEL
Why?
Clint stands and looks around, fingering the knife on his belt uneasily. A warm wind whistles through the air.
CLINT
(murmur)
This isnít right.
POV Clint
We see an angry black storm cloud gathering at the horizon on the plains. Lightening crackles from within the cloud and the distant boom of thunder echoes across the plains.
SAMUEL
We shouldnít be up here with a storm coming.
CLINT
Get off your horse.
Confused, Samuel does so. Clint goes to his horse and pulls out a small bag from one of his saddlebags. He grabs Samuelís horse and leads the two animals over to the middle of the mountaintop. The storm in the distance is coming closer, and the wind is picking up. Clint loops the horseís reins around a rock jutting up from the landscape and pulls a black stick out of the bag in his hand.
CLINT
Stand by the horses and donít move.
SAMUEL
Why? Whatís going on? We need to get down from here.
CLINT
(looks him in the eye)
Trust me.
Samuel stands by the horses and watches as Clint begins to draw a circle around them all, adding a pentagram and various symbols along the outside of the circle Ė gradually we realize he is making a Devilís Trap! When he is finished, he stands next to Samuel, drawing his knife and pistol from his belt. The storm is nearly on them. The men have to shout to be heard above the wind.
SAMUEL
What is all that?
CLINT
Protection.
SAMUEL
Protection against what?
CLINT
(beat)
Demons.
SAMUEL
Demons? Are you crazy? Thereís a storm above us! A circle in the dirt isnít going to protect us against a storm!
The storm is swirling madly above them now, and the wind roars deafeningly. Lightening crackles all around them. The horses snort in terror and Clint lays his hands on their noses, whispering softly to them. Gradually, they calm, and Samuel watches, fascinated. Lightening is hitting the ground around them, impossibly staying on the edges of the circle.
CLINT
Theyíre angry.
SAMUEL
Who? What are you talking about?
MUSIC CUE: "SONG FOR JESSE" BY NICK CAVE & WARREN ELLIS
Suddenly, in the middle of the inferno, a face appears in the clouds! It is an old Indian face with blazing eyes filled with lightening. Its mouth opens to reveal an endless black.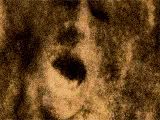 Samuel stares in horror.
CLINT
Donít look at it!
He pushes Samuel down next to the horses and stands in front of him, glaring at the storm clouds.
CLINT
Regna terrae!
DEMON
Who dares to summon me?
Its voice is deep and crackling with lightening. Samuel cowers in fear.
CLINT
I need something from you.
DEMON
You will die here.
CLINT
We will leave here unharmed.
DEMON
You will not leave with your lives!
Clint stares at the demon, a cold eyed, steely glare. Wind whips around the mountaintop, and Samuel gazes at the sight of the cloud demon and Clint more with awe than horror, now.
CLINT
(changes tactics)
What is your mystery?
DEMON
There are two people who gaze on each other, day and night without ceasing. Who are they?
CLINT
(laughs)
You had to make it easy on me.
(beat)
Two people who gaze on each other and who will continue to gaze upon each other until eternity ends are the sky and the earth.
The demon swirls angrily.
DEMON
Another riddle, then, hunter.
(beat)
What does a man enter by three places, but leave by only one?
Samuel stirs as Clint pauses, gazing at the spirit.
SAMUEL
A shirt. You put your head and arms into three places, but they only come out one way.
DEMON
Both of you possess knowledge Ė but summoning a demon is not a matter to be taken lightly.
(beat)
What is it that you want?
CLINT
I want to know when the star will come.
DEMON
There are many stars that pass by this world.
CLINT
There is one in particular, one that comes once in every manís lifetime. It came forty years before I was born and it is due to come soon. When will it be here?
DEMON
Why is a star so important to you?
CLINT
I want to see it before I die.
DEMON
(beat)
It will come when the moon has passed through half its cycle.
CLINT
(nods grimly, whispers to Samuel)
When I move, I want you to get down, cover your head, and donít move until I tell you to. Itís going to sound like hell itself opened up in a moment.
As if on cue, lightening crackles through the air and strikes the ground around Samuel and Clint. They duck for cover next to the horses. The horses neigh in terror, pulling at their reins. Clint puts his hand on one of the horsesí sides and it calms.
CLINT
Get down!
Samuel ducks, arms over his head. Clint swings the rifle up and around, pointing it at the mass of clouds and lightning above him.
CLINT
Iím sending you back to hell.
PAN UP looking down on Clint and Samuel as Clint aims the rifle straight at the camera.
CLINT
Non delomelanicon!
CUT TO WIDE ANGLE of the mountaintop, a birdís eye view. Several tremendous bolts of lightening flash out of the sky, striking the ground around the pentagram. As Clint speaks, the clouds convulse above him, and lightning strikes the ground, shaking the mountaintop and leaving charred, black holes in their wake.
CLINT
Per eumdem Christum Dominum nostrum, qui venturus est judicare vivos et mortuos, et saeculum per ignem. Tu autem effugare, diabole; appropinquabit enim judicium Dei!
Clint FIRES the rifle into the clouds! A tremendous SCREAM is torn from a thousand voices, and Clint drops the rifle to cover his ears with his hands. Slowly, the lightening dissipates and the clouds dissolve. Samuel looks up.
Clint stands and walks to the edge of the pentagram.
SAMUEL
That Ö that was Latin.
Clint doesnít acknowledge him.
SAMUEL
Since when does a mountain man raised by Indians speak Latin?
CLINT
There are some things in this life that canít be explained. You just know theyíre there. Those are the things that I hunt.
The sun begins to beam down upon them, shining as though there had never been a cloud in the sky.