INT. RESISTANCE LAIR - MAIN - DAY
David exhales and leans forward, he looks down upon Dean.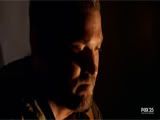 DAVID
I remember when it happened. I was at home, taking care of my children. The alarms blared. It was unlike anything Iíve ever heard before. I ran out to get them, but they were no where to be found. The sky began to bleed. The ground began to rip apart. The sounds, inhuman growls. It was right then that I knew that the world was coming to an end.
DEAN
Did you ever find them? Your children?
DAVID
They were gone. They got them. They got everybody. In an instant we all became an endangered species. Funny huh? Never figured it would happen, at least not in my lifetime.
DEAN
Where did it all go wrong?
DAVID
Letum took control over the country. We all trusted him. By the time we figured out his true intentions, it was already too late.
DEAN
What about the President?
DAVID
Reynolds? I donít know. Way I figure it, he got played too. Like we all did. That guy was a true American hero, canít imagine him ever willingly giving in to Letum.
DEAN
I still canít believe I was gone for ten years.
DAVID
Do you remember what happened?
DEAN
All I know is that when I woke up, the world wasnít the same.
DAVID
Has a way of getting to you, doesnít it?
Dean nods.
DAVID
Yeah. After a couple of months I started organizing people together. Alone they could break us, but together thereís always hope. We started to fight back, but truth be told most of the time it seems useless. My men keep dying and weíre no further than we were ten years ago.
DEAN
I lost track of my brother.
David lights up, on guard.
DAVID
Whatís his name?
DEAN
Sam Winchester.
David shivers, he exhales and closes his eyes. He shakes his head.
DAVID
Canít say Iíve seen him.
Dean sighs. He stands up and pats himself down.
DEAN
This fight. Iím in. Whatever it takes, Iím in.
Dean leaves Davidís room. David watches him go.
INT. RESISTANCE LAIR - WEAPONS ROOM - DAY

MUSIC: "BORN TO RAISE HELL" MOTORHEAD
A dusty concave of a room filled with weaponry ranging from Medieval swords to guns. The room is worked by teenage guys ranging from fourteen to nineteen years old. Some arrange and take care of the guns, while others forge swords. The music blares from a cassette player.
Sparks fly as Marty forges a sword. Heís pushed aside. Marty stops and turns to see CRAIG LARKIN. Larkinís the classic grade A jerk.
MARTY
What do you want Craig?
CRAIG
Who says I want anything? Stop taking up breathing space, orphan.
Craig moves past Marty. Marty clenches his teeth, his face turns red.
DEAN (O.S.)
Heís just a jerk, donít let him get to you.
Marty turns to face Dean, embarrassed. He continues to forge the sword.
MARTY
Like youíd understand.
DEAN
(He smirks)
I would, actually.
(Beat)
What are you working on?
Marty picks up the sword, swings it around, hands it to Dean.
DEAN
Pretty good workmanship.
MARTY
Pretty good? Iím the best.
DEAN
I hear you there. I used to work all the time in my fatherís workshop.
MARTY
(Interested)
Yeah? Whatíd you do?
DEAN
Melt silver into bullets. Put together weapons. Same old, same old.
MARTY
You fought these things back then?
DEAN
My whole life. Motorhead, huh?
MARTY
Motorhead? Is that a comic book character?
Dean chuckles, amazed.
DEAN
The music. Motorhead.
MARTY
Oh. We just listen to whatever tapes are found out there on the surface. Have a lot of them.
DEAN
Looks like primitive technology does come through.
MARTY
Hmm?
DEAN
Never mind. Can I see those tapes?
MARTY
Yeah, sure.
Marty hurries away, Dean follows close behind.
INT. RESISTANCE LAIR - DAVIDíS ROOM - DAY
David paces around the lair. Patrick enters.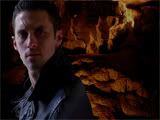 PATRICK
Heís him, isnít he?
David nods.
PATRICK
What are we going to do?
DAVID
I donít know. Iíll figure something out.
David reaches down and picks up a dagger.
PATRICK
Our men just returned with a report from the outer rims.
David glances up at him.
DAVID
And?
PATRICK
Thereís an old weapons cache out near Letumís Fortress. Itís loaded.
DAVID
Then weíre going before it gets dark. Gather all the men together.
PATRICK
What about Dean?
DAVID
Heís coming with us.
David slides the dagger into his pocket.
DAVID
It will give me more time to asses the situation.
INT. RESISTANCE LAIR - EQUIPMENT ROOM - DAY

MUSIC: "WAITING FOR DARKNESS" OZZY OSBOURNE
The room is filled with scraps and various equipment. Light fixtures hang from the ceiling providing a dim brightness. Dean and Marty hunch over a cassette player blasting music. Cassette tapes are lined up next to it.
DEAN
I can say one thing about the future, at least the good music has remained instead of all of that new age emo crap.
MARTY
Emo?
DEAN
Never mind, different time. So what do you do if youíve never left?
MARTY
School and work.
DEAN
They still make you learn?
MARTY
Yeah, total waste of time if you ask me. I mean itís not like any of that stuff is ever going to impact our lives. Besides, all it does is reinforce what we donít know, the world weíll never know. Kinda sucks.
DEAN
Iím sorry.
MARTY
For what? It wasnít your fault.
Dean flips through the cassette tapes.
DEAN
Iíd like to believe that was true. But, I made way too many mistakes in my life. And now Iím paying for it.
Marty glances to the side to see ELIZABETH, a fairly attractive teenage girl, he smiles as he watches her pass by.
DEAN
You two a couple?
MARTY
Hmm? Oh no. No way. She doesnít even know I exist.
DEAN
I could give you some pointers.
MARTY
Really? Youíd do that? Thanks.
DEAN
No sweat. You seem like a cool kid.
Marty smiles, looking up to Dean. Patrick enters.
PATRICK
Winchester.
Dean glances over at Patrick.
PATRICK
Come on, weíre moving out.
DEAN
Where?
PATRICK
Just follow me.
Dean nods, gets up and follows Patrick out.
MARTY
Hey...
Dean stops and looks back at Marty.
MARTY
When you get back, can you tell me what itís like, out there?
DEAN
Sure thing.
Dean leaves. Marty glances over at the cassette player.
INT. RESISTANCE LAIR - MAIN - DAY
Patrick guides Dean towards Davidís Room. Soldiers file in. Families watch as they pass by.
INT. RESISTANCE LAIR - DAVIDíS ROOM - DAY
David stands strong as he overlooks his men. He notices Dean and Patrick, nods in their direction.
DAVID
As some of you might have heard, we just got word about a weaponís cache in the outer rims. Itís loaded and god knows we need to re-stock on our ammunition. Weíre going now, so we can get there before night falls. You know the drill men, load up, we leave in five.
INT. RESISTANCE LAIR - GUN ROOM - DAY
The soldiers walk through the weapon room and equip themselves with the weaponry. The teenagers watch on in awe and respect. Dean grabs a gun and dagger. David stops beside him.
DAVID
Ready for this Winchester?
Dean nods his head, born ready.
EXT. HELL ON EARTH - WRECKAGE - DAY
The soldiers trek along the wreckage. The sun shines in the distance scorching the land below. Pygmy demons scavenge the area for dead humans and fight amongst themselves.
DAVID
They have poor eye sight. Theyíll only truly sense your presence if you show fear in your eyes. Theyíre just as afraid of you as you are of them. Itís the big ones you need to worry about.
DEAN
You mean these things get bigger?
DAVID
Not pygmies, the other creatures that lie within hell.
EXT. HELL ON EARTH - TOWN - DAY
The soldiers travel through a ruined decaying town. Thereís signs of little life. Dean takes everything in.
DEAN
Why donít they live-
DAVID
Itís their choice. Some of them are deserters. Others just never wanted to let go, even if meant their own survival.
An African American soldier stops and peers around the corner. This is MITCHELL.
MITCHELL
Sir, thereís a a couple of mutants up ahead.
DEAN
Mutants?
MITCHELL
People with powers. Havenít you ever read the X-Men before?
Dean moves through the pack and stops up ahead. He leans against one of the buildings as he watches a group of powered beings approach. One rides atop a black steed. The horseman jumps off of the horse and nears a town house. A small boy and his parents are dragged out of the house.
DEAN
We need to do something.
DAVID
Dean, stay back.
DEAN
What? Theyíre going to kill them!
DAVID
We canít take them head on, there always needs to be a plan. Theyíre too powerful. Five of them alone is an entire battalion. Especially when they have -
David stops in his tracks. Dean notices.
DEAN
Have what?
Deanís eyes dart back over to the family and powered beings. The horseman steps closer coming into view - itís SAMUEL! Deanís eyes widen with shock.
DEAN
No. It canít be.
A scar runs down Samuelís face, long hair blowing in the wind. Filled with darkness. The boy whimpers, his parents beg for mercy. Samuel puts out his hand. The boy begins to choke, he grasps at his neck as air is sucked out of his lungs.
DEAN
No.
The boyís lifeless body plummets. The parents cry as they hold onto their son. Samuel turns and gets onto his horse. Powered beings brutally torture the family. The black steed rides off.
DEAN
Please tell me that I didnít just see that.
David rests his hand on Deanís shoulder.
DAVID
Iím sorry.
Dean narrows his eyes, conflicted, and trudges on. The soldiers turn to David. David sighs and nods his head. The soldiers continue onwards.
EXT. HELL ON EARTH - WRECKAGE - DAY
Fly over Hell on Earth, seeing the soldiers traveling across the ruins and human remains. Patrick and David stay off to the back.
PATRICK
What do you think heís going to do? Now that he knows?
David doesnít answer. Patrick nods, leaving it alone.
INT. APARTMENT COMPLEX - MAIN - NIGHT
The apartment is sprawled out with gaps in the walls. Cobwebs hang from the ceiling, everythingís covered in mold. Eerie whispers emanate from the darkness. The soldiers wander through, guns trained everywhere. Mitchell motions ahead.
MITCHELL
Itís just a little further.
HENRY
This place sounds like itís infested.
Dean turns to face David, quizzically.
DAVID
Once these things find a nesting ground, they stay there.
Mitchell pushes two double doors open.
INT. APARTMENT COMPLEX - BALL ROOM - NIGHT
The Ball Room is expansive and grandiose. Long since abandoned with a chandelier hanging from the ceiling. Shadows dart across the walls. David puts out his hands, signaling for his men to be quiet. Scampering footsteps can be heard circling around the room. The soldiers aim their guns.
DAVID
Get ready...
Dean aims his gun, not knowing what to expect. Shadows creep out across the curtains of the stage. The tablecloths ruffle in the wind. REEARGH!!!!
DAVID
Whatever you do, stay together.
The soldiers circle around each other. Suddenly SPIDER DEMONS spring towards the soldiers baring their fangs. One of the soldiers shoots. Too late. The spiderís claw away and eat him alive.
Another soldier opens fire. A LONG SLIMY GREEN TENTACLE whips out from underneath a table and pulls him under. Bullets shoot out from his gun and hit the CHANDELIER. It plummets to the ground and SHATTERS upon impact. Soldiers dive for cover.
The man brutally screams as blood gushes everywhere. Spider Demons lay siege upon the separated soldiers. Bullets whiz through the air.
The tables lift off the ground and topple over. Tentacles arc everywhere as a gigantic demon arcs up. It looks like a star fish from hell. It bares itís bloody fangs, multiple sets, like a human meat grinder.
DEAN
What the hell is that thing?
DAVID
Lay fire!!!
BANG! BANG! BANG! The starfish growls in agony. Suddenly foot steps scatter across the room as thousands upon thousands of spider demons rush towards them from all sides.
DAVID
Run!
The soldiers run for the exit. A couple are pulled back and fall to the ground. Henry opens fire, clicks dead.
HENRY
Ah hell.
Henry equips his SWORD and swings at one of the spider demons cutting it in half. Blood oozes and the spider demons descend upon itís fallen.
INT. APARTMENT COMPLEX - MAIN - CONTINUOUS
The remaining soldiers exit the ball room and close the double doors behind them. David notices a rusting metal bar. He picks it up and SHOVES it through the door handles. He turns to Mitchell.
DAVID
Is there another way?
DEAN
Wait, youíre still going to go through with this?
DAVID
We have no other choice.
MITCHELL
Itís narrow, a maze, we wonít stand a chance.
DAVID
Lead the way.
David and Dean lock eyes. Mitchell leads the soldiers further down the hall.
INT. APARTMENT COMPLEX - NARROW HALLS - NIGHT
The halls are torn apart with rubble and decay. Human skulls align the ground along with rotting corpses. Flies buzz around one of the dead bodies. David, Patrick, Henry, Mitchell and Dean storm through the halls with their guns raised.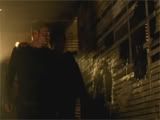 PATRICK
Theyíre here.
DEAN
How can you tell?
PATRICK
One used me as a vessel couple of years ago, ever since then I could sense their presence - everywhere.
The lights turn off throwing the halls into pitch black. Sounds of demonic creatures closing in. Heavy breathing. Soldiers running. Dean equips the light on his gun. Circles around, no oneís in sight.
DEAN
David?! Patrick?! Henry?! Mitchell?!
Dean hears the sounds of their voices calling out to each other from a distance. Everyoneís separated!
HENRY:
Walks through the halls, Sword raised, light shines across. A shadow darts by behind him. Henry spins around. Nothing. A DEMONIC GORILLA, bearing the same features as the Spider Demons, leaps out and tackles him to the ground.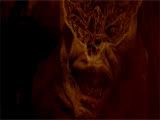 PATRICK:
Hears Henryís screams. He spins around, aiming his gun in every direction. The demonic creatures begin to call out to each other as though communicating.
DAVID:
Listens in. Fear shines clearly across his eyes.
MITCHELL:
Wanders through the halls. He stops at a crossroads in the path. Sounds of demons at every corner. Mitchell gulps, sweat pours down his face. DEMONIC GROWLS. A figure CHARGES towards Mitchell. Mitchell opens fire. Blood splatters. The figure plummets.
Mitchell shines the light down to reveal HENRYíS CORPSE.
DEAN:
Runs through the corridors. A shadow darts just ahead. Dean rounds the corner and aims his gun. The creature is no where in sight. Suddenly the demon appears behind him and CHARGES.
BANG!!! Dean spins around to spot the dead demon. David holds the smoking gun.
DAVID
Always watch your back.
DEAN
Must be getting rusty.
DAVID
No, youíre getting emotional.
A tense stand off. Dean breaks it off.
DEAN
Have you seen Patrick?
Another gun shot ECHOES throughout the halls. Dean and David scan the area. Patrick appears approaching them from the far end.
PATRICK
I think thatís the last of them.
DAVID
And our men?
Patrick doesnít answer. They turn to see Mitchell.
MITCHELL
Henry didnít make it.
DAVID
Are you sure heís dead?
MITCHELL
Positive. I saw his rotting corpse. Still want to find that weapons cache?
David exhales, bites his lower lip and nods. Mitchell walks past him.
MITCHELL
Then follow me.
As Mitchell walks by his eyes flash black!
BLACK OUT!
END OF ACT TWO