OPEN TO:
INT. UNKNOWN - NIGHT
A hard covered book with the title 'TURN THE PAGE' lays on a hard wood desk. Two wax candles are stationed on either side of the book. The wind rustles up against the book blowing the cover open...
CLOSE ON: A pure white page with the word 'Prologue' and the hint of text below it...
PROLOGUE
EXT. BAY - NIGHT
TEXT: TEXAS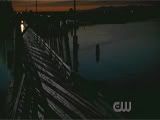 RACHAEL CONNERY and her fiancťe, RICK HOLLIS, stroll hand in hand along a long dock by the bay, the lights from a small town twinkling in the background. They are laughing and talking softly.
WOMAN (V.O.)
It was a beautiful night. The moon was just beginning to rise over the bay and the stars were coming out in all their glory. It was ironic, really. It shouldnít have been that way. It should have been the dark and stormy night that everyone imagines when your best friend dies. Especially when they die as tragically as this.
CLOSE UP on Rachael and Rick.
RICK
Youíre so beautiful.
RACHAEL
(blushing)
And you are so romantic! That was a wonderful dinner Ö and now a moonlit walk on the beach?
RICK
Got to have the best for my girl.
Rick holds up her hand and we see an engagement ring. He KISSES it.
RICK
The girl who is soon to be my wife.
RACHAEL
12 days left!
Rick smiles, tucks her hand under his arm and strolls on.
EXT. STREET - NIGHT
Rick and Rachael pull up to a house in Rickís car. Rachael steps out and heads to the door. Rick follows her. At the doorstep, he hugs and kisses her.
RICK
Good night, dear.
RACHAEL
Good night, Rick.
RICK
Sweet dreams.
RACHAEL
And you!
She ENTERS the house and Rick turns towards his car.
EXT. ALLEY - NIGHT
WOMAN (V.O.)
They thought it was one of the best and most romantic nights of their lives.
Rick parks his car outside of his apartment in a dark alley and exits, standing at his doorstep looking for his keys.
WOMAN (V.O.)
But life has a way of handing you bullets Ė
A SILENT gunshot WHINES through the night. Rick jerks.
WOMAN (V.O.)
When it should be handing you kittens and chocolate and sunbeams.
Rick slowly topples, blood streaming from his mouth, eyes wide in shock. He is DEAD before he hits the ground. PAN UP to reveal a dark shadowy character behind him that disappears into the night.
INT. HOTEL - NIGHT
Sam Winchester bolts upright in bed, breathing hard. A dream. Or a premonition?
END OF PROLOGUE

CHAPTER ONE

EXT. DINER - MORNING
We see the Impala parked outside the diner in the middle of a small, quaint seaside town.
WOMAN (V.O.)
Nobody knew who they were. Nobody knew where they had come from. They were normal men. Brothers.
INT. DINER - CONTINUOUS
Dean and Sam Winchester share a small table. Both have newspapers in their hands. Dean has a stack of pancakes that he is attacking while reading the newspaper. Samís pancakes sit untouched.
SAM
Dean, did you read this article about the guy killed over by the docks?
DEAN
What about it?
SAM
Donít know. Just have a feeling about it.
DEAN
Want to go check it out?
SAM
Seems like a normal murder.
(beat)
The only thing is, this town hasnít seen a single murder or crime since the early 1900ís.
DEAN
Iím just reading an article about a double murder over on the Westside. Where was yours?
SAM
East. By the docks.
(beat)
You donít think theyíre related, do you?
Off Deanís look of intrigue--
EXT. SHERIFFíS OFFICE - DAY
The Impala is parked outside the small town sheriffís office next to two other police cars.
INT. SHERIFFíS OFFICE - DAY
Dean and Sam (in suits), stand at the receptionistís desk. Dean has an FBI badge in his hand. A pretty receptionist sits at the desk, looking a bit nervous.
RECEPTIONIST
I wouldnít think that we would need help from the FBI. Weíre just a small town. It isnít anything our deputies canít handle.
DEAN
Thatís the thing, maíam. We were sent in because there hasnít been a major crime in this town in about a hundred years. Are you really sure your Ö deputies Ö can handle something like this?
SAM
With all due respect Ö Weíll be carrying out our own investigation. We wonít be in anyoneís way. We just want access to any files that might be of help to us.
RECEPTIONIST
Iíll have to talk to my manager.
DEAN
(grins)
Great.
The receptionist exits, and Dean and Sam turn to each other.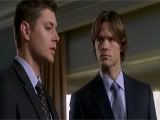 SAM
Are you sure this is a good idea? Impersonating FBI agents when you know very well that there could be some on our tail right now? We havenít been that careful lately, Dean.
DEAN
Stop worrying about it, Sam. Weíll be out of here in no time. Probably just some serial killer passing by.
The receptionist returns. The Winchesterís turn on the charm and smile at her.
RECEPTIONIST
Heíll have to come and talk to you and get you to sign some papers.
SAM
Thatís great. Thank you.
INT. SHERIFFíS OFFICE - TREMAINíS OFFICE - MOMENTS LATER
Dean and Sam sit in chairs across from TREMAIN BARON, an imposing black man in his mid forties wearing a sheriffís uniform. Certificates from military exploits and various medals of honor hang on the wall behind him.
TREMAIN
I donít have any problem with you conducting your own investigation. Just stay out of my menís hair or Iíll be calling Washington direct.
DEAN
You wonít even know weíre here.
TREMAIN
If you find anything, you let me know first thing. Hereís my number.
Tremain writes down his number on a card and slides it over to the Winchesterís. Sam takes the card and tucks it into one of his pockets.
DEAN
It seems kind of bizarre that this is happening after all those years of nothing. Do you have any leads?
TREMAIN
We thought maybe it was a serial killer passing through at first. The first murder was last week. Then we had three more. All men. All about the same age.
SAM
Thatís the only link youíve got?
TREMAIN
No. Thereís a woman who knows them all. Sharon Harris. Sheís our prime suspect at the moment but we donít have any evidence against her.
SAM
Why is she a suspect?
TREMAIN
She was born here. Left to go to college and pretty much disappeared. The night she came back into town was the night of the first murder. Toby Roberts. Found him tied to his bed, naked. Shot in the heart. No DNA evidence of who he was with.
DEAN
Whoa, sounds like the way to go... man!
Sam gives him an irritated look.
SAM
What about the other murders?
TREMAIN
There was Fergusson and Nate. They shared an apartment. Both were shot in the heart. Same gun as the one that killed Toby. Yesterday was Rick. That was the real shocker. He was going to marry Rachael in less than two weeks. He was shot outside his apartment.
DEAN
Sounds like an assassin.
TREMAIN
Could be. If you want to talk to someone, talk to Sharon. Iím sure sheíll have a different story to tell you, but my bet is that itís her.
SAM
What makes you think itís her?
TREMAIN
Sheís Ö different. Sheís a writer. Murder mysteries. She seems normal, but Ö thereís something going on in that pretty head of hers. Be careful around her.
EXT. SHERIFFíS OFFICE - DAY
Aerial view of the parking lot. We see Dean and Sam exit the building.
WOMAN (V.O.)
And so the brotherís investigation began. Neither knew what they would be in for next.
INT. IMPALA - DAY
Dean and Sam both enter the Impala. Dean takes out his sunglasses and puts them on, lifting an eyebrow at Sam.
DEAN
Do I look like an FBI agent or what?
SAM
You look ridiculous. Letís go.
DEAN
Is this even necessary? Looks like these guys can handle themselves. Itís good to have a murder every now and then to stir up these little towns. By the looks of our man Tremain, heís probably dying to get his hands on that killer. A boring little town like this is no place for a guy like him. I say we hit the road.
SAM
I think we should check out this Sharon.
DEAN
Why? Sam, thereís no point.
SAM
There is a point.
DEAN
Is there something you arenít telling me?
SAM
Itís nothing.
DEAN
Dude, youíre my brother. I know you. What is it?
Sam shifts, looking uncomfortable.
SAM
I Ö I had a dream about one of the murders.
DEAN
When?
SAM
The night it happened. I didnít know if it was a dream or if it was real until we came here and I read about it in the newspaper. I think this is one of our gigs. Why else would I dream about it?
DEAN
Uh Ö Ďcause youíre a freak?
(beat)
Sammy, I donít see anything about this that is telling me this is our kind of thing. I say we leave it to the cops. Find another town with a big baddie to kill.
SAM
You go. Iíll stay here.
DEAN
Sam Ė
SAM
Iím serious, Dean. I need to stick around. Figure this out.
DEAN
(frustrated)
Okay, fine. What do you want to do?
EXT. STREET - DAY
The Impala cruises through a nice little neighbourhood with huge houses and small lawns out front. Dean sticks his head out the window to check a mailbox number.
DEAN
This is it.
The Impala parks. Dean and Sam exit. Both walk up to the front door of a large house with a spacious porch. Sam RINGS the doorbell. After a moment, a beautiful blonde opens the door, the epitome of sexiness. This is SHARON HARRIS. Dean and Sam stare, mouths all but agape.
SHARON
Can I help you?
As soon as she speaks, we realize this is the woman who has been narrating the story thus far. Sam reacts.
DEAN
Hi, my name is Dean, this is Sam. Weíre conducting an investigation on the murders that have happened recently in town and were told you might be able to help us out.
SHARON
Come on in.
INT. SHARONíS HOUSE - LIVING ROOM - DAY
Sharon ushers the boys into the living room, a gigantic room with plush, leather furniture and walls stuffed full of books. Books are everywhere, on the shelves, the coffee table, stacked in neat rows along the floor and a few on some of the furniture.
SAM
Wow, thatís a lot of books you have here.
SHARON
Iím a writer. I canít survive without books.
DEAN
What kind of books do you write?
SHARON
Theyíre mostly about murder. Lies. Deceit. Sex. Violence. The stuff that sells.
The trio settle into chairs.
SAM
So, did you know the men that were murdered?
SHARON
You think it was me, donít you?
DEAN
Weíre not thinking anything at the moment, maíam.
SHARON
Please, Dean. Call me Sharon.
SAM
Weíre not here to make accusations. Weíre just here to gather information.
SHARON
Well, it wasnít me.
(beat)
I knew them. I knew all of them.
(beat)
Itís a pity, really.
SAM
Whyís that?
SHARON
Well, letís just say that Iíve had a Ö history with all of them.
DEAN
What would that history involve?
SHARON
Sex. Lies.
(beat)
Violence.
Dean and Samís eyebrows raise.
SHARON
(grins)
But only the good kind of violence.
(beat)
Thatís all in the past now. And theyíre gone. Whatís the use reminiscing now?
SAM
Did you have any contact with them since youíve been back?
SHARON
If I said I did, what would it matter?
DEAN
Establishing some trust with us would matter.
SHARON
Well, I donít trust you. Now if you donít mind, I have guests coming over and need to get ready. Come back some other time, gentlemen.
Dean and Sam stand to leave. Dean catches a glimpse of a book on the coffee table. He picks it up. The cover reads DARK MATTER with SHARON HARRIS written in bold letters over the title.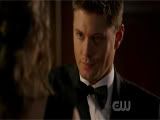 DEAN
Is this your book?
SHARON
One of many. Take it if you want. I have dozens of copies.
She smiles seductively at him, takes the book and scrawls her number on the inside cover.
SHARON
Let me know if you like it.
EXT. SHARONíS HOUSE - DAY
Aerial view as the Impala pulls away from the house and down the street.
SHARON (V.O.)
Little did the brothers know that things were only going to get much Ö much worse.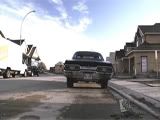 END OF CHAPTER ONE