ACT TWO
INT. HOTEL ROOM - DAY
Dean walks over to his suitcase. Opens it and takes out his fatherís journal. Sam watches on.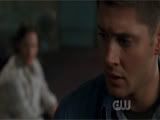 SAM
Mind telling me what this is all about?
DEAN
Demonís Alley. I should have seen it before. Weíre in Passaic County, New Jersey. Dad wrote about it in his journal. Supposedly itís some satanic sanctuary.
Dean hands Sam the opened journal page concerning DEMONíS ALLEY with a crude sketch.
SAM
Yeah, I think I remember that now. But, wasnít it inactive for years?
DEAN
It was. But, weíre in the world after six-twenty six. All these sick bastards are emerging to worship the dark prince. What better place to return to than their old nesting grounds? According to legend in the early eighteen eighties some average Joe moved into one of the houses, while it was still a lively community. Assembled a meeting in his home with everyone from the town.
SAM
Right. Secretly played pranks on the residents and got them to believe it was some local teens. They were going to find a way to stop them.
DEAN
Exactly. But, once they got in, they were trapped --
FLASH CUT:
INT. HOUSE 48 - BASEMENT - NIGHT - FLASH BACK
Town residents are gathered in the basement. CLARK DEMPSEY (45), lanky, looks over the town residents.
CLARK
Iím glad you could all make it. Now lets get down to business shall we?
The basement door closes. Black robed figures emerge from the darkness. A town villager, ANTHONY, steps forward.
ANTHONY
Whatís going on? Whatís the meaning of this?
CLARK
You want to live in a safe world, donít you Anthony?
ANTHONY
Yes. Yes I do.
Clark slowly approaches him.
CLARK
Do you really? I can make them stop. I can make them fear us.
ANTHONY
I donít want them to be afraid, I just want to put an end to it.
CLARK
Iím afraid itís the same thing, Anthony. Do you want them to stop?
ANTHONY
Certainly. Definitely.
Clark leans in close.
CLARK
Well, you wonít have anything to fear from them again.
Clark STABS Anthony. Anthony backs away. Shocked.
CLARK
Me on the other hand? Well, I guess you already know.
Clark nods to the black robed figures. All take out knives.
TOWN VILLAGER
I thought you said youíd stop them?!
CLARK
(Laughing)
Stop them? Why would I want to stop them? I am them.
Clark near the town villager, presses the blade up against his face. The villager trembles.
CLARK
In this life you have to choose a side. Heaven or hell. I chose hell from a very early age, ever since I murdered my parents in their sleep and offered them up as sacrificial lambs.
Clark moves away and approaches a wooden box.
CLARK
(Menacing glee)
Now itís your turn. But to make it more fun, Iím going to give you all a choice. Join me by killing your neighbor or die.
Clark opens a box and throws a series of KNIVES onto the ground.
CLARK
Think of it as aggressive survival. Those who join me live. Those who donít die. That simple. Have fun. Oh and by the way, make sure they play by the rules.
Clark walks up the stairs and leaves the basement. The villagers face each other. Sweating heavily.
FADE TO:
INT. HOTEL ROOM - DAY
Dean looks out the window. Pained.
DEAN
No one knows what happened. But, as the legend goes in a night they all disappeared.
INT. DAVISON HOUSE - LANCEíS BEDRROM - NIGHT
Gothic posters cover the walls. Lava lamps. Action figures of: BATMAN, GHOST RIDER, and CONSTANTINE.
Lance lays back on his bed blasting ďDEMON INSIDE BY CELESTYĒ from his headphones.
JAMES DAVISON (45), tall and rugged, enters the room. Lance takes off his head phones.
JAMES
Can you please tell me whatís been going on with you lately?
LANCE
Dad, Iím fine.
JAMES
No. Youíre not. You havenít been the same since the meteors hit.
LANCE
Well, maybe unlike everyone else, I actually acknowledge that thereís something happening here.
JAMES
The world is not coming to an end. Youíre just over reacting. We survived a crises with the help of President-
LANCE
I hate that guy.
JAMES
Heís done the best he can for the people.
LANCE
(Mocking)
You can trust me in your time of need.
(Angry)
Heís a bastard. Way too good to be true.
JAMES
Iím going to find Tommy, Lance. You know that, donít you?
LANCE
Theyíre dead, Dad. All of them.
JAMES
How can you be so sure?
LANCE
I just am. The answerís right under your nose, youíre just too blind to see it.
JAMES
See what?
LANCE
It all links back to Demonís Alley.
JAMES
That place has been closed down since before I was a child. Couple of friends and I went by there for some kicks when I was young, sure itís scary, but none of us died. Iím still here, arenít I? Itís just a local legend son.
LANCE
Have you been there recently?
JAMES
Well, no, but--
LANCE
Then you donít know, you shouldnít dismiss things so easily Dad. Just like how you dismissed all the signs about Mom.
James sighs. Leans against the door and looks over at his son.
JAMES
You win.
James walks away. Lance frowns, glances around the room. He gets up in bed.
LANCE
Dad, wait--
(Too late)
Iím sorry.
Lance lays back down on his bed, puts his headphones on and closes his eyes.
EXT. DEMONíS ALLEY - WOODS - NIGHT
Three BLACK ROBED FIGURES drag six body bags through the woods. Finally they come upon six holes in the ground, they dump the bodies into the holes and begin to fill them in with dirt.
We slowly descend into a hole to see the mutilated body of Tommy Jacobs. Dirt fills the hole completely.
TIME LAPSE:
Day. The sounds of a CAR ENGINE arriving.
EXT. DEMONíS ALLEY- DAY
A POLICE CAR pulls up beside Demonís Alley. It has very little of the same aura as it does at night.
INT. POLICE CAR - CONTINUOUS
Inside is James Davison, holding onto a dispatcher radio.
JAMES
Sally, you there?
SALLY (O.C.)
Affirmative. Read you loud and clear James. Over.
JAMES
You really like to use that thing, donít you?
SALLY (O.C.)
Well, you know, when my sisters were playing with their barbie dolls I was out there playing army ranger with the boys.
JAMES
Iím over at Demonís Alley. Thought Iíd give it a look. See if there was anything out of the ordinary.
SALLY (O.C.)
That whole place gives me the creeps.
JAMES
Thought you didnít believe in ghost stories.
SALLY (O.C.)
I donít. I just believe in the lunatics who believe in them.
JAMES
You never can tell these days. Signing off.
SALLY (O.C.)
May the force be with you.
James cracks a grin. Turns off the radio dispatcher.
EXT. DEMONíS ALLEY - AFTERNOON
James steps out of the car and scans the area for anything out of the ordinary.
INT. DEMONíS ALLEY- HOUSE 51- UPSTAIRS- AFTERNOON
A figure cloaked in the dark peeks out the window seeing James wandering through the deserted development.
EXT. DEMONíS ALLEY- AFTERNOON
James approaches one of the houses and knocks on the door. No answer. He checks his pocket to make sure he brought the gun. He pushes on the door and it budges open.
INT. DEMONíS ALLEY- HOUSE 51- MAIN ENTRANCE
The place is seemingly deserted. No one in sight anywhere, despite signs that someone has been here very recently. The television is still on. Coats hang on hangers.
James scans the area; he takes out his gun and enters the kitchen.
INT. DEMONíS ALLEY- HOUSE 51- KITCHEN- AFTERNOON
The table is set with food on the plate, relatively new food. Thereís still no one in sight. James notices the boarded up windows. He tries to tear one down.
The floorboards creak behind him. James slowly turns around to come face to face withÖ MOLLY, an eight-year-old girl in a Sunday school dress, watching him inquisitively.
MOLLY
What you doing?
JAMES
You live here?
Molly nods her head.
JAMES
Whereís your parents?
MOLLY
Out. You know. You really shouldnít be here.
CRACK! The boarded up window shatters as TWO STRONG HANDS reach through and GRAB him. James coughs frantically and passes out. The hands stop.
Molly looks down on James, she smiles, almost on the verge of laughter.
MOLLY
Told you so.
Three adults file into the room. They grab James and drag him away.
EXT. DEMONíS ALLEY- AFTERNOON
One of the black robed figures exits House 51 dragging along a brown cloth body bag. He approaches House 65.
INT. DEMONíS ALLEY- HOUSE 65- ENTRANCE- AFTERNOON
The black robbed figure closes the door behind him, his nameís MAX.
MAX
We got us another trespasser!
An OLD CROWNíS voice calls out to him from somewhere within the house.
OLD CROWN (O.S.)
Put him with the others.
Max opens the basement door and walks down the steps, dragging the body behind him.
INT. DEMONíS ALLEY- HOUSE 65- BASEMENT- AFTERNOON
Max drags the body through the basement. They near a hidden padlock door.
MAX
Youíre really going to like it here.
Max slides the padlock door open.
INT. DEMONíS ALLEY- HOUSE 65- CRYPT- AFTERNOON
Inside is an ongoing row of cages! Hostages. Bruised. Bleeding. Emaciated.
Max opens one of the cages, unties the body bag and throws it into the cage. He locks the cage door.
People reach their hands out to Max. Max ignores them. He leaves and slams the padlock door behind him.
EXT. DEMONíS ALLEY- AFTERNOON
The place is once again deserted. No signs of activity, just an empty police car with the dispatcher radio clicking on and offÖ we slowly dolly towards it.
SALLY (O.C.)
James come in. Over. James are you there? Over. James?
INT. POLICE CAR- AFTERNOON
A black robed figure slips into the police car. He starts up the engine and drives off into the woods.
EXT. DEMONíS ALLEY - LATER
Five police cars are stationed outside of Demonís Alley. The Impala pulls over to the side.
INT. IMPALA - DAY
Dean watches on from inside the car. Sam eyes the cops.
DEAN
Thatís strange. Cops giving in to a supernatural beat? Thatís a first.
Dean stops the car. Grabs a police badge from the identification box. Passes one to Sam.
EXT. DEMONíS ALLEY - CONTINUOUS
Dean and Sam near the swarm of police cars. SALLY HINES (35) notices them. She rushes over to them.
SALLY
Excuse me this area is closed off.
DEAN
Donít tell me you believe in Demonís Alley.
SALLY
No. I donít.
Dean shows Sally his badge.
DEAN
Iím Owen, thatís Luke. Mind telling us what happened?
SALLY
One of our men went missing from here a couple of hours ago. Radio dispatched in. Got nothing. Found his car over there in the woods.
SAM
Why would he come to Demonís Alley?
SALLY
No idea. Personally I think he was looking into a missing personís case. Itís been bothering him for days now. There was a kid, a friend of his sonís who went missing. Tommy something-
SAM
Tommy Jacobs?
SALLY
Yeah, thatís the one. Afraid his own kid might be next. Heís been acting kinda strange lately. But, you can say a lot of people have after the meteors hit.
DEAN
Search teams go through the buildings yet?
SALLY
Starting the search right now. So far weíre turning up nothing. You know the stories: looks like people live there, but no sign of anyone around. Itís like the place is completely deserted.
DEAN
Mind if we take a look?
SALLY
At the present? Yes, I do. I already have a search team and I donít want anyone messing with the scene who shouldnít be there. Let the professionals do their job.
Dean hands her a card.
DEAN
Alright. Let us know if your team does find anything. Thatís the number we can be reached at.
Sally examines the card, she looks at Dean. Very coy.
SALLY
This is a card to a hotel with an extension number written on it. Donít have a cell phone yet Owen?
DEAN
I like to play things safe.
SALLY
(Playfully)
You two arenít fugitives are you?
Dean and Sam share an off look.
DEAN
Us? No way.
Dean and Sam begin to walk away.
DEAN
That was close.
They stop at the Impala and eye Demonís Alley.
SALLY Walks back over towards the police cars. She stops at one of the cars. Lance leans against the police car.
SALLY
Weíll find your father.
LANCE
Were those guys cops?
SALLY
Yeah. But, must be from a different precinct. I donít recognize either one of them. Why?
LANCE
Just wondering.
SALLY
Is anything on your mind?
Lance looks over at Demonís Alley. Then back at Sally.
LANCE
No. Can you take me home now?
Sally turns. Lance quickly reaches into her pocket and yanks out the card. Sally gets into the police car. Lanceís eyes dart over to where the Impala was.
INT. HOTEL ROOM - NIGHT
Dean sits on the bed flipping through the journal. Sam searches the internet.
DEAN
Dad found out what happened to Clark. After that night.
SAM
What does it say?
DEAN
One of the villagers supposedly didnít go along with the plan-
FLASH CUT:
EXT. DEMONíS ALLEY - NIGHT - FLASH BACK
A black robed figure nears HOUSE # 1. He holds onto an upside down cross candle. The flames dance in the reflection of his eyes. He throws the candle at the house. The house catches fire.
Inside no one screams. Instead a strong PIERCING LAUGHTER echoes through the dark. The black robed figure watches on in horror.
INT. HOTEL ROOM - NIGHT
DEAN
The legend continues that Clark is still alive to this very day, a reward for his years of sacrifice.
Deanís interrupted by a LOUD KNOCKING on the door. Sam and Dean turn their attention to the door. Sam gets up and opens it. Lance stands in the doorway.
SAM
Lance? What are you doing here?
LANCE
My Dad, heís been kidnapped. Missing. Just like everyone else.
DEAN
We heard.
LANCE
I want you guys to let me help you.
DEAN
Help us do what?
LANCE
Find my Dad. Stop those things that are doing this.
DEAN
I know what you must be going through, but we canít do that.
LANCE
I figured youíd say that. But, you have no other choice.
Lance reaches into his jacket and pulls out a piece of paper. He hands it Sam. Samís hands tremble.
SAM
Dean, you should take a look at this.
Sam hands it to Dean. WANTED POSTERS. FBI.
LANCE
You two are famous. I thought you guys looked familiar. Ever since that prison escape, you two have been really lucky. Everyoneís minds are on the meteors and the very fact that their alive. Not me. I know somethingís happening. Your names popped up on multiple searches.
SAM
So, youíre blackmailing us?
LANCE
Kinda. Yeah. But, I mean, all I really want is for you to let me help get my Dad back. Thatís all.
Dean crumples up the piece of paper.
DEAN
And if we donít?
LANCE
Well, I mean, I can tell people who you are. Where you are. I donít figure you want that.
SAM
Dean, we have no other choice.
LANCE
You guys are heroes. What the news says, screw them right? We know whatís truly out there.
DEAN
No. You donít. You have no idea at all.
LANCE
Look man, my dadís gone. I have no other choice. Neither do you. So you going to let me in or what?
Off Deanís look of hesitation--
BLACK OUT!
END OF ACT TWO