EXT. SUBWAY PLATFORM- AFTERNOON
New York, New York
We focus on a MAN, AARON PENDRAGON (20), a clean shaven, regular guy as he makes his way through the usual bustle to the subway train. He seems to have a slight hint of middle eastern descent about him. He makes it to the door, standing aside to let an old lady squeeze in first. She gives him a thankful smile. Just as he is about to board himself a rude businessman steps ahead of him unrepentantly.
AARON
(under his breath)
Sometimes I really hate this place.
INT. TRAIN
The train shuttles along the track.
Aaron, left without a seat holds on to an overhead handrail. Outside the window we see brief flashes of light amid the black blur of the tunnel. A bunch of yobs make their way down through the carriage, eyeing up the people greedily. They catch Aaronís gaze. He quickly looks away but itís too late
GANG LEADER
(approaching Aaron)
What have we got here? A pretty boy!
GANG MEMBER
Got any money pretty boy?
Aaron tries to ignore them
GANG LEADER
He asked you a question. He doesnít like rude people.
AARON
I havenít got any money.
GANG MEMBER
You wonít mind if we take a look in your wallet then will you?
The gang member reaches for Aaronís jacket pocket. Aaron grabs his wrist, infuriating the leader who produces a flick knife from his pocket
GANG LEADER
I wouldnít...........
CLOSE UP: Aaron keeps hold of his wrist, gripping tighter and tighter!
GANG MEMBER
(in pain)
Get him off me!
CLOSE UP: smoke begins to emanate from Aaronís arm; the gang members flesh begins to burnÖ
GANG MEMBER
Agghhhh!
The other gang memberís begin to back away in shock. Somethingís not right with this guy. Aaron lets go, resulting in the gang member falling onto the ground nursing his wounds.
In surprise Aaron looks down at his arms, which are now completely ablaze!
AARON
No! Not now!
People begin to back away in fear, some turning and trying to get out through the door behind them.
AARON
Itís not time!
EXT. TUNNEL
External view of the carriage as it races by. Briefly we see the panic inside the train as the people cram towards the back.
INT. TRAIN
We see Aaron, now a raging inferno crumble to the ground. CLOSE UP of the gang members face - pure horror, in his eyes the reflection of the all consuming flames in front of him.
SUPERNATURAL - ďFirebirdĒ
INT. SUBWAY. DAY
We TRACK from behind a young female detective through the flash of crime scene photographerís bulbs. She ducks under the yellow ďDo Not CrossĒ tape and steps inside the subway train. She reaches the scorched scene. A forensic SCIENTIST is examining the area. He looks up.
SCIENTIST
I though itíd be you.
REVERSE ANGLE on the detective to reveal it is KATE.
KATE
Itís Detective. I do have a title.
(beat)
What am I looking at?
The scientist rises to his feet
SCIENTIST
I thought it would be obvious.
KATE
I see a lot of scorch marks and soot, but no body. Where is it?
SCIENTIST
See all that ash?
KATE
Yeah, wait - are you serious?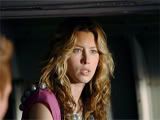 SCIENTIST
Iím a scientist. Iím always serious.
KATE
As a scientist I thought you didnít recognize the existence of spontaneous combustion?
SCIENTIST
I donít.
KATE
So how do you explain it?
SCIENTIST
I wonít. Thatís youíre job.
(walk past)
DetectiveÖ
Kate pauses for a moment, absorbing the apparent ďattitudeĒ of the forensics. She looks around the carriage, nothing else seems to be damaged by the ďfireĒ. She flips open her phone.
INT. MOTEL.
PAN across a motel room. Sam sits upright in bed scanning a laptop screen, we continue to PAN, seeing some clothes thrown haphazardly o the ground. We hear the sound of a running shower (O.S.) and some gargled singingÖ
DEAN (O.S.)
(singing)
Hot blooded! Check it and see!
(beat)
Got a fever of a hundred and three!
(beat)
Come on baby do you -
INT. SHOWER
Dean spins around hearing his mobile ringing
DEAN
Sam?
Dean peeks out from behind the shower
DEAN
Sam get my phone!
SAM (O.S.)
Iím busy. Get it yourself!
DEAN
Iím wet Sam, look itís just in my pants
INT. MOTEL ROOM
SAM
You serious? Dude Iím not going in your pants
Dean exits the shower, hastily wrapping a towel around his waist
DEAN
(to himself)
Will jump in a sewer looking for lizard men but wont get my phone outta my pants.
SAM
More of a reflection on your pants Iíd say.
Dean finally finds his phone and presses it his ear.
DEAN
Kate?
KATE (O.S.)
Dean I need you to listen to me. Do you remember what you told me about Chicago? About the fires that you investigated?
Dean glances over towards Sam, trying to remain calm.
DEAN
Yeah. Why?
INT. SUBWAY TRAIN
KATE
What were they like exactly?
INT. MOTEL ROOM
DEAN
What do you mean?
INT. SUBWAY TRAIN
KATE
Was there anything suspicious about them?
INT. MOTEL ROOM
Dean pulls on a shirt.
DEAN
You mean apart from the fact they were started by a murderous biblical demon?
INT. SUBWAY TRAIN
KATE
I mean the fires themselves, physically did they behave in any strange ways?
INT. MOTEL ROOM
DEAN (O.S.)
Yeah, I guess so.
(intense)
Kate, what arenít you telling me?
INT. SUBWAY TRAIN
Kate looks around, fear stricken.
KATE
Dean I think youíd better get here. Fast
INT. MOTEL ROOM
A cold shiver runs down Deanís spine as he sits down on his bed. Sam stands up and approaches him, wondering whatís wrong.
KATE
Itís Letum. I think heís backÖ
Dean gulps as he nods his head. Intense hatred shining through his eyes.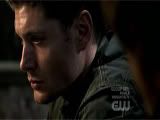 DEAN
Iíll be there.
Dean shuts the cell phone off and looks up at Sam.
INT. SUBWAY TRAIN
REVERSE ANGLE on Kateís back, she is standing in front of the crime scene, for the first time we see the entire back of the train carriage covered in black ash and sootÖ
EXT. HIGHWAY. DAY
The Impala screeches through an intersection onto a highway, throwing up dust
INT. IMPALA
SAM
Kate say anything else?
DEAN
She didnít have to.
SAM
Right. You donít think itís odd though? All this time nothing and now, all of a sudden?
DEAN
Heís up to something alright
SAM
So what about the actual case? Whatís the specifics?
DEAN
Much like last time. Seemingly random victim spontaneously combusts. Body reduced to ashes, family saves a fortune of cremation bills. Iím telling you Sammy this time Iím gonna finish the jobÖ
SAM
Any witnesses?
DEAN
Try a whole subway train full
SAM
You serious? Anyone else hurt?
DEAN
No. Strangely
SAM
Thatís weird. Not exactly his style
DEAN
What are you saying?
SAM
Iím saying a demon of the apocalypse like Letum? Why just this one guy when you could have taken out a whole carriage worth of people? Last time we met he didnít exactly strike me as a ďless is moreĒ kinda guy
DEAN
I think itís obvious whatís going on here
SAM
Yeah?
DEAN
Heís baiting the trap. He wants to draw out the hunters, the people who can look for the signs. A whole subway carriage going up in flames is just gonna be written off as a tragic accident. A spontaneous combustion on the other hand....
SAM
Maybe. Just doesnít feel
(beat)
Right
DEAN
Sam, if this is Letum.....
SAM
What?
Dean looks at Sam, conflicted, and shrugs. Sam looks at Dean, on guard.
INT. KATEíS OFFICE.
CLOSE UP of a photograph of the crime scene, nothing but charred remains
KATE
What do you guys know about spontaneously combustion?
Dean stares at Kate; clearly angered and bored.
DEAN
I know that itís a pain in the ass.
SAM
Not a whole lot. We know a lot of demons use it.
KATE
I talked to our guys down in the lab. Itís a fire which starts internally without a known source of ignitionÖ
DEAN
(sarcastically)
That would be where the demon power thing comes in.
KATE
Whatís puzzling about it is that it completely reduces a body to ashes in such a short space of time. Sometimes a limb or other extremity is untouched but mostly itís just ashes. Crematoriums need a temperature of over 1600įF and even then they have to grind the bones to a powder.
Dean shrugs.
DEAN
Like I said : pain in the ass.
KATE
Sam, can you excuse us for a second?
SAM
(confused)
Sure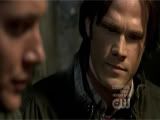 Sam leaves the room.
DEAN
If you wanted some alone time...
KATE
Dean, youíre not taking this seriously are you?
DEAN
You have no idea how seriously Iím taking this. Look we know what this is, we know whoís causing it, why are we wasting time with the whole fifth grade science routine? This thing...
(beat)
Killed my brother. We should be out there tracking it!
KATE
Dean I,
(beat)
I never really told you how sorry I was about Sam...
DEAN
(softer)
You didnít have to.
KATE
I know itís personal
DEAN
I wasnít the one who made it personal.
KATE
Something we have to learn in the police force is how to deal with things impartially, and thereís a reason for that Dean.
Dean gets up to leave.
DEAN
Oh you mean like they way you handled the Route 66 killer? Anyway since when did you start being such a blue collared cop?
KATE
Since I started trying to keep you safe.
DEAN
(sarcastic smile)
I can take care of myself, thanks.
KATE
I meant from the other cops.
Kate watches frustrated as Dean leaves the room.
KATE
Dean?
Dean turns around slowly, facing Kate.
KATE (CONTíD)
At least read the case file and reports?
Dean exits without answering
INT. NYPD. HALLWAY.
Sam sits idly as Dean flies by, Sam hastily gets to his feet and follows DeanÖ
SAM
What was that all about?
DEAN
Sheís a cop. Iím not
(beat)
Conflict of interest
SAM
Dean...
DEAN
You got the case file of the victim?
SAM
Yeah, an Aaron Pendragon.
DEAN
Good. We gotta talk to his family. Maybe we might get an inkling where this guy is gonna hit next.
SAM
Lived on Long Island. Thatís a long drive. Shouldnít we bring Kate along?
Dean stops in his tracks.
DEAN
Kateís doing her bit. We gotta do ours.
EXT. PENDRAGONíS HOUSE. DAY
A plush looking suburban neighborhood on the seafront. The road eventually slopes down to Long Island Sound, all in all seems like a very nice place to live, despite the gray cold sky. The Impala pulls up outside the house, and the Winchesters get out.
SAM
I know what youíre thinking Dean. That conversation with Kate?
Dean stops dead in his tracks and turns to face Sam.
SAM
Let me guess, you donít want to waste time following procedure because you know exactly whatís going on. Right?
DEAN
And let me guess Sam, youíre not so sure anymore?
SAM
There is some added weirdness in this report Dean, something I think you should know.
DEAN
And?
SAM
The ash they recovered from the scene in the subway, it wasnít just human remains.
DEAN
So they got some trace material of - whatever it is that burned inside the train. What else did they expect?
SAM
High traces of cinnamon and myrrh, along with some other spices which havenít been identified.
DEAN
Almost sounds like some middle eastern hokum.
SAM
Those spices are used in a lot of powerful magic Dean.
DEAN
Or maybe the guy was making a curry. This things cut and dry
(beat)
Weíre wasting time Sam.
Dean approaches the porch and rings the doorbell. A WOMAN answers it, Aaronís mother.
EXT. PORCH
MRS PENDRAGON
Yes?
DEAN
Mrs Pendragon? Hi, Iím Dean Bering, this is my partner Sam Wright, weíre accident investigators with the Fire Department and -
MRS PENDRAGON
Weíve already spoken to the police
Dean clears his throat and steps forward, more harsh.
DEAN
Iím sure you have maíam but we have been asked to conduct a follow up investigation due to the nature of the -
MRS PENDRAGON
Weíve already spoken to the police. Goodbye
Mrs Pendragon closes the door on Deanís face.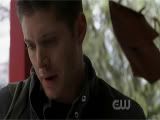 Dean scowls and shakes his head as he walks away. Sam looks at the door confused, then back towards Dean.
SAM
Cut and dry huh?
INT. HOUSE. CORRIDOR
Mrs Pendragon steps away from the front door, turning around she sees her daughter ALISHA looking at her inquisitively.
ALISHA
Who was that mother?
MRS PENDRAGON
Nobody dear
She walks away
MRS PENDRAGON (CONTíD)
Nobody important
Alisha moves to the window and looks outside.
POV. ALISHA.
Dean and Sam get into the Impala. Dean catches Alishaís eye
EXT. STREET.
Dean looks back at the house and sees Alisha looking out at him. Her expression indecipherable. Dean looks slightly off-guard, his face becoming a picture of deep thought. After a moments pause he gets into the car.
INT. DINER. DAY
Dean and Sam sit at a table by the window. Dean finishes off a Coke.
SAM
You havenít said two words all morning since we went to the Pendragonís
Dean cracks a grin as he looks down at his food.
DEAN
Iím still hungry, you still hungry? I know I am.
Sam rolls his eyes and breathes out.
SAM
Damn it Dean, itís not just about you, you know?! You donít think I want to get this guy too?
Dean sighs as he gets up, still not listening.
DEAN
I wonder if they have twisty fries?
SAM
Dude, why are you so goddamn stubborn?!
Dean shrugs.
DEAN
Iím gonna ask.
Dean walks off, approaching the counter. We pause on Samís face for a beat. Frustration.
A girl slides up along side Dean, out of focus. Dean doesnít see her; instead he talks to the waitress.
DEAN
Hi, do you haveÖ
DEAN + GIRL (IN UNISON)
Twisty fries?
Dean and the girl turn to face each other. Itís Alisha.
ALISHA
I know you
DEAN
I, eh...
ALISHA
You came to my house this morning.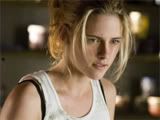 DEAN
(awkwardly)
...twisty fries huh? You like Ďem?
ALISHA
No. I just knew you did.
Dean steps back and sizes her up, paranoid.
DEAN
How?
ALISHA
(afraid)
I donít know.
Dean sighs as he tilts his head, still curious. He looks over towards Sam watching him from the table. He turns back towards Alisha.
DEAN
We need to talk......