INT. MOTEL-AFTERNOON
Sam and Dean continue to search through the databases. Sam glances over towards Dean.
SAM
So, when we find it… how do we stop it?
Dean glances over the notes and back up towards Sam…
DEAN
There's a couple of ways. But, here I think the best way is to talk it out of him… kind of like an extreme form of anger management.
SAM
And you're sure that will work?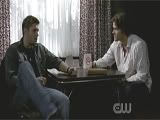 DEAN
Whoever it is, this kid isn't psychotic, not disturbed- just no one will listen to him. Maybe he doesn't want anyone to know because he's afraid others won't understand…
SAM
Then why will he listen to you?
DEAN
Let's just say high school wasn't the best years of my life either.
FADE TO:
INT. JOSH'S HOME- JOSH'S BEDROOM- EVENING
Josh sits alone in his room, writing notes into his notebook.
SWEET DREAMS BY MARILYN MANSON
blares from a nearby stereo surround system. Josh grins…
DEMON (V.O.)
Tomorrow.
JOSH
They will all pay.
Josh gets up and exits his room.
INT. JOSH'S HOME- HALLWAYS
Josh walks through the halls and stops at a closet, he looks around before entering the closet. He reaches his hands up and yanks down a rifle from top shelf.
INT. JOSH'S HOME- JOSH'S BEDROOM
Josh enters the bedroom and looks down towards the gun with a wide sadistic grin.
JOSH
When you have a gun nobody mocks you, nobody touches you… you can take on anybody.
Josh aims the gun.
JOSH
Chris, how's it going?
Josh fakes firing the gun and laughs.
JOSH
This will be more fun than dropping dudes in a video game.
Josh hears his mother approaching and quickly hides the gun, the butt of the rifle sticks out. Caroline opens the door.
CAROLINE
Good night hun…
JOSH
Night Mom.
Caroline notices the butt of the rifle. Josh shrugs it off.
JOSH
Just looking over my BB Gun.
Caroline nods her head okay and leaves the room, closing the bedroom door.
Josh laughs and shakes his head.
JOSH
Gullible…
Josh slowly approaches the gun, entranced by it…
DEMON (V.O.)
A gun makes you feel…
Josh picks up the gun and grins.
JOSH
Alive.
INT. CHRIS' HOME- CHRIS' BEDROOM
Chris lays in his bed, trying to fall asleep while he listens to his parents argue on the floor below him. He grabs a pillow and shoves it on top of his face trying to suffocate the noise with no success.
EXT. JOSH'S HOME- MORNING
Josh throws his backpack into the trunk of his car alongside the rifle and drives off towards school.
INT. MIDDLE TOWN HIGH SCHOOL- CLASS ROOM
A TEACHER looks around his class, taking attendance. Josh isn't in the room. On the board is scrawled 'Test. 30% of grade.'
TEACHER
Hmm… does anyone know where Josh is?
The students look around, seeing if anyone knew.
TEACHER
That's odd. I figured he'd be here.
INT. MIDDLE TOWN HIGH SCHOOL- ENTRANCE
Dean and Sam enter the school and look around the deserted halls.
DEAN
Looks like class is in session. Split up; cover more grounds…
Sam nods his head okay.
EXT. MIDDLE TOWN HIGH SCHOOL- PARKING LOT
Josh pulls his car into the parking lot. He gets out and walks around to the trunk and gets the rifle out.
DEMON (V.O.)
Time to show the world what you're made up.
Josh closes the trunk and glances to the side and sees Chris' sports convertible. A pole up above CRASHES down and RAMS into the car- the alarms don't even have a chance to sound.
He begins to approach the school. MATT exits the school and notices Josh. He stops afraid… Josh notices him and keeps his gun at bay.
JOSH
I like you Matt... Get out of here.
Matt nods his head okay and hurries away from the school, glancing behind his back once he's a safe distance away.
INT. MIDDLE TOWN HIGH SCHOOL- HALLS
Dean walks through the halls, noticing every student around him looking for some kind of sign- anything! He equips his walkie-talkie.
DEAN
Sam, got anything?
INT. MIDDLE TOWN HIGH SCHOOL- CAFETERIA
Sam stands in the back of the cafeteria looking around.
SAM
No. Nothing. You?
DEAN (O.C.)
This is freakin' impossible. It could be anyone for Christ's sake!
SAM
Tell me about it.
DEAN (O.C.)
Teenage Wasteland.
Sam glances around and sees dozens of troubled and disturbed teenagers in all sorts with various problems.
Chris sits at a table with his friends…
Something catches Sam's eye.
SAM
Wait… hold on…
DEAN (O.C.)
What is it? Sam?
Josh approaches the cafeteria gun held high in the air.
Water begins to drip from the ceiling. The ground catches fire. Trays and chairs fly everywhere. Complete and total chaos. The students look around frightened…
CHRIS
What the hell?
Josh moves a table in his direction and jumps up on it. He shoots the gun in the air.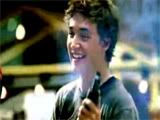 JOSH
Everyone in this school is dead meat!
Josh fires his gun towards the ceiling.
Sam watches on shocked and horrified…
DEAN (O.C.)
Sam?!
SAM
Dean, it's happening. Now.
INT. MIDDLE TOWN HIGH SCHOOL- HALLS
Dean gulps… he notices a fire alarm.
DEAN
Haven't done this in a while…
He immediately presses it down. Students run out of their classrooms…
INT. MIDDLE TOWN HIGH SCHOOL- CAFETERIA
Josh begins shooting the gun around aimlessly as students run away frightened for their life. He laughs having the best time of his life. Chris runs off… a table flies towards him and knocks him back against the ground.
Josh jumps down from the table and approaches Chris.
JOSH
Didn't think I'd let you get away that easily- did you?
Chris looks up at Josh frightened.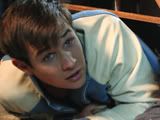 INT. MIDDLE TOWN HIGH SCHOOL- STAIRCASE
Dean runs down the staircase, passing multiple students along the way.
EXT. MIDDLE TOWN HIGH SCHOOL- MAIN ENTRANCE
Students run out of the school following their teachers. They gather a short distance away from the school. Not knowing whether it's real or not. They try to listen in for reports…
PRINCIPLE (O.S.)
Gunshots fired…
The students hear the news, some run, some stay, but all are scared.
INT. MIDDLE TOWN HIGH SCHOOL- CAFETERIA
Fire spreads around the cafeteria. Josh aims the gun at Chris...
JOSH
You made my life a living hell for four years.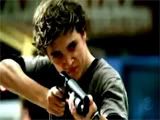 CHRIS
I'm sorry...
JOSH
No, you're not. You're just saying that so I won't kill you.
CHRIS
Please man... don't do this... please....
JOSH
Please? Please?
(laughs)
Now look at who's pathetic. Dork.
Josh's finger nears the trigger...
JOSH
Ba-bang!
Chris gulps as he backs up afraid. Josh laughs.
JOSH
I have the power now... no one will ever hurt me again. Not you. Not anyone!
Dean enters the cafeteria and notices Sam helping injured students out of harms way. Dean sees Josh aiming his gun towards Chris, ready for the kill-
DEAN
Josh, you don't want to do this.
Josh looks at him and then notices Sam.
JOSH
The reporters- just like I told yah, revenge...
Sam takes out his gun, Dean motions for him to put it away as he approaches Josh.
DEAN
Trust me, you don't want to do this.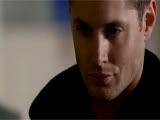 JOSH
No, you're wrong. I've been waiting for this moment for a long, long time...
DEAN
To show him that you're in charge right? To make him respect you... to make them take you seriously. I believe you should be taken seriously, you're a serious kid. But, you do this- you're not just killing them... the cost is a lot more than that. You're hurting their families, friends, others just like you who are going to be targeted as potential killers... do you want that? Do you seriously want that on your hands?
JOSH
I'll kill myself, I won't feel a thing.
DEAN
It's not bang-bang you're dead again Josh! There is no reset button here, alright buddy... now trust me, you don't want to do this. You still have a chance. Please I know how you feel. Felt like killing a couple of guys myself. But, trust me this is the last thing you want...
Josh looks at Dean, afraid...
JOSH
It's too late.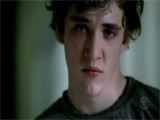 DEAN
Just give me the gun. Do the right thing while there's still time.
Josh looks at Dean and nods his head okay, he drops the gun and Chris runs off. Dean picks the gun up as the fires stop.
DEAN
You made the right decision.
Disarm by Smashing Pumpkins
begins as Dean guides Josh out of the school, with Sam following close behind.
EXT. MIDDLE TOWN HIGH SCHOOL- AFTERNOON
Dean and Sam stand outside of the school amidst the parents and frightened children.
Josh is led towards a police car, while his parents watch on sympathetic and depressed... not knowing how to think about their son. Josh looks towards them, ashamed. He quickly looks away, unable to look at their faces of regret as the police officer pushes him into the car.
DEAN
I feel sorry for him.
SAM
He was going to kill them.
DEAN
It's not entirely his fault.
(beat)
When you were a teenager, were you ever in a dark moment in your life?
SAM
Yeah, we all have been...
Dean shakes his head no.
DEAN
No, I mean really dark. Like you had nothing to lose.
Sam shakes his head no.
DEAN
I was. I thought about getting revenge. Just like Josh did. The only that held me back was Dad.
Sam looks at Dean sympathetically.
SAM
I... I never knew that.
DEAN
That's because I never wanted you to Sammy.
Sam looks at Dean and breathes out, nodding his head. Dean watches as the police car drives off.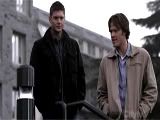 We take in the entire scene before we...
[FADE TO BLACK]