HOVERCRAFT PIRATES - Mixtape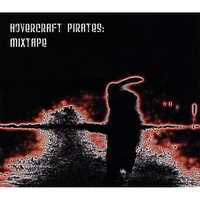 If you're tired of the prevalence of pop-punk shysters then just maybe, Irish trio the Hovercraft Pirates will be the band for you.
This may be their debut album, but they've played a wide variety of toilets around the country and even managed to blag a slot on the punk rock benchmark gig, the Warped tour. They don't mess about and blast you with probably their best song right at the start. 'Rica' is fired up ball of energy that defies you to try and battle Father Time one last time, and launch yourself into an unsuspecting pit. With ferocious guitars and attitude to spare, it's a fabulous song.
Elsewhere, you'll find moments to savour like the splendid 'Bar Fights And Deserts', which is like 1994 Therapy? On speed and the brutal 'Just Another Rock Song', which is anything but. Fans of Sublime and Pennywise will take a lot of pleasure from this album, and it really ought to be getting some heavy promo from one of the major punk labels.
They save some of the best for last with the closing trio of 'Bring Your Guns', 'Rock' and 'Dreams' absolute belters, the latter one of the finest punk crossover tunes I've heard in years. Punk album of the year? Probably.
:twisted :twisted :twisted 1/2 / 3.5 out of 5
http://www.hovercraftpirates.com