MAHOGANY FROG - DO5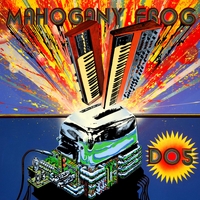 Hold the front page! Stop the presses! It had to be said, because this is truly stupendous. If I was wearing a hat, I'd be tipping it right now to the Canadian psychedelic progsters with the dreadful name.
Amazingly, they've been flying under my radar for nigh on ten years and five full-length albums, and it's definitely been my loss. Now some folks will try and tell you that this is actually post-rock of the Tortoise / Mogwai variety, but don't believe a bloody word of it! That may get the under forties listening, but when the guitars come a-swirling and the trumpets (yes, trumpets) come a-parping, this is the dense, claustrophobic style of progressive rock perfected by Van Der Graaf Generator.
They may not even realise it themselves, what with a history of My Bloody Valentine covers, but when they're clattering through 'You're Meshugah!', they're summoning the spirit of Focus. As they set the controls for 'Lady Xoc & Shield Jaguar', an everday tale of the Maya Queen consort to King Itzamnaaj Bahlam III Shield Jaguar the Great who ruled Yaxchilan in the 7th and 8th centuries, the long undisturbed graves of many a forgotten Soft Machine offshoot stirs in remembrance.
Let the kiddywinks think that is all new. We know better, but as long as records this good come out, who cares.
:twisted :twisted :twisted :twisted :twisted / 4 out of 5
Buy @ Amazon