EDENSONG - The Fruit Fallen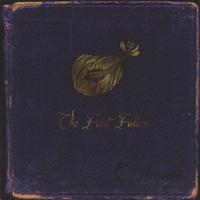 We like prog when it takes a sideways swing into lesser explored territories. Which is what Edensong do on this, their debut album, as they rope up some folky and metal influences and tie them back into their proggier leanings.
They nucleus of Edensong have been working on this CD for years, and it definitely comes across as a labour of love, especially for chief songwriter, singer and guitarist James Byron Schoen, who basically is Edensong. His main cohorts - drummer Matt Cozin, violinist Michael Drucker, flautists Eve Harrison and Rachel Kiel, and keyboard man Arthur Sugden - flesh out the musical offerings remarkably well, and all need to be commended for their performances.
It's quite an odd mix, as they dart from sound to sound, but it all ties together beautifully, the music hanging together as a whole, much better than a Dream Theater meets Horslips crossover band should. Things start off with the acoustic based 'Water Run', setting out their hippyish credentials but with a classic rock chorus. Things really pick up on the first great track, 'The Baptism', with some great keyboard work and over the top performances. It's quite stunning.
Elsewhere, 'The Prayer' standouts out with its complex classical guitar and flamenco rhythms, as does 'The Sixth Day' with its pop at organised religion spread over an epic ten minutes and the dense and complex 'The Reunion', which closes the album. It's certainly not an instant winner, and you'll need to spend some time with it to appreciate all that's going on. But that's one good thing about prog fans. They're willing to immerse themselves in music, rather than discard it at first contact.
They (he) certainly have what it takes to make a name for themselves in the modern prog world, so take a chance on this CD. You might be more than pleasantly surprised.
:twisted :twisted :twisted 1/2 / 3.5 out of 5
http://www.edensongtheband.com/