Hogjaw - Devil In The Details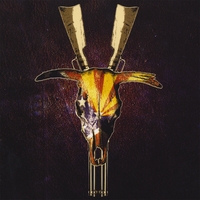 Hmm, a band wearing trucker caps, singing songs about guns, cars, whisky (with an 'e') and swamps. I smell a Southern rock band, and a mighty fine one at that.
Fronted by vocalist, guitarist and chief songwriter Jonboat Jones, Hogjaw take a basic Southern rock and Blues template, run it through a Leadfoot / Corrosion Of Conformity / Pride & Glory metallic burner, and come out the other side with a hot and nasty, 21st century version of Gods own music. There's a hint of stoner and desert rock about them as well, but these boys seem more inclined to greet a stoner with a 12 gauge shotgun than a bong.
However, there's nothing here that would give a Molly Hatchet fan undue cause for concern with 'Before Monday Come' riding hard on a 'Beatin' The Odds' style riff. And they're not averse to a Lynyrd Skynyrd type ballad with 'The Fog' filling the position nicely. Being good Southern boys, though, they follow it up with the gun toting 'Gitsum'. Just in case anyone thought they were a bunch of Southern softies.
It's a storming album from start to finish, and anyone with a hankering for some red hot Southern rock and Blues would be well advised to check this out.
:twisted :twisted :twisted 1/2 / 3.5 out of 5
http://www.myspace.com/hogjawband