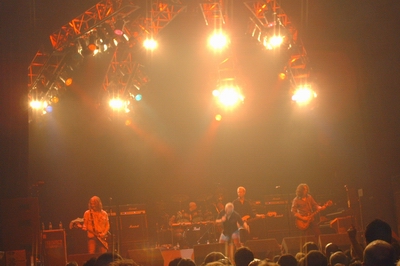 So it's back to the less salubrious side of town (which presupposes Glasgow has a good side, not a theory I subscribe to), time for a quick Mr Ts Chicken Zinger Burger and on to the Academy to see Thunder in action.
One of the highlights of this years Monsters Of Rock, Thunder seem to have maintained the goodwill from their reformation and a three quarters full downstairs Academy is a good turn out for a Tuesday night.
Kicking straight into the title track of their debut album, "Backstreet Symphony", Thunder and the audience seemed up for it from the start. With a cracking new album under the belt, "Robert Johnson's Tombstone" (the title track), "Dirty Dream" and the released next week, so buy it, single "The Devil Made Me Do It" made a good case for making it an immediate purchase. And with so many classics in their back catalogue, the only problem is picking which ones to play.
Danny Bowes is one of the great British frontmen, constantly working the audience and bouncing around like a 12 year old. In fact he really ought to consider a Danny Bowes Aerobic Workout DVD. The rest of the band know each other inside out and it's a treat to hear musicians so in sync with each other. Luke Morley even whipped out his harmonica more often than is healthy and Ben Matthews added in some excellent keyboard textures when he wasn't riffing away merrily.
Highlights abounded with "River Of Pain", "Love You More Than Rock 'n' Roll" and "A Better Man" getting top scores from me. We also got the likes of "Gimme Some Lovin'", "You Can't Keep A Good Man Down" and the obligatory show closing "Dirty Love".
I'm pleased to report that my team, Team B, won the singing competition and if you've never experienced the joy of Thunder in full flow then you've missed a marvellous night out and the power of the magic finger. The show closes in Inverness tonight but after the show, the band were promising festival appearances next summer. Watch the skies.
In the meantime, get the boys back in the charts and buy the new single -
Buy From Amazon
and get the new album while you're at it.
Buy From Amazon
:twisted :twisted :twisted :twisted
/ 4 out of 5
thunderonline.com
Many thanks to Kit.