LACUNA COIL - The History and Mystery
Way back in 1994 guitarist Marco Coti-Zelati and Andrea Ferro formed a band called 'Sleep of Right'. After placing a track on a local compilation album and the usual spate of line-up changes, they asked a female friend to sing on some backing tracks for them. That friend was Cristina Scabbia.
With the decision to include Cristina as co-vocalist, it seemed right to change the name of the band to reflect the new material and the name chosen was 'Ethereal'. They recorded a two track demo with the songs "Shallow End" and "Frozen Feeling" and after interest from a few labels signed to Century Media. As luck would have it, there was already a Greek band called 'Ethereal' doing the rounds so another new name was required. The new was to reflect their vision on life and they went for 'Lacuna Coil' - meaning "Empty Spiral".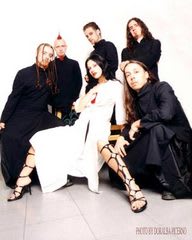 Into 1997 and their first EP was recorded, and their first tour booked with Portuguese goth-metallers Moonspell. Cristina now says " it sounds very spontaneous and when I listen to it I still smile". However, only three shows into the tour and three of the members left the bad, resulting in the hurried drafting in of Anders Iwers of Tiamat on guitar, and Markus of Kreator on drums. 1998 sees the arrival of Cristiano Migliore and Cristiano 'Criz' Mozzati in time for the EP release. 1998 also saw their second European tour with The Gathering, and their first festival show at the legendary Wacken Open-Air festival.
The end of the year saw them back in the studio laying down tracks for their full length debut, "In A Reverie" described by Cristina as "the most melancholic of our albums. It's the album people should use to learn about Lacuna Coil[ it shows what we can do."
This saw their sound beefed up and the arrival of second guitarist Marco 'Maus' Biazzi ensured that their live sound would be equally enhanced. 1999 was largely spent on the road supporting the album playing with the likes of Skyclad, Samael, My Insanity, and Grip Inc as well as playing the Italian 'Gods of Metal' festival, headlined by Metallica in front of 25,000 people.
2000 saw another EP arriving, "Halflife". This was the first release to really produce the unique Lacuna Coil sound, with 4 new songs, one of which was in Italian ("Senzafine") and a cover of "Stars", originally recorded by Dubstar. After the release in March, the band embarked upon some headlining shows across Europe including an appearance at The Borderline in London. Looking back it Cristina says, "this was more experimental. We wanted to prove we could do something different."
"Unleashed Memories" was the first Lacuna Coil classic and the first introduction to the band for a lot of people. Heavier than anything that had gone before and with a new version of "Senzafine", their lengthy tours with Theatre of Tragedy, Beseech, Dimmu Borgir, Nevermore, In Flames, and Susperia saw them reaching record crowds. They also embarked upon a series of summer festival shows. Cristina again: "This album started the breakthrough for Lacuna Coil, because people saw we were a real band. To me, it's the perfect album."
A mere ten months after the release of "Unleashed Memories", the band started work on a new record. "Comalies" is the most recent Lacuna Coil record and by far their best and most successful. The album that broke them worldwide included the breakthrough track "Heavens a Lie" saw them touring the USA. As the album exploded across the globe, more shows were added and a new video for "Heavens A Lie" broke through on MTVs 'Headbangers Ball'. Sys Cristina, "it's a really complete album because it has both energetic songs and songs that are mellow. You can listen to it from beginning to end without being bored".
A special edition of the album was rereleased as the band continued to push it, also notching up touring stints with POD on a two month US tour. Another video was made for "Swamped", pushed on by its appearance on the soundtrack to the movie 'Resident Evil: Apocalypse"
A live acoustic appearance on 'Headbanger's Ball'helped build momentum and then twenty-six dates across the US from July to September 2004 saw Lacuna Coil become the breakout band on Ozzfest, pushing album sales over the 100,000 mark in the USA, and over 250,000 worldwide, with the album even reaching the Billboard charts. "Comalies" was also reissued as a two disc set adding acoustic renditions, live performances, radio edits and videos for both "Heaven's A Lie" and "Swamped".
2005 also saw the rerelease of the Lacuna Coil back catalogue on 18th July: The EP's - "Half Life / Lacuna Coil" on 1 CD, "In A Reverie" - their debut album re-mastered and with new artwork and "Unleashed Memories" - the 2nd album, with a new bonus track, new artwork and picture gallery.
With work finally beginning on the new album, "Karmacode", scheduled for release in in March 2006 - set for inclusion are 'What I See', 'Fragile', 'In Visible Light', 'Fragments Of Faith', 'Within Me' and 'Our Truth' - the band also announced their first, very special, UK tour.
'An Evening With Lacuna Coil' saw Lacuna Coil perform two separate sets each night – the first performance, leading us gently into the night, an acoustic set bringing to the forefront the ethereal and emotional qualities within Cristina Scabbia's vocals. Whilst their second performance of the night was the spectacular and powerful live performance showcasing the formidable musicianship that has taken Lacuna Coil to top of their genre.
Cristina explained "We like to express different feelings with our music and the live setting is the best one in which to do that and with us performing two very different style of sets."
Don't forget to read our interview with Andrea Ferro in the interviews section.
Order Lacuna Coil CDs here