LOOSE WIRES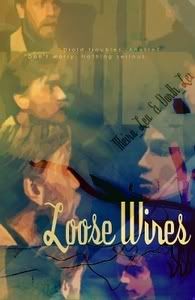 (Cover by Obaona)
Capital Improvements
"Hold still, Artoo."
The droid razzed defiantly and wheeled across the durasteel plate floor. He rounded the lone workbench that filled most of the room, then stilled.
Anakin rose from his crouch. "These improvements will make all the difference on the mission."
No answer, save red and blue flickers reflecting off the workbench's surface. At least Artoo's processors were considering it.
"I'm sure Padmé would want you to do everything you can to help me," he said, stretching up on his toes.
The
whirr
of servomotors whispered unseen from the other side of the table.
"You do want to keep me safe, don't you?" Anakin leaned over the table, finally catching a glimpse the astromech's blue dome.
Artoo's optical receptor rotated into view, and angled up to focus on Anakin. The droid whistled a low, plaintive tone.
"And Obi-Wan, too."
Blappp!
Anakin chuckled. "Okay. So maybe not Master Kenobi."
The astromech honked derisively.
Anakin started around the table. "No, he's not very understanding at times. That's why we have to prove him wrong. And this mission will be the perfect opportunity." He stopped beyond arm's reach of the droid. "Right?"
Two whistles. One high, one low. A definite negative.
Anakin's patience was growing short. "We don't have time to argue about this. I'm going to have to finish these last improvements before we emerge from hyperspace." He stepped forward and raised the spanner in his hand. "Like it or not."
Tootling, Artoo backed away – faster than Anakin imagined was possible. The droid soon was squealing and Anakin grinning with accomplishment. The newly installed hyperactivator drive in the droid's propulsion unit was responding perfectly to his programmed fight or flight instinct. Fear and delight ended simultaneously when Artoo careened into a wall.
"See? I've still got some work to do."
Before Anakin could take a step, Artoo screeched and extended a service arm. Undaunted, Anakin pursued the troublesome astromech, but the droid managed to stay one roll ahead. The hyperactivator drive was a great idea, as long as the astromech was on your side. Anakin hadn't counted on having to catch the blasted droid. He added a minor fix to his mental list of tasks, but it would have to wait for later.
Now he had to get down to business. Tired of the chase, Anakin extended his hand and opened himself to the Force. With nothing more than the exertion of his will, the droid lifted from the floor and floated in his direction. Not without suitable honks and toots of remonstration, of course. One in particular caught Anakin's attention.
"What did you say?"
Two long high whistles and a sharp razz.
"Such language. What would Threepio think?" Anakin laughed, leaving Artoo suspended helplessly before him. He summoned a restraining bolt from the toolkit on the other side of the room. "Perhaps –"
Rotating his dome back and forth, Artoo tootled plaintively.
Anakin palmed the bolt. "I dunno…"
The service arm quickly tucked back into the droid's shell.
"All right," he said, lowering the astromech carefully to the ground. "Just let me finish these mods and you can remain a free droid."
Artoo warbled a question.
"Yes, and continue to harass Arfour."
With a descending tone, Artoo signaled his acceptance. Anakin settled next to the droid. Sitting cross-legged, he worked in earnest to complete the upgrades. Time was becoming critical and, as always, this mission was a life or death matter. Tinkering with the droid's systems was simply one more way for Anakin to wrestle control of the uncontrollable.
Every improvement could spell the difference in a tough fight. Hydraulic coils now allowed Artoo to exit their Jedi starfighter without assistance. At Ord Dortan, having Artoo on the ground had saved both Anakin and Obi-Wan's lives. On Ganex, the newest service arm attachment, a heavy-duty laser cutter, had doubled as a weapon in the middle of a crazed firefight. The list went on and on, each upgrade tipping the odds in their favor at one point or another.
He needed every advantage he could get. Each battle was another deadly dance on the small rail that balanced life and death, hope and despair, future and nothingness. Scratching and clawing, fighting and tearing, whatever it took, Anakin would make sure he'd find a way to stay on the right side. He had too much to live for to die on some backwater world at the hands of a no-name Separatist thug.
He had Padmé.
He sighed. But then again, he didn't. Anakin was assigned to the Outer Rim Sieges, and she was as far as imaginably possible from him – in the Core.
Seated on the cold floor, hydrospanner in hand, Anakin still felt connected to her despite time and distance. She had given him Artoo, her droid. The faithful astromech had been his protector and companion when duty became unbearable. Somehow she had known the rolling blue and silver can of metal would be his salvation.
Anakin did all this for his love. For Padmé.
The floor beneath him shuddered, and Anakin-the-hopeless-romantic was lost to Anakin-the-hero-with-no-fear. He spun the tool in his hand, then placed it back in the kit at his side.
"Just in time," he said, slapping the droid's casing shut. "We've dropped from hyperspace."
Artoo blatted irritably.
"I know you won't have time to calibrate your systems, but you can run a quick test now."
Honk.
"Everything is fine."
Tweedle-bloop.
"Trust me."
Wee-ooooo.
"Go on." Anakin smacked Artoo's blue dome.
Wheeling in a tight circle, Artoo skidded away – a little too fast. Only then did Anakin remember about the hyperactivator drive's motivation unit. "Wait. Maybe we –"
Too late. Artoo already had sequenced the oil induction arm, static initiator appendage, and turbo-powered vibrosaw. Each popped from its housing, the arm spinning wildly, the appendage crackling with potential energy, and the saw buzzing. Artoo cooed appreciatively and his blue optical receptor glowed bright with excitement.
"Artoo." Anakin sidled in the droid's direction. "Deactivate test protocol."
The droid bleeped his compliance, but instead of his new equipment shutting down a short burst of his treads blasted him across the room.
Wooooo-eeeeeee!
"Artoo?" Anakin jogged around the table to follow.
The droid's dome spun while the new tools seemed to take on a life of their own. Artoo whimpered a pitiful cry.
"It's all right, Artoo." He waved his palm slowly toward the ground and tried to approach the astromech. "I'll figure something out."
Blaa-eowwwwww.
What started as a protest ended in a shrill screech. Artoo had lost control. The hyperactivator drive spun his wheels in a dizzying pattern, and the droid barely had time to turn before he hit a wall, the toolkit, the table.
Even with a hint from the Force that he was the next target, Anakin barely launched over the top of the droid's harried flight. He landed on the table and watched the pandemonium below. Every second the droid whizzed by faster and faster. Suddenly, Anakin realized his mistake.
"Uh…not good." At the same moment, he sensed Obi-Wan coming down the corridor in their direction. "Really bad, in fact."
In desperation, Anakin snatched Artoo into a Force hold. It took immense amounts of energy to contain the droid's momentum, and even more control to conceal his excessive use of the Force from his former Master. With a jerk he yanked Artoo into the air to prevent the treads from acting counter to his hold, then hovered the astromech next to him over the table.
Artoo wailed. Meanwhile his misfiring limbs snapped and whirred in an over-energized frenzy.
Still balancing the droid, Anakin visualized the internal components. The vibrosaw and static initiator made it far too dangerous to actually try a manual manipulation. He wanted to keep his good arm intact.
"Steady there." Anakin squinted in intense concentration. He couldn't even lament his mistake; there was no time. Obi-Wan was rounding the corner…
"Easy," he urged the anxious droid. He could see the crossed wires. Too hasty of a move would cause the wires to touch, and he didn't want to think about what would happen then.
Sweat beaded on Anakin's brow. In his mind's eye, he concentrated on winding a red wire from a tangled mess. Careful. Careful. Just a little farther –
Artoo screamed. His hydraulic coils shortened.
"Don't!"
The coils fired. Artoo bucked in Anakin's Force grasp. The wire slipped. Chaos erupted from Artoo's cylindrical body.
The oil induction arm swiveled, found a target – Anakin, naturally – and fired. Blinded by a wash of black fluid, Anakin flailed his hands in front of his face – until his Force sense warned him of a waving vibrosaw. He stepped back, and slipped. None too soon, too. The static initiator fired, launching a fireball of ignited oil across the room.
Thump!
Anakin landed on his back – somehow still atop the table. The breath rushed from his lungs. With stars dancing before his eyes, he barely managed to focus enough to erect a tenuous Force shield before Artoo and his rain of fire plummeted toward the floor.
He heard Artoo's high-pitched shriek, then the heavy metallic
clunk
of aluminium on durasteel, then nothing.
Silence.
Inhaling sharply, Anakin wiped his eyes clean of the viscous fluid. He rose slowly until he was sitting on the plane of the table. A quick mental survey revealed the only damage done was a blooming bruise on his backside and the oily residue coating his Jedi robes. He groaned softly.
A synthesized moan answered in turn.
"Artoo?" Anakin peered over the edge of the table.
The droid was in the process of righting himself. He wobbled on his two rolling treads, then shimmied so the oil slipped off. After one spin of his blue-domed head, the droid extended his third leg and twirled in a tiny circle. He beeped a familiar all clear and wheeled toward the door.
Only then did Anakin remember. Leaping from the table, he snatched a rag from the toolkit and attempted to wipe his face. "Hold on."
Artoo honked indignantly.
Anakin stopped him with the Force. "You're sure?"
Toodle-dweeep.
"Completed those calibrations, huh?"
Whoeeoop.
"Not a word, then," Anakin warned, reaching Artoo's side.
Artoo's glowing optical receptor scanned him curiously.
Anakin tried to not look at his saturated attire. "What?"
Baaloop.
The door swished open before Anakin could voice his aggravation. Instead, he donned a practiced air of nonchalance and followed Artoo out the door. "Master."
Obi-Wan's mouth rounded in an unsaid question. Always composed, he masked the initial shock, reversed on his heel, and joined Anakin in walking toward the hangar bay. Obi-Wan crossed his arms into his sleeves and remained visibly impassive, but Anakin could feel the mirth rolling off him in waves.
"Go ahead and say it," he said, scowling.
In a sidelong glance, Obi-Wan raised his brow. "Droid troubles, Anakin?"
Anakin squashed the chuckle boiling up from inside. Only the corner of his mouth showed any humor found in the situation. "Don't worry. Nothing serious."
"Oh?"
"Just a loose wire."
**********
This is much farther along on the TFN boards, if you'd like to catch up. In the interest of compiling stories here for users to peruse without muddling through the quagmire of TFN, I will be posting the rest of the story here over the next couple days.