Title: Philadelphia Crime Family
Description: Merlino, Scarfo, Bruno
GangstersInc - June 18, 2006 05:02 PM (GMT)
Posted on Sun, Jun. 11,

Gambling-ring brothers are folding

The Mastronardos will plead guilty to misdemeanor charges and won't contest the seizure of $2.7 million cash

By George Anastasia
Inquirer Staff Writer

Joe and John Mastronardo, the bookmaking brothers from Montgomery County, have made a fine living over the years taking bets and playing the odds.

Their fancy homes in Meadowbrook and Blue Bell, their expensive cars, and their comfortable lifestyles are testaments to their success.

But last month, with $2.7 million on the line, the self-described professional gamblers folded. They decided to walk away rather than take a shot at getting their money back.

In a deal negotiated with the Montgomery County District Attorney's Office, the Mastronardos have agreed to plead guilty to misdemeanor gambling charges and not to contest the seizure of the cash District Attorney Bruce Castor claims came from their "multimillion-dollar" gambling network.

In exchange, Castor has agreed not to file more serious felony charges against the two.

The case offers a glimpse inside the world of high-stakes sports betting, a world where Joseph "Joe Vito" Mastronardo, 56, is a legend. In that regard, the $2.7 million hit is an indication of how lucrative his bookmaking operation is.

Call it a cost of doing business.

But there was a second element at play in the case: family.

"Some things are more important than money," said attorney Dennis Cogan, who represents Joseph Mastronardo and who is a friend of Joe and John, 50.

The Mastronardos decided not to fight the charges or try to recoup the cash seized during a series of raids on April 24, because Castor's office was threatening to arrest several other family members.

The list of potential targets in the investigation included the Mastronardos' elderly parents, Joseph and Lucy; their businesswoman sister Cindy; and Joe Mastronardo's wife, Joanna, and their 23-year-old son, Joey.

Joanna Mastronardo is the daughter of the late Mayor Frank Rizzo. Joey Mastronardo is Rizzo's only grandchild.

Whether there was enough evidence for the charges to stick was immaterial. The Mastronardo brothers didn't want to risk setting off the media frenzy such allegations could have generated. Think of the headline: "Rizzo's daughter and grandson charged in bookmaking probe."

"I think this was a good deal for everybody involved," said Castor, who by law can spend the $2.7 million on law enforcement activities that otherwise would require taxpayer dollars.

In an interview Wednesday, Castor said the case against the Mastronardos was solid, built primarily around wiretapped conversations. But he also conceded that the threat of charging family members may have helped negotiations along.

"There was some value in not having your wife and family members arrested," he said.

Free on bail, the Mastronardos face possible jail terms when sentenced, although probation is also a possibility. Their business, for now, appears to be shut down. A Web site they used - with ties to a gambling operation in Costa Rica - was not in service last week.

At a hearing following their arrests, both brothers described themselves as "professional gamblers." Cogan said that has never been in dispute.

But what he does dispute is the insinuation that the Mastronardo operation was somehow tied to a Vietnamese gambling ring and a series of assaults that were the catalyst for the county investigation.

In fact, a member of the Vietnamese ring was bringing gambling bets to an associate of the Mastronardos. A wiretap on the associate's phone led investigators to the brothers.

Both Castor and First Assistant District Attorney Risa Vestri Ferman said in response to Cogan's complaints that there was no indication that the Mastronardos were involved in or even had knowledge of the alleged beatings.

Joe Mastronardo's reputation always has been that of the quintessential nonviolent businessman gambler - a sports betting entrepreneur, whose use of the Internet is a sign of how he has adapted with the times.

Fifteen years ago, Mastronardo was cutting-edge, with his use of toll-free phone lines, recorded betting orders, and computerized billing statements. Now, according to the current investigation, he's got off-shore betting through a Web site accessed by passwords issued to customers.

Then, as now, Cogan emphasized, customers were never harassed. Those who failed to pay their debts in years past were simply denied the right to bet with the Mastronardos.

On the Internet, those who didn't bring enough action, the investigation showed, simply had their passwords canceled.

The bottom line, however, was this: While the technology may have changed, the game - and the action - were still the same.

In just three weeks of wiretapped conversations that began on April 5, detectives in Montgomery County heard discussions about payouts and collections of significant sums of cash - $190,000 in one instance, $201,000 in another, and $279,000 in a third, according to documents in the case.

On the day Joe Vito was arrested, he was returning from Florida. In his Cadillac, authorities seized $500,000 in cash. A raid on his home netted another $1 million, and raids at other locations, including John's home, turned up $1.2 million more.

That's the money the brothers are willing to walk away from.

It may be one measure of their success.

Another is found in Montgomery County property records, where Joe Mastronardo's home is assessed at $1.1 million.

The two-story, tan and green European-style villa is on a corner lot in the exclusive Meadowbrook section of Huntingdon Valley.

John Mastronardo's home in Blue Bell is a somewhat more modest property for which, records show, the former Villanova University football star paid $491,845 in 1997.

Both brothers apparently have rebounded from federal gambling convictions back in 1987 that landed Joe in jail for 18 months and John for three.

In fact, in gambling circles the perception has always been that the Mastronardos were open for business.

"They've been booking for the past 20 years," mob associate Angelo Lutz said in a telephone call from a federal prison last week. Lutz, serving an eight-year sentence on gambling and extortion charges, said he'd happily trade his legal problems for those facing the Mastronardos.

"For me, they make gambling a federal offense," the rotund former street-corner wiseguy said. Then he paused, and added, "Maybe that's because I didn't have $2 million to give up."
GangstersInc - June 18, 2006 05:03 PM (GMT)
http://www.philadelphiaweekly.com/view.php?id=12330
Straight From the Horsehead's Mouth
Gaetano "Tommy Horsehead" Scafidi turned state's evidence against his fellow South Philly mob associates in 2001. Though he's had enough of the witness protection program, he can't go home again.
by Ralph Cipriano
GangstersInc - July 11, 2006 03:04 PM (GMT)
Former mobster says Geraldo on hit list

Jul. 7, 2006 at 6:43PM

Tommy "Horsehead" Scafidi, a former mob hit man, claims he was ordered by Philadelphia boss John Stanfa to kill Geraldo Rivera for giving the mob bad publicity.
Rivera's interview with Scafidi is set to air Monday on "Geraldo at Large," revealing alleged details of how the mob planned to punish reporters investigating mob murders, Fox News said. Scafidi, who later became a government informant, claims he risked his own life to save the investigative reporter.
"(Stanfa) had a bad taste in his mouth when you ambushed him that day...It was on tape...," Scafidi said. "He doesn't like publicity, and he don't like what you did ... If you woulda come back and ambushed that guy (Stanfa) like you did before, you woulda never walked outa Philadelphia alive."
Scafidi said Stanfa would have had motorcyle assassins ride up behind Rivera with two shotguns to "blow you and whoever you were with, the head right off of your shoulders."
The former hit man has been in the witness protection program since testifying against numerous Philadelphia mob bosses in the early 1990s, Fox said.
Orchid - July 25, 2006 12:51 AM (GMT)
Wow, I don't know much about that, but I did just find out through my sister's mariage I'm related to Philly guy Ralph Natale. (though I'm not sure if they've had contact since he was locked away) This is all very interesting. I'm just used to watching this stuff on TV.
GangstersInc - July 30, 2006 07:10 PM (GMT)
Site update:
July 30, 2006 - added a profile of Philadelphia capo turned witness Tommy DelGiorno:
http://gangstersinc.tripod.com/TommyDel.html
GangstersInc - August 1, 2006 05:32 PM (GMT)

I received this information regarding my Tommy DelGiorno profile and was wondering if anyone could confirm or has any comments:


QUOTE
Posted by Greekman on 7/31/2006, 1:11 pm, in reply to "Re: Profile I wrote about Philly mobster Tommy DelGiorno"

Dave, in no way shape or form am I saying your writing is incorrect, but I got a buddy that grew up in the "Ducktown" area of AC where Scarfo & Co. lived and has run a pawnshop for many years in AC. I sent him an e-mail with your story attached to it and this is the response that he sent me.

Pete,
I don't remember this guy but I think there were a few Calabrese guys connected to Philly. There were only three pawnshops in town around that time and I don't remember any connection like that. A lot of gold buying shops started to open around then but most were (& are) connected to Russian & Asian mobs. I think whomever wrote that embellished so it would sound more interesting than dealing out of a bar or his pocket. Anyway, that's just my thought.
GangstersInc - September 17, 2006 07:51 PM (GMT)
A Merlino looking for a hit?
That would be Lawrence Merlino, 21, who just marked the release of his debut rap CD, Chapter One: The Beginning. ("I'm doing them all that way, like books," the Ventnor-reared performer said.)
Merlino - that's his stage name - is a cousin of reputed mob leader "Skinny Joey" Merlino, who's doing time in federal prison. His grandfather was the late Lawrence "Yogi" Merlino, a capo and Nicky Scarfo contemporary. (To complete the family tree: Yogi Merlino's brother Salvatore "Sonny" Merlino was Scarfo's reputed underboss and Skinny Joey's father.)
Merlino, who did the CD at Platinum Grind studio in Northfield, managed to land Shore-based hit-maker Rodney Jerkins to help produce the single "We Do That." (He's online at www.merlinomusic.com.)
Merlino has his family involved in his record label, which he says has a stable of five artists. "I'm trying to do it how Puffy did it," he says, adding that he has branched out into apparel.
"People know my last name," he says. "That's my last name... . I don't hide, know what I'm saying? I talk about it when I have to talk about it. It's family. Everybody's cool with it."
Link to a music video of Merlino:
http://www.youtube.com/watch?v=My_PctWy2S4
GangstersInc - September 17, 2006 07:52 PM (GMT)
Posted on Tue, Sep. 12, 2006
L&I official under investigation quits post
By MARK McDONALD & KITTY CAPARELLA
caparek@phillynews.com 215-854-5880

A TOP LICENSES and Inspections official, under investigation by both city and federal authorities, resigned last month after L&I confronted him with irregularities on his financial-disclosure forms, according to sources familiar with the probes.

Nicholas A. Sacerdote, 62, was pressured to quit his job as the $79,356-a-year executive assistant for L&I's contractual services, the sources said.

City Inspector General Seth Williams said Friday that investigators were looking at Sacerdote's actions at L&I, as well as his private business activities. Williams referred the matter to Michael A. Schwartz, chief of the U.S. attorney's official corruption unit.

Sacerdote, known as "Satch," handled asbestos-removal contracts for L&I and worked with police and the district attorney's office on fraud-related cases. He did not supervise anyone or work with city inspectors, according to L&I.

Williams said the investigation of Sacerdote arose during an inquiry into Michael Dean, the city's deputy chief information officer, for violating the city's residency requirement.

Dean had told city officials that he lived at a Spring Garden address near 10th Street, but a probe by the city's inspector general found that the property was a commercial tract owned by Dean's mother-in-law and under redevelopment. Dean was living in Havertown. After the IG's probe was completed, he resigned.

"There was construction work being done at the property," Williams said, "and we came across information involving Mr. Sacerdote, which, in turn, led us to branch off into another investigation."

As the probe proceeded, Williams said, he informed Schwartz's unit.

"We began cooperating with them and now the matter is in their hands," he said.

Sacerdote, who worked for L&I for nearly eight years, disputed how he left: "I didn't resign; I retired. Nobody pressured me.

"Look, I'm 62 years old and I had a heart attack," he said. "When it's time to go, it's time to go."

Robert Solvibile, L&I commissioner, said that Sacerdote's last day was Aug. 18. He declined to comment further.

Sacerdote confirmed that he testified recently before a federal grand jury, but said the questions had to do with Vincent Green, head of Philadelphia Floor Cleaning Inc.

"He's a minority contractor," Sacerdote said. "He's a good guy. I've known him for years."

He said that Green was having trouble getting permits for work on the Spring Garden Street property owned by Dean's mother-in-law.

Sacerdote said he and Green discussed the problem at the time.

"I told him there was nothing I could do because you can't get the permits until you have the zoning corrected," he added.

Green declined to comment.

Federal subpoenas related to Sacerdote have been issued to L&I and others, according to sources.

Asked about his financial disclosure filings, Sacerdote said: "Well, OK. I filled it out wrong. So put me in jail. I've been fillin' that thing out the same way for years."

He said L&I officials told him that he'd misstated information on his disclosure forms. "I said I did it honestly, but, OK, so what are they going to do, kill me?"

In his April 29, 2005, disclosure statement, Sacerdote indicated he had no creditors or income - not even his city salary.

On this year's disclosure form, dated Aug. 15 - three days before he retired - he listed Nissan Motor Corp. as a creditor and his city job as income.

Last year, he listed his home as on 11th Street near Watkins, a property owned by his son, and this year he listed an apartment building on 21st Street near Pine as his address.

On both disclosure forms, he claimed that he had no business interests transferred to an immediate family member, and, on his 2005 statement, no real-estate income, even though the Sacerdote family owns 12 properties and Sacerdote and/or his wife sold four others during his L&I tenure.

For much of his life, Sacerdote said, he has worked in the construction business and to cope with its litigious nature, he put many of his assets in his wife's name.

State records showed that Sacerdote was treasurer of Crown Insurance Damage Restoration Inc., of Shunk Street near 18th, incorporated on Aug. 8, 1994.

Records also showed Sacerdote's wife, Rosenia, as president of Winter Moon Inc., incorporated on May 3, 2000, and his daughter, Anita Sacerdote, as treasurer.

Both companies used the same corporate address on Shunk Street near 18th, the Sacerdotes' former home.

According to L&I, Sacerdote has three inactive business privilege licenses: Crown Insurance Damage Restoration Inc.; a home-repair business; and a sole-proprietor license for consulting work. His wife has one inactive vacant-property license. The tax accounts for all four licenses are also inactive.

Of the family's 12 properties, Sacerdote owns two houses; his wife, Rosenia, four; his son, Nicholas Sacerdote Jr., five; and his daughter, Anita, one.

In the past seven years, Sacerdote and/or his wife have sold four properties:

• In 2003, a two-story stone home at 1812-1814 Shunk St., bought in 1986 by Nicholas and Rosenia Sacerdote, was sold for $500,000.

• In 2001, a one-story frame home with a garage at 215 E. Buttercup Road in Wildwood Crest, N.J., bought for $75,000 by Nicholas and Rosenia Sacerdote in 1982, was sold for $170,000.

• In 2000, a two-story brick rowhouse, at 2428 S. 15th, bought in 1986 by Rosenia for $40,000, was sold for $87,500.

• In 1999, a three-story office/ apartment building at 2430 S. Broad St., bought for $200,000 in 1986 by Nicholas and Rosenia Sacerdote, was sold to Rosenia for $1.

Sacerdote's daughter is married to the nephew of mob boss Joseph Ligambi, but that relationship does not appear to be a subject of either inquiry.

Despite Sacerdote's controversial role in making costly repairs to 82 homes damaged during the city's confrontation with the radical cult MOVE in 1985, he was hired at L&I on Oct. 4, 1998, by Solvibile's predecessor, Edward J. McLaughlin then L&I Commissioner Fran Egan.

During the MOVE repairs, then-city controller Joseph Vignola halted what was described as "exorbitant" payments to Ronix Corp. and to Sacerdote, who charged $5,000 a week for 11 weeks for supervising home repairs. Green said he worked for Sacerdote at the time.

In May 2002, McLaughlin approved Sacerdote's request to become "a consultant in the construction industry which has been all of my working life outside of city projects," according to a letter Sacerdote sent to Mc-Laughlin.

Sacerdote pledged to limit his consulting business to after-hours and weekends.

An L&I source said it is highly unlikely that Sacerdote would ever be approved for that kind of work under the current administration, due to tightened civil-service regulations.

Sacerdote said he's happy to be rid of the responsibilities that weighed him down at L&I. He said he has not retained a lawyer "because I haven't done anything wrong."
GangstersInc - September 17, 2006 07:52 PM (GMT)
Posted on Thu, Sep. 14, 2006
She says ex-L&I official, builder fleeced her
By KITTY CAPARELLA & MARK MCDONALD
caparek@phillynews.com 215-854-5880

Darleen Dean stood behind a counter at her janitorial-supply company yesterday and reluctantly talked about being allegedly ripped off by a contractor and his alleged "silent" partner - an ex-L&I official under federal investigation.

For at least 14 months, Dean said she's been living a nightmare since hiring building contractor Vincent Green, a customer for 15 years.

Green was to renovate two floors into four apartments above her Janitorial Supply Co., which she has operated for 19 years on Spring Garden Street near 10th, Dean said.

Then, Green brought in Nicholas Sacerdote, executive assistant for contractual services at the city Department of Licenses and Inspections, who retired Aug. 18 after L&I officials confronted him with irregularities on his financial-disclosure forms.

Based on information she received, Dean said, she believed that Green and Sacerdote worked together against her. She said she had been warned indirectly by another contractor that Sacerdote had Mafia connections.

Sacerdote, known as Satch, is not in the Philadelphia crime family, according to law-enforcement sources, but his daughter is married to the nephew of mob boss Joseph Ligambi.

Dean said she paid Green a "substantial sum of money," from the $140,000 mortgage she obtained for renovations. She expected Green to get proper work permits, but the property was slapped with a L&I "stop work" order declaring that she needed a zoning variance, she said.

Green did some work on the renovations, but her sidewalk, front screens and new sign were damaged because of him, she said.

She said she asked Green for her money back, and he promised to give it to her, but never did so. Even though she had received lower bids, she hired Green because "I trusted him."

Green did not return a Daily News call last night.

Dean's construction nightmare worsened when Inspector General Seth Williams investigated her son, Michael Dean, a deputy mayor for information services, who claimed he lived at her Spring Garden address, but was found to be living in Havertown in violation of city residency requirements. He resigned in February.

During the I.G. investigation, Williams said his investigators uncovered the relationship between Green and Sacerdote and forwarded the information to the U.S. attorney's official corruption unit.

Michael A. Schwartz, chief of the corruption unit, would neither confirm nor deny whether there was an investigation.

Dean said she was shocked to see Tuesday's Daily News report that her property at 1021-1023 Spring Garden St. figured prominently in two investigations.

Neither the inspector general's office nor the FBI had contacted her, she said.

Williams said Dean and her attorney, Peter Bowers, complained to the I.G.'s office yesterday and were advised to contact the U.S. attorney.

Dean said her attorney talked with the feds.

Last Wednesday, she received a zoning variance that will allow her to create two apartments on each floor above her store, city records show.

Former L&I Commissioner Ed McLaughlin said he met Sacerdote after his predecessor, the late Fran Egan, hired him on Oct. 5, 1998.

McLaughlin said he didn't recall the 2002 document he signed allowing Sacerdote to do construction consulting outside of work. But he said that most L&I employees are hired for their construction experience.

"How can you tell someone they can't work in that industry?" he asked. "Nothing he was doing at the time put my antennae up," he added.
GangstersInc - October 14, 2006 04:25 PM (GMT)
GEORGE FRESOLONE
By David Amoruso
Posted on October 14, 2006
George Fresolone was the first mobster who taped his induction into the Mafia. His information led to indictments against 38 mobsters, including Philadelphia boss "Little Nicky" Scarfo. In 1994 his autobiography came out, titled "Blood Oath: The Heroic Story of a Gangster Turned Government Agent Who Brought Down One of America's Most Powerful Mob Families." This profile is largely based on that book.
CONTINUE:
http://gangstersinc.tripod.com/Fresolone.html
GangstersInc - November 4, 2006 11:07 AM (GMT)
Alleged mobster faces gambling, steroid charges
Thursday, October 26, 2006
Associated Press

Authorities have arrested a reputed organized crime family member on charges stemming from an investigation into illegal sports gambling, State Police said yesterday.

State Police, working with the FBI's Philadelphia office, arrested Vincent Filipelli, 53, at his Cherry Hill home on Tuesday. They seized anabolic steroids and drug paraphernalia valued at $10,000, two stun guns, gambling records and cash, according to State Police.

Filipelli faces state and federal charges related to a sports betting operation and the distribution of illegal drugs, specifically anabolic steroids, said State Police Sgt. Stephen Jones.

Filipelli was being held without bail yesterday at the Camden County jail, pending a federal hearing.

State Police officials said Filipelli was a former bodyguard for John Stanfa, boss of the Philadelphia La Cosa Nostra organized crime family.

During an undercover investigation that included two State Police detectives, Filipelli threatened one of the undercover detectives, whom he believed owed him a debt, telling him he would put him in the hospital for a year, State Police said.
GangstersInc - January 18, 2007 04:57 PM (GMT)
Posted on Wed, Jan. 17, 2007

Merlino associate faces revocation of '05 parole
By George Anastasia
Inquirer Staff Writer

Marty Angelina, a top associate of jailed mob boss Joseph "Skinny Joey" Merlino, could be headed back to prison on a parole-violation charge.

Angelina, who spent more than five years in jail for a racketeering conviction, has been cited for associating with known felons, a violation of the terms of his supervised release.

A hearing on the charge has been set for Tuesday before U.S. District Judge Barclay Surrick in Philadelphia.

Assistant U.S. Attorney David Fritchey, one of the prosecutors in the racketeering case, declined to comment yesterday. Angelina was convicted in July 2001 with Merlino and five others, most of them still in jail.

Angelina, 46, was notified of the parole charge last month, according to court documents. If convicted, he could be ordered back to prison to complete his original sentence of 78 months.

The burly South Philadelphia wiseguy served 66 months (including 20 prior to his conviction) before being released in November 2005.

Angelina was convicted of racketeering and conspiracy charges that centered on gambling and extortion. At Angelina's sentencing hearing, Assistant U.S. Attorney Zane Memeger him as "a bully running with a gang of misfits."

Among other things, he was accused of threatening a bookmaker with a baseball bat in one of the mob extortion plots.

Since his release, Angelina has worked for a floor-installation company in South Philadelphia.
Contact staff writer George Anastasia at 856-779-3846 or ganastasia@phillynews.com.

GangstersInc - January 24, 2007 09:06 PM (GMT)
Posted on Wed, Jan. 24, 2007
Convicted mobster admits violating probation; gets jail
By George Anastasia
Inquirer Staff Writer

Convicted mob racketeer Marty Angelina was ordered back to prison for four months yesterday after admitting to a federal judge that he had violated the terms of his probation by meeting with known felons and members of La Cosa Nostra since his release from prison 15 months ago.

They were "bad choices," the onetime enforcer for jailed mob boss Joseph "Skinny Joey" Merlino said during a probation revocation hearing before U.S. District Judge R. Barclay Surrick in Philadelphia. "I apologize... it won't happen again."

Angelina's surprising mea culpa wasn't enough to keep him out of jail but it apparently led Surrick to impose substantially less time than the 10-month maximum Angelina had faced.

Angelina, 44, is to surrender to federal marshals in two weeks.

The violations cited during yesterday's hearing included meetings and phone conversations and were based on information provided by the FBI and members of the Philadelphia Police Department's Organized Crime Squad, according to a report filed by James Muth, Angelina's probation officer.

Muth told Surrick that Angelina had reported some "incidental" meetings to him, but had failed to mention several others that came to light as a result of surveillance and phone wiretaps that are apparently part of continuing investigations.

Angelina was cited for meetings with reputed mob boss Joseph Ligambi and with mob associates Steven Frangipanni, Damion Canalichio and Michael Lancelloti.

Muth said Angelina told him of a chance encounter he had with Ligambi at a children's dance recital in Washington Township, Gloucester County, where both Angelina's 7-year-old daughter and Ligambi's granddaughter were performing. He also mentioned bumping into Frangipanni at Chickie & Pete's, a popular South Philadelphia restaurant.

But Muth said Angelina failed to disclose a series of other meetings and did not disclose phone conversations he had with Canalichio until he was informed by investigators - as required by law - that Canalichio's phone had been tapped.

Canalichio was recently indicted on drug-dealing charges and is the focus of a federal gambling investigation.

Angelina's attorney, Jack McMahon, conceded that his client had violated the terms of his probation, but said, "There is no allegation of any criminal activity."

Jailed on racketeering charges in March 2000, Angelina was convicted along with Merlino and five others. Among other things, he was charged with being an enforcer in a series of mob extortion plots. He served 66 months of a 78-month sentence before being released in November 2005.

"La Cosa Nostra... is not a social club or the Knights of Columbus," Assistant U.S. Attorney David Fritchey said during yesterday's hearing. "People join in order to commit crimes."

As he left the federal courthouse after the hearing, Fritchey said Angelina's first bad choice "was deciding to join the Mafia to begin with."

Contact staff writer George Anastasia at 856-779-3846 or ganastasia@phillynews.com.
EL GUEPARDO - April 1, 2007 02:49 PM (GMT)
A background exert from the book "The Last Gangster" by George Anastasia (it's on the Philadelphia crime family):


Scafidi is a fourth-generation South Philadelphia wiseguy. His great-grandfather had been a capo--a mob lieutenant--at the turn of the last century. His grandfather, two uncles, and an older brother were also made members of the Philadelphia crime family.
"My family were wiseguys," Scarfidi said during testifying. "I just liked the lifestyle. I liked the respect. I could go into a restaurants, I could get special treatment. We were allowed to do whatever we wanted. We could go into clothing stores and tell the people, 'We want to pick out suits,' and we'll tell them that we'll pay them at the end of the month... [although they never did.] We were allowed to go shake down drug dealers, bookmakers, loan sharks, anybody who was doing anything illegal. We went and told them they had to do the right thing. And if they didn't, especially people in our neighborhood, they knew they would have a problem with us. They would have gotten a beatin'. Or, if they own a club, we could have wrecked [it]. We would send people in to wreck the club and things like that."
EL GUEPARDO - April 1, 2007 02:52 PM (GMT)
An exert from the book "The Last Gangster" by George Anastasia (it's on the Philadelphia crime family):


Nicky Scarfo brought the Philadelphia mob out of the shadows. Fancy clothes. Custom-made shirts. Italian leather shoes. A Mercedes-Benz. Ringside seats at the prizefights staged by the casinos. A forty-one-foot yacht he called Usual Suspects was docked behind his lavish vacation home in Ft. Lauderdale, a home he called Casablanca South. (Scarfo loved Bogart films; Casablanca was his all-time favorite.)

Scarfo did two years for a manslaughter charge. When he got out, several members of the organization wanted him killed. Scarfo was a hothead, they said; he would only bring trouble. But Scarfo had two uncles that were capos within the organization. They got him a pass. He was sent to Atlantic City instead of the morgue.
By the early 1980s, the city was up and running. There were six casino-hotels, then eight, then ten, finally twelve. Scarfo got his hooks into the Bartenders Union, which represented most of the casino workers. Little Nicky was taking thirty to forty grand a month out of the union's coffers.
The money came in cash, mostly ten- and twenty-dollar bills, delivered by a union official to Scarfo's home. Then Scarfo would send his son, Nicky Jr., and Tommy Scafidi to one of the casinos to "wash" the money.
"Scarfo liked hundreds, he didn't want all these tens and twenties," Scafidi recalled later when describing their monthly routine. He and Nicky Jr. would take the small bills down to one of the casinos on the Boardwalk. Caesars Boardwalk Regency and Bally's Park Place were within three blocks of Scarfo's residence. They would buy chips and pretend to gamble. Play a few hands. Walk the casino floor. Then they'd cash out and bring the money--nicely converted to neat, crisp stacks of hundred-dollar bills--to Little Nicky.
Hollander - April 12, 2007 11:39 AM (GMT)
Appeals court vacates mobster's convictions
By Staff and wire reports
Wednesday, April 11, 2007

The federal Appeals Court yesterday vacated the 2002 coke-dealing convictions of onetime Mafia captain Robert Luisi Jr., 46, ruling the jury should have been allowed to consider that then Philadelphia godfather Joseph "Skinny" Merlino helped entrap Luisi by giving him orders through a mobster who was a paid FBI informant.

Luisi, who not only managed Merlino's Boston rackets but had to pay him for the privilege, was sentenced to nearly 20 years in prison for dealing drugs to an undercover agent. He testified that a "spiritual encounter" persuaded him to clean up his act.

His case is remanded back to federal district court.
GangstersInc - April 30, 2007 10:59 AM (GMT)
Posted on Sat, Apr. 28, 2007
Mobster admits guilt, but not cooperation Vincent Filipelli was accused of an extortion-related charge. Yesterday, he made sure everyone knew he hadn't cut a deal.
By George Anastasia
Inquirer Staff Writer

Mobster Vincent "Big Vince" Filipelli wanted to make one thing perfectly clear yesterday after pleading guilty to an extortion-related charge that could keep him behind bars for the next several years.

Signaling to reporters who had shown up in U.S. District Court in Camden to cover his plea hearing, the bulky former professional weight lifter slashed his hand through the air and then said with a smile, "Remember, no cooperation."

Filipelli, 53, wanted to underline what his lawyer had emphasized during the 30-minute session before Judge Noel Hillman - there was no plea agreement and no cooperation deal with federal authorities.

"Vince did what he did," attorney Donald Manno said after the hearing. "He yelled at a guy to collect a debt."

Manno said he would argue the circumstances of the case at an Aug. 17 sentencing hearing, but that neither he nor Filipelli disputes the primary charge.

Filipelli, a twice-convicted mob extortionist, was accused of traveling interstate to make a violent threat in order to collect a gambling debt.

According to a federal indictment and an FBI affidavit, Filipelli traveled from Cherry Hill to Philadelphia on May 25, 2006, to meet with a man who he believed owed money to a mob-linked bookmaker. In fact, the deadbeat gambler was a New Jersey State Police undercover detective who was wearing a body wire.

During the meeting, which took place in the parking lot of the Crazy Horse Too, a South Philadelphia gentlemen's club, Filipelli threatened to put the gambler "in the hospital" if he did not come up with the money he owed.

Later, in another conversation, Filipelli allegedly boasted that he was a "made," or formally initiated, member of the Philadelphia mob.

Those tapes could be played at the sentencing hearing before Hillman in August.

Filipelli, who appeared in court dressed in an olive-green prison jumpsuit, has been held without bail since his arrest in October.

Assistant U.S. Attorney Steven D'Aguanno, the prosecutor in the case, provided more details about the undercover operation yesterday. According to D'Aguanno, Hammonton bookmaker John Bebe introduced Filipelli to two state police undercover detectives who were working a mob-related gambling investigation.

Bebe is a longtime associate of Ron Previte, a former mob member and key FBI witness in the prosecutions of former Philadelphia mob bosses Ralph Natale and Joseph "Skinny Joey" Merlino.

Manno said he hoped to call Bebe as a witness at the sentencing hearing. The lawyer said he wanted to demonstrate that Filipelli was "set up" by Bebe and the state police.

Manno said he would not dispute what Filipelli had done, nor that his client - a former Mr. America body-building champion - can appear intimidating.

"I'm sure people take him seriously," Manno said. "He's a serious guy."

But the lawyer said he would point out that no one was injured and that Bebe and the state police induced Filipelli to go to Philadelphia.

Manno said he hoped those circumstances would help persuade the judge to imprison Filipelli for the lower end of the sentencing guidelines in the case, which Manno estimated would be anywhere from 31 to 37 months.

Manno said he expects Filipelli and others to be charged with gambling-related offenses by the New Jersey Attorney General's Office. That case, based on the same investigation, is continuing, according to law enforcement officials.

Filipelli was allegedly working as an enforcer and collector for a Cherry Hill-based bookmaker with ties to the mob.

Contact staff writer George Anastasia at 856-779-3846 or ganastasia@phillynews.com.
GangstersInc - July 6, 2007 03:24 PM (GMT)
Two High Ranking Mobsters Set to Leave Prison
Will they fit in with the low key operation of the current boss?
Last Edited: Thursday, 05 Jul 2007, 6:33 PM EDT
My FOX Philly Exclusive
By Dave Schratwieser
Philadelphia, PA --
Potential trouble in local mob circles as two high ranking members of jailed Mob Boss Joey Merlino's crew get set to leave federal prison. Will they fit in with the low key operation of the current boss?
"They're always stay on our radar screen"
Reputed Mob Boss Joe Ligambi may be enjoying his extended 4th of July weekend at the Jersey Shore, but back here in Philadelphia, Mob circles are starting to buzz about the impending release from prison of two top ranking mobsters.
"There may be some question as to who's going to control the Philadelphia mob upon the release of some of these folks," said Inspector Thomas Nestel of the Philadelphia Police Department's Intelligence Unit.
About to leave federal prison are former Mob Underboss Steven Mazzone and former Mob Captain John Ciancaglini. Both served under jailed Mob Boss Joey Merlino until their arrest and conviction back in 2001. Mob watchers are concerned about how the two organized crime figures will fit in with Ligambi's low key style.
"It's like we're coming full circle. Here come the same players again. Every thing old is new again, here we go," said George Anastasia, who writes about organized crime for the Philadelphia Inquirer.
The 43-year-old Mazzone has been a standup guy. He kept his mouth shut and did his time. The same goes for Ciancaglini. Law enforcement experts expect Mazzone to make a mob re-entry into the upper ranks, while sources say Ciancaglini may seek permission from federal authorities to leave the city, permanently.
Organzied crime sources say Mazzone and Ciancaglini are expected to be released to a halfway house in the Hunting Park area. Both are expected to take part in a work release program. They are not supposed to associate with the local mob.
"When one of those bosses or under bosses are released, we are definitely interested and keep our eye on the situation," Nestel said.
Mazzone and Ciancaglini will join several other Merlino mobsters now back out on the streets. We asked the city's top organized experts if that might mean trouble "downtown."
"It's been kinda quiet," Anastasia said. "If it goes in cycles, it's about time we have something to write about. To report on."
Mazzone and Ciancaglini were both sentenced to nine years in federal prison. Mob soldier Marty Angelina left jail after a parole violation earlier this month. Mob funnyman and convicted gambler Angelo Lutz leaves prison in February. Flamboyant gangster Joey Merlino won't hit the streets for another four years.
Check the video of this news at their page
Hollander - July 12, 2007 11:08 AM (GMT)
Robert F. Simone; theatrical trial lawyer dies at 73
By George Anastasia
Inquirer Staff Writer
MICHAEL S. WIRTZ / Inquirer Staff Photographer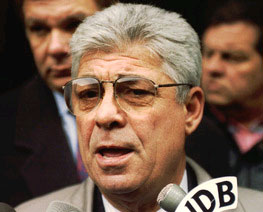 Robert F. Simone defended many mob figures, chief among them Nicodemo "Little Nicky" Scarfo.
» More images
http://www.philly.com/inquirer/gallery/sim...tml?popup=y&c=y
Robert F. Simone, 73, a quintessential Philadelphia criminal-defense lawyer whose client list was a cross between Guys and Dolls and Goodfellas, died Tuesday night at Hahnemann University Hospital after a long illness.
Mr. Simone was a tenacious defender whose courtroom style was that of a counter-puncher. Quick on his feet and a master at cross-examination, he could often say more to a jury with a grimace, squint or shrug than another lawyer could convey in a two-hour summation.
"He was the last of the big-city, big-time, hard-hitting criminal lawyers," said Edwin Jacobs Jr., a longtime friend and fellow defense attorney.
Known as "Bobby" to clients and colleagues, Mr. Simone fought his most storied legal battles on behalf of the mob boss Nicodemo "Little Nicky" Scarfo, who became his friend as well as his client.
But his confrontations also included several battles in which he defended himself against criminal charges. He was convicted in 1992 in a mob-related racketeering and extortion case, and ultimately served nearly three years in prison.
He vehemently denied the charges in the case, claiming he was the target of a government vendetta. But he also was quick to admit that his lifestyle - a penchant for gambling, nightlife, and a good glass of liquor - often created problems that his courtroom skills couldn't solve.
During his 40-year career as one of the city's top defense lawyers, his clients included the glamorous and the infamous. Scarfo, mob leader Angelo Bruno, union boss John McCullough, and porn-film star Linda Lovelace all called on Simone for legal assistance.
"When he was on top of his game, there was nobody better," said defense lawyer Donald Manno. "He was a combination of instinct, charm and legal talent."
Mr. Simone's career was launched with the high-profile defense of Lillian Reis, a Philadelphia showgirl who was charged with masterminding the theft of $478,000 from the home of Pottsville coal baron John Rich in 1959.
His most infamous client was Scarfo, whom he defended in numerous federal and city cases in the 1980s.
The two developed a close friendship that resulted, among other things, in Mr. Simone's showing up on FBI surveillance photos taken at Scarfo's home and on his yacht, Usual Suspects, in Fort Lauderdale, Fla., in the early 1980s.
Mr. Simone was unapologetic about his personal association with the mob boss.
"When I had problems, he was one of the people who stood behind me," Mr. Simone said in a 1988 interview before the start of a Common Pleas Court murder trial in which he successfully defended Scarfo.
"I consider him a loyal friend to have."
Mr. Simone's career often had him clashing with federal prosecutors in court and ducking federal investigators on the streets.
He was indicted four times by federal grand juries. Putting the lie to the adage that a lawyer should never defend himself, he successfully beat an income-tax-evasion charge in 1984 and a perjury case in 1986.
His defense in the tax-evasion case, in which authorities alleged he had hidden assets and avoided the payment of nearly $1 million in taxes, was classic Bobby Simone.
After the indictment was announced and reporters asked him about the charges, he explained that his money had gone to pay gambling debts.
"Who was I supposed to pay, the IRS or the loan sharks?" he asked with a look that said the answer was self-evident. "The interest is about the same. The health aspect is a little different."
Mr. Simone, however, lost his last battle with the federal government when he was convicted of racketeering and extortion charges in a 1992 case tied to the Scarfo mob. Authorities alleged he had become the "unofficial consigliere" of the crime family, an allegation he vehemently denied.
He subsequently pleaded guilty to a related income-tax-evasion charge, and was sentenced to four years in prison and stripped of his license to practice law.
Mr. Simone wrote extensively about the case and about what he considered the government's abuse of the legal system by making deals with criminal informants in his book The Last Mouthpiece: The Man Who Dared To Defend the Mob.
A memoir that highlighted most of his major cases, the book was published in 2001 after he had completed his sentence on the racketeering and tax charges.
He eventually had his license to practice law restored, and was again working as a defense lawyer when he was sidelined with the illness that took his life.
"He was an outstanding lawyer who went toe to toe with the government and never gave an inch," said Norris Gelman, a defense lawyer who worked on cases with Mr. Simone. "He was the last of a breed. . . . He knew tactics, he knew strategy, he knew how to cross-examine."
Many of today's young defense lawyers, Gelman said, are like "tax accountants," well versed in the minutiae of deal making and the point system judges use to level sentences, but often lost in front of a jury.
"Bobby was not a tax accountant," Gelman said.
Even prosecutors, who investigated and built cases around what one referred to as Mr. Simone's "dark side," said he was a master in the courtroom.
"He was one of the best trial lawyers I ever went up against," said Louis Pichini, a former federal prosecutor and Organized Crime Strike Force attorney who won numerous battles with Simone, including the major racketeering case that sent Scarfo and his top associates to prison in 1988.
"When he was cross-examining a witness, he had an intuitive sense of what to ask and, as important, when to stop asking," Pichini said. "It was like a surgical strike. Get in and get out."
Robert Madden, a former federal prosecutor who later became a defense lawyer, said Mr. Simone "was a legend . . . a great lawyer."
More important, Madden said, "he was a man of his word. If he told you something, you could bank on it. That's the way it was going to be."
The son of a first-generation Italian American father and a mother born in South Philadelphia, Mr. Simone grew up in the Logan section of the city, attended Olney High School, and went on to Temple University and Temple Law School.
In his book, he said that from the time he was a boy, he dreamed of becoming a lawyer.
"Whenever I saw a courtroom scene in the movies and later on television, I always imagined myself to be the lawyer representing the underdog," he wrote. " . . . There was no other profession or business that interested me."
He began practicing law in 1959, opening a small office in Center City. After work, he would often stop into the Celebrity Room, a famous Locust Street nightspot run by Reis.
They became friends, and she hired him to represent her in several classic battles with the city and Capt. Clarence Ferguson of the police vice squad, who was always trying to shut Reis' club down on morals charges.
When Reis was implicated in the Pottsville heist, she turned to Mr. Simone, who defended her through two trials. The first ended in a hung jury. The second ended with a conviction that was overturned on appeal. The charges against her were then dropped.
In the 1988 interview, Mr. Simone acknowledged that he often became friends with his clients and also with individuals whose reputations were less than pristine. These would include many prominent mob figures, including Reis' boyfriend and codefendant in the Pottsville case, Ralph "Junior" Staino.
"I can't help it," Mr. Simone said. "That's the way I am. . . . I've had dinner with them. I'm not afraid to be seen with them."
Then he smiled and offered one of those crooked glances that were so much a part of his courtroom style.
"Most have records as clean . . . as the judges in City Hall."
Mr. Simone acknowledged in his book that his lifestyle was often at odds with his profession. He liked to drink and to gamble, and to associate with people who shared those interests.
But he also contended that he was the victim of federal authorities who targeted him because he was such a strong advocate for those he considered "the underdog."
"I have paid a hefty price for my long-ago decision to take on the causes of the most undesirable and unpopular among us," Mr. Simone wrote in the prologue to his book. ". . . And while some of my former clients currently sit in jail or have met ends as untimely as they were grisly, I can tell you that many of them were, and still are, my close friends."
Mr. Simone died after a long battle with chronic obstructive pulmonary disease, according to his brother, Joseph.
In addition to his brother, he is survived by a son, Scott; a daughter, Kimberly Ikehara; and two grandchildren.
A viewing will be held from 7 to 9 p.m. tomorrow and from 9:45 to 10:45 a.m. Saturday at the Baldi Funeral Home, 1331 S. Broad St. A Funeral Mass will be said at 11:30 a.m. Saturday at St. Monica Roman Catholic Church, 17th and Ritner Streets. Burial will be in Holy Sepulchre Cemetery, Cheltenham.
Donations may be made to the American Lung Association, 303 S. 13th St., Philadelphia 19107.
Hollander - July 24, 2007 12:27 PM (GMT)
Hollander - August 10, 2007 06:58 AM (GMT)
Mob figure's return: Family or business?
By George Anastasia
Inquirer Staff Writer


Nicodemo S. Scarfo, son of jailed Philadelphia mob boss Nicodemo D. "Little Nicky" Scarfo, has returned to the Atlantic City area - a move that has raised eyebrows in both law-enforcement and underworld circles.

Although his lawyer says he's simply working for a cement contractor in Atlantic County, some law-enforcement sources believe the younger Scarfo could be making a move to take control of the crime family that his father ruled through fear, intimidation and violence in the 1980s.

"He is trying to make a life with a legitimate business and avoid all illegal contacts," said lawyer Donald Manno, who declined to identify the contractor because of the notoriety surrounding his client.

Scarfo, 42, is "not interested in getting involved with organized crime in Philadelphia or anywhere else," said the lawyer.

He returned to the area with his wife and young child, Manno said, to be close to his mother and invalid younger brother, who live in Ventnor.

The FBI, the New Jersey state police, and organized-crime investigators with the Philadelphia Police Department have been tracking Scarfo's presence since he relocated to South Jersey about five months ago.

Scarfo had been living in North Jersey after finishing a 33-month federal prison sentence for a 2002 gambling conviction.

Several law-enforcement sources, who would speak only anonymously, said federal authorities had received reports that the younger Scarfo had the "backing" of the New York crime families and that his father, from prison, was also supporting his move to take over the local organization.

The Philadelphia crime family is now reputedly headed by Joseph "Uncle Joe" Ligambi, a longtime member of the Scarfo mob. Ligambi was convicted with Scarfo and several others of the notorious 1985 gangland murder of Frank "Frankie Flowers" D'Alfonso. He served nearly 10 years in prison before that conviction was overturned and a second trial ended in a not-guilty verdict.

Whether Ligambi would step aside for the younger Scarfo is a question law-enforcement authorities say they cannot answer.

Some investigators believe Ligambi, who turns 68 today, would be happy to "retire" to Florida. Others say a long-rumored federal indictment, with Ligambi as the lead defendant, could make any argument about his stepping aside moot.

Another key question is whether South Philadelphia wiseguys still loyal to jailed mob leader Joseph "Skinny Joey" Merlino would oppose a move by Scarfo to take control. Bad blood between the Merlino and Scarfo families is no secret.

Merlino, 45, who is serving a 14-year sentence for a 2001 racketeering conviction, has long been the suspect in a brazen 1989 Halloween night murder attempt on the younger Scarfo.

Scarfo was gunned down as he sat eating a plate of clams and spaghetti with friends in Dante's & Luigi's, a popular South Philadelphia restaurant.

The shooter arrived at the restaurant wearing a mask and carrying a trick-or-treat bag. Inside the bag was a machine pistol that he used to spray Scarfo's table. Miraculously, Scarfo survived the hit, leaving the hospital just a few days after being rushed there with multiple gunshot wounds of the torso and arms.

New Jersey state police investigators subsequently picked up wiretap conversations in which Scarfo and his father, from prison, discussed the murder attempt, identified Merlino as the shooter, and plotted to kill him in revenge.

"Little Nicky" Scarfo, 78, is serving a 55-year sentence on federal racketeering-murder charges. It is unlikely he will be paroled.

In an attempt to protect his son after the Dante's & Luigi's shooting, the elder Scarfo reportedly formed an alliance with Victor Amuso, boss of New York's Lucchese crime family and an inmate in the same federal prison in Atlanta.

The younger Scarfo, while living in North Jersey prior to his arrest on gambling charges in 2002, was aligned with a New Jersey faction of the Lucchese organization, according to Robert Buccino, an organized-crime expert and chief of investigations for the Union County Prosecutor's Office.

"He's been associated with the New Jersey factions of the Lucchese and Gambino families," said Buccino. He said authorities believe the younger Scarfo was formally initiated into the Lucchese organization and is the "skipper" of a crew operating in the Atlantic City area.

According to an organized-crime source in South Jersey, the younger Scarfo's name surfaced in a gambling and labor-racketeering case that targeted members of the Gambino and Lucchese families in North Jersey back in May.

Wiretaps established an association, the source said, but did not provide enough information to warrant a criminal charge.

While Manno insists his client has been spending his time helping to build up a cement-contracting business, other sources say he and a group of associates have begun to flex their underworld muscles at local clubs, strip joints and bars in the Atlantic City area.

Scarfo's father was notorious for shaking down quasi-legitimate business operators, demanding a "street tax" from bar owners, restaurateurs, bookmakers and drug dealers who were not directly affiliated with the organization. Labor racketeering and extortion were big money-makers for the organization while he was in charge.

The elder Scarfo was also in the cement business.

He and his nephew, Philip "Crazy Phil" Leonetti, headed Scarf Inc., an Atlantic City cement-contracting company that did work on at least six casino-hotel projects in the early days of casino gambling at the Shore.

Leonetti, who was Scarfo's underboss, later became a government witness. He testified at more than a dozen trials and is considered one of the most devastating Mafia informants ever to take the stand.

In a telephone interview several years ago, Leonetti, who has established a new life with a new identity supplied by federal authorities, lamented the fact that his cousin, the younger Scarfo, had not broken with his father and the mob.

"My uncle is going to get my cousin killed," Leonetti said at the time.

Buccino said that while there is a danger that the younger Scarfo could "end up in a box," there is precedent in the American mob for sons to be handed leadership positions almost as a birthright.

John Gotti's young and inexperienced son, John A. Gotti, rose to power in New York's powerful Gambino crime family after his father was jailed. The Taccetta brothers, leaders of a North Jersey faction of the Lucchese organization, handed their positions to their sons, Buccino said.

"Unfortunately, these guys let their kids get into the business," Buccino said. "In the end, they all end up in jail."



--------------------------------------------------------------------------------

Nicodemo S. Scarfo
1983: Graduates from Holy Spirit High School, Absecon.

May 1987: Arrested for speeding, resisting arrest in Gloucester City.

August 1987: Arrested in a fight inside Resorts International Casino Hotel in Atlantic City.

November 1988: While visiting his younger brother, who was comatose from a suicide attempt, in Hahnemann University Hospital, pummels a woman who put her hand in her pocket in an elevator.

October 1989: Shot seven times as he dined at Dante & Luigi's restaurant in South Philadelphia, leaving his left arm permanently shorter than his right.

November 1989: Released from hospital. Goes into hiding in North Jersey.

August 1990: Arrested on racketeering, loan-sharking and conspiracy charges. While on bail, lives for a time in Florida, working for a computer software company called America's Most Wanted Software.

November 1993: Sentenced to seven years in prison.

May 1998: Paroled. Moves to North Jersey.

June 2000: Arrested on gambling and loan-sharking charges.

June 2002: Sentenced to 33 months.

March 2005: Paroled. Moves to North Jersey.

March 2007: Relocates to Atlantic City area.


x-man - September 27, 2007 11:37 AM (GMT)
http://www.citypaper.net/articles/2007/09/27/ganging-up
hello guys -this is a link to intersting article about what seems as italian mafia clan activity in south philadelphia (with no connection to the italian-american mafia)...
some one can tell more about this?
x-man.
GangstersInc - October 27, 2007 12:31 PM (GMT)
The Fat Rat is Back
In being so public, is Ron Previte pushing his luck?
by Brendan McGarvey and Gabriele J. Valentine
Published: Oct 24, 2007
Guess who loves hanging out in Atlantic City, in broad daylight, introducing himself to TV journalists and their camera crews to yak about the good old days in Hammonton, N.J.? Why, it's none other than Ron Previte, the 6-foot, 300-some-pound gangster-turned-government-witness, who is not laying low these days.
For the last several years, Previte has ignored his old haunts like South Philly coffee shops where a new generation of wiseguys might want to take a shot at him. In fact, he should be in the Witness Protection Program in Nowhereville, Neb., but the man the mob calls "The Fat Rat" has been strutting his stuff all over casino city of late. Previte, a former capo, seemingly doesn't have a care in the world — even after he wore a wire for the FBI and recorded hundreds of conversations with fellow Mafiosi and then testified against them in open court.
Just last week, the Fat Rat was down the shore, chatting up a Philly journalist and her camera crew. Previte introduced himself to a pretty TV reporter who covers South Jersey and happens to live in Hammonton. Eyewitnesses tell City Paper that Previte wasn't at all shy and initiated the conversation with the reporter. He was with his daughter and an attorney when he spied the news crew preparing to cover the Sands implosion.
"He was pretty relaxed," an eyewitness says. "He wasn't hiding from anyone. He didn't seem to have a care in the world. Just standing out on a corner in Atlantic City for all to see. Very bold."
Interesting word choice, because Previte used to say, "Fortune favors the bold," to criminal colleagues; he was paraphrasing Niccolò Machiavelli, a 16th-century philosopher, but Previte seemed to think the same advice would help him survive his stint inside the modern-day Mafia.
Interesting timing, too, because Previte's been out and about at a time that most of the men he betrayed are being released from prison and returned to the streets of South Philly and South Jersey. The Philly cop turned bookie, turned Cosa Nostra capo, served under three Mafia bosses: John Stanfa, Ralph Natale and Joey Merlino. However, by the 1990s, he was spying for the FBI. Previte testified against the Merlino crew during a federal racketeering trial in 2001 and appeared on 60 Minutes in 2004 to talk about his life of crime and a book about his underworld career titled, The Last Gangster.
When he finished working for Uncle Sam, Previte told the feds he wasn't interested in vanishing into the Witness Protection Program to live out the rest of his life with a new identity insome boring one-horse town in Elvis Country. Maybe Previte just realized that witness protection didn't necessarily guarantee a long and safe existence.
In December 1994, Philly mobster-turned-government-witness Michael Palma was hit by a Union Pacific freight train in Dodge County, Neb. Palma, a member of the Stanfa crew and onetime friend of Previte, was on a hunting trip with an Air Force sergeant when their truck was demolished at a railroad crossing.
A retired mob investigator tells City Paper that Previte may be pushing his luck.
"Previte thinks the mob won't come after him because they're too disorganized and not smart enough," the source says. "But he's got to be worried about the wannabes looking to make a name for themselves."
The investigator says that guys who want to be considered mob material would be eager to kill Previte to impress the Cosa Nostra higher-ups. Another law enforcement source says Previte, "hurt a lot of people. The mob has a long memory and will kill former members. Just look what happened to Mario Riccobene."
Mario "Sonny" Riccobene had been on the losing side of a mob civil war in the early 1980s; he turned government witness after his arrest and testified against other members of the breakaway faction. A decade and two mob bosses later, Riccobene returned to South Jersey believing that the new generation wouldn't know or care that he was back.
They did. A few months later, Riccobene was shot to death while sitting in his car in the parking lot of a South Jersey diner.
http://www.citypaper.net/articles/2007/10/...fat-rat-is-back
Hollander - November 3, 2007 03:02 PM (GMT)
Jailed mobster indicted in gambling case
Vincent Filipelli also is accused of keeping steroids and weapons at his Cherry Hill home.
By Sam Wood

Inquirer Staff Writer

Jailed mobster Vincent "Big Vince" Filipelli was indicted yesterday on charges he ran an Internet-based gambling operation and kept a hoard of illegal steroids and weapons at his Cherry Hill home, authorities said.
Filipelli, 53, is accused of taking bets on college and professional sports through a Web site, said a spokesman for the New Jersey Attorney General's Office.

Filipelli, a former body-building champion, is being held at the Philadelphia Federal Detention Center, where he awaits sentencing on a federal extortion-related charge connected to the gambling operation.

A member of the Philadelphia mob, Filipelli became the target of an investigation by New Jersey state troopers and the FBI in August 2005, said Peter Aseltine, spokesman for Attorney General Anne Milgram.

According to a federal indictment, Filipelli traveled from Cherry Hill to a Philadelphia strip club on May 25, 2006, to meet with a man he believed owed him money.

Filipelli had met with the gambler, actually an undercover state trooper wearing a wire, on at least six occasions to collect Internet gaming debts.

During the meeting in the parking lot of the Crazy Horse Too, a South Philadelphia gentlemen's club, Filipelli threatened to put the undercover trooper in the hospital for a year if he didn't pay up.

A raid on Filipelli's home on Oct. 24, 2006, uncovered gambling records, numerous vials of steroids, hypodermic needles, two stun guns, a dagger and two billy clubs, Aseltine said.

In April, Filipelli admitted he had tried to strong-arm the undercover trooper into paying the debt.

Filipelli pleaded guilty to interstate travel in aid of racketeering and faces up to 20 years in federal prison.

A second man also pleaded guilty for his own role in the illegal gambling operation.

William Motto, 52, of Cherry Hill, pleaded guilty Sept. 19 to promoting gambling, Aseltine said.

Hollander - November 15, 2007 11:59 AM (GMT)
Posted on Wed, Nov. 14, 2007


Mob-linked gambling ring busted at Borgata
By Troy Graham

INQUIRER STAFF WRITER

New Jersey authorities have broken up a mob-linked illegal gambling ring operating from the floor of the poker room of one of Atlantic City's flashiest casinos.
Authorities said they have charged 23 people in the sports-betting ring run out of the Borgata Hotel Casino & Spa, including six casino employees.

Five people were arrested this morning.

State Attorney General Anne Milgram has scheduled a 2 p.m. news conference to discuss the case.

Authorities said at least two of the suspects in the case have ties to the Philadelphia Mafia, including one "made member" of the Merlino crime family.

Hollander - November 16, 2007 11:46 AM (GMT)
Hollander - December 14, 2007 02:00 PM (GMT)
Hollander - January 11, 2008 11:23 AM (GMT)
2 plead guilty to running gambling ring in Philly, S. Jersey
http://www.philly.com/philly/hp/news_update/13701142.html
Scott - January 16, 2008 06:46 PM (GMT)
very interesting article about Joe Ligambi, Hollander. thanks for the link. :D Ligambi definitely seems to have his shit together, he seems to be one of the best of the current bosses and i wish him luck.
mobbed up - January 16, 2008 07:30 PM (GMT)
QUOTE (Scott @ Jan 16 2008, 02:46 PM)
very interesting article about Joe Ligambi, Hollander. thanks for the link. :D Ligambi definitely seems to have his shit together, he seems to be one of the best of the current bosses and i wish him luck.

he's def one of the best, if not the best. if he can maintain a low profile and dodge any major heat from the law, he could possibly start to bring back this faction from the dead.
GangstersInc - January 27, 2008 01:13 PM (GMT)
I received an interesting email from someone who says that the Philly Family currently has between 50 - 100 members. He got these figures from sources within the FBI. He himself thinks the figure is between 65 - 70 made guys. He says 15 - 20 members/associates are being released from prison over the next 5 years.
mobbed up - January 28, 2008 01:45 PM (GMT)
QUOTE (GangstersInc @ Jan 27 2008, 09:13 AM)
I received an interesting email from someone who says that the Philly Family currently has between 50 - 100 members. He got these figures from sources within the FBI. He himself thinks the figure is between 65 - 70 made guys. He says 15 - 20 members/associates are being released from prison over the next 5 years.

its possible.....if this is the case, thenthis might be the most they've had in the history of the philly mob.
GangstersInc - January 28, 2008 02:48 PM (GMT)
QUOTE (mobbed up @ Jan 28 2008, 02:45 PM)
its possible.....if this is the case, thenthis might be the most they've had in the history of the philly mob.

Indeed, Pogo the Clown (a poster to another mob forum) has given me some good info regarding this. He says it is highly unlikely. It seemed that way too, seeing how all mob families have trouble recruiting, so how does Philly recruit that many new members, in that short time period?
mobbed up - January 28, 2008 08:33 PM (GMT)
QUOTE (GangstersInc @ Jan 28 2008, 10:48 AM)
Indeed, Pogo the Clown (a poster to another mob forum) has given me some good info regarding this. He says it is highly unlikely. It seemed that way too, seeing how all mob families have trouble recruiting, so how does Philly recruit that many new members, in that short time period?

that and the fact taht they were pretty small during teh reign of bruno. once scarfo took over he opened the books, but they never reached that many during that time period(i'm about 95% sure about that fact).

i'm thinking if anything, they might have 30-50 and thats probably going way overboard.

then again, since they are keeping a low profile anything is possible, but i just don't see it.
mobbed up - January 29, 2008 01:27 PM (GMT)
Posted on Wed, Jan. 24, 2007


Meeting his pals costs mob figure
By KITTY CAPARELLA

caparek@phillynews.com 215-854-5880

Warned by his probation officer to stay away from the mob, reputed mob associate Marty Angelina, 44, just couldn't stop chatting with his buddies.
In the nearly 14 months since his release from federal prison, he bumped into reputed mob boss Joseph Ligambi at Angelina's 8-year-old daughter's recital in New Jersey and talked to a co-defendant at Chickie's and Pete's, a sports bar in South Philly.

Angelina ran into Steven Frangipani, 44, a reputed mob associate convicted with him and mob boss Joseph "Skinny Joey" Merlino in a 2001 racketeering trial.

But it was Angelina's unreported contacts that got him in trouble:

He set up meetings with Frangipani during an FBI wiretapped call in an ongoing mob probe and talked to accused drug dealer Damion Canilichio, the ex-top aide of jailed mob underboss Steve Mazzone, said Assistant U.S. Attorney David Fritchey.

Nervously biting his cheek, a slimmed-down Angelina told U.S. District Judge R. Barclay Surrick: "I've made bad choices," but he promised it wouldn't happen again.

Yesterday, Surrick sent Angelina to prison for four months for violating conditions of his supervised release - less than the 10 months recommended by probation officer James Muth.

The judge gave him until Feb. 5 to report to prison.

Defense attorney Jack McMahon called the judge's decision "fair."

McMahon told the judge that Angelina tried to turn around his life and care for his wife and two children, after nearly five years in federal prison for racketeering and conspiracy.

Two months after his Nov. 28, 2005 release, Angelina and his wife, Lauren, started a floor-covering business which grossed $60,000 last year. He paid taxes and all but $1,100 of his $5,000 fine, McMahon said.

Fritchey argued that Angelina knew better than to talk to mobsters because he was working with Merlino when Merlino was sent back to prison for similar violations in the 1990s.

Fritchey urged the judge to send a message to other mobsters, due to be released in the next five years, that they cannot associate with each other or they will be sent back to jail.

McMahon and Fritchey concurred that the mob contacts were not criminal, but violations of his probation.

"Sometimes it's hard to give up your old friends," McMahon said. "But in his case, he has to."

Yesterday, Angelina wasn't the only wannabe gangster hauled before a federal judge.

Victor DiPietro, who found mob wannabe John "Johnny Gongs" Casasanto fatally shot on his kitchen floor in an unsolved 2003 murder, pleaded not guilty to a 17-count federal drug indictment at his arraignment.

Last Tuesday, he was charged in the federal indictment and in a state attorney general criminal complaint on drug-trafficking charges.

DiPietro was accused by the feds of distributing marijuana, and of distributing cocaine 11 times, including six times within 1000 feet of a Catholic grade school, between February and August in 2005.

Assistant U.S. Attorney Frank Labor urged the judge to hold DiPietro in custody, since he's facing up to 40 years in prison if convicted.

But U.S. Magistrate Judge Charles B. Smith released DiPietro on $250,000 bail secured by his mother's home, provided he wears a monitoring device.

The late Casasanto's brother, Steven, showed up for DiPietro's hearing.

John Casasanto was a suspect in the 2002 unsolved murder of mobster Raymond "Long John" Martorano, who tried to take back the mob, according to law enforcement sources. *

mobbed up - January 29, 2008 01:42 PM (GMT)
*****kind of an old post, but still interesting.******

For mob, prison's revolving door giveth & taketh away
By KITTY CAPARELLA
Philadelphia Daily News

caparek@phillynews.com 215-854-5880

Wanted: Driver for mob underboss, newly relocated. Current driver to be on 57-month "vacation."
What's an underboss like Steve Mazzone to do? Just as the celebration died down after his return last Tuesday from, ahem, a nine-year "vacation," his longtime driver is set to take a long hike.

Mazzone's chauffeur, reputed mob soldier Damion Canilichio, 36, will be saying his long goodbyes for the next 30 days before he surrenders at either Fort Dix or another prison.

Yesterday, Canilichio was sentenced to 57 months in federal prison after pleading guilty to conspiracy and multiple drug charges. He was fined $5,500 and ordered to pay $9,200 in restitution.

The feds want back the $9,200, which a cooperating witness used to buy cocaine from Canilichio's drug operation on three occasions in June 2004, within 700 feet of South Philadelphia High School.

Despite a protest by Assistant U.S. Attorney Frank Labor, who wanted Canilichio to begin his sentence immediately, his defense attorney, Joseph Santaguida, persuaded U.S. District Judge Bruce Kauffman to allow him time to help his family settle his father's estate. His father died last week.

Mazzone's arrival back in town may cause some problems for the alleged mob underboss, Anthony Staino. But the city, state and federal investigators who are still probing organized crime will have more on that later, should fireworks begin.

Right now, Mazzone can't do much except work at a legitimate job while living at a federal halfway house for six months. Then, he'll be on supervised release for three years while making payments on a $15,000 fine.

Plus, he's prohibited from associating with mobsters and other criminals - even with his old pal Canilichio.

Mazzone held the No. 2 job in the Philadelphia Mafia under crime boss Joseph "Skinny Joey" Merlino, who was sentenced to 14 years in prison for racketeering and isn't due to be released until 2011.

In another approaching transition, reputed mob soldier and former consigliere John "Johnny Chang" Ciancaglini will be coming to an area halfway house on Oct. 11 after spending nine years in the federal pen on racketeering charges. Ciancaglini also has a $5,000 fine to pay.

Besides Merlino, only two others who were convicted with the mob boss in the 14-week racketeering trial in 2001 will still be jailed: Angelo Lutz, due out next year, and onetime consigliere George Borgesi, due out in 2012.

That means Joseph Ligambi, 68, who rose from soldier to reputed mob boss during a leadership vacuum as the Merlino mob was jailed, may be dealing with an influx of recently released mobsters in his new lineup. *


mobbed up - January 29, 2008 01:46 PM (GMT)
Posted on Thu, Aug. 9, 2007


Anti-mob chief takes new job
Robert Courtney trades Philly for Philippines as attaché
By KITTY CAPARELLA
Philadelphia Daily News

caparek@phillynews.com 215-854-5880

Robert E. Courtney III, longtime mob prosecutor and chief of the U.S. Organized Crime Strike Force, is trading places - Philadelphia for the Philippines.
After serving 10 years as chief and three as deputy during his 29-year career on the strike force, Courtney will become the attaché in the Philippines for the U.S. Department of Justice.

As the top attorney in the region, he will support U.S. law-enforcement efforts in the Philippines, Malaysia, Indonesia and Singapore, handling extraditions, developing evidence for American courts and doing a little bit of everything he used to do here.

And, yes, he even expects to deal with terrorists.

Today, his friends in the criminal justice community will honor Courtney at a party at the U.S. Attorney's Office.

His decision to take the two-year job, with an option for a third, shocked the dozen or so prosecutors who work for him on complex investigations with local and federal law-enforcement agencies.

"We didn't see it coming," said his recently named successor, David Troyer, the new chief of the strike force, who last year prosecuted the Latin Kings drug gang.

"We were going to convene a grand jury to figure out why Courtney was leaving," quipped Troyer's deputy, David Fritchey, a longtime mob prosecutor who has has put away 100 defendants engaged in Asian organized crime in the past three years.

The cerebral Courtney was, as usual, tight-lipped - much as he is with secret probes - until he had worked out nearly every detail of his Aug. 16 move to Manila.

His successors, Courtney said, "are very competent, professional with good judgment who will serve the strike force well."

Courtney "did an excellent job on the transition from focusing on the [La Cosa Nostra] to the emerging organized-crime problem," said Frank Labor III, who stepped down as deputy and who took himself out of consideration for the top job.

Since taking down mob bosses Ralph Natale and Joseph "Skinny Joey" Merlino, strike-force attorneys have prosecuted members of the Russian mob, violent drug gangs, corrupt motorcycle gangs, human traffickers and Asian organized crime under Courtney's direction.

Courtney personally reached out to social-service agencies who cared for victims of the so-called "snakeheads" involved in human smuggling when it became a priority of the Justice Department.

He was particularly proud of their first human-smuggling case. A Chinese woman, indebted to a smuggler for $80,000, made recordings in China and Philadelphia to help nab the suspect who aimed to put her into a forced labor job, possibly prostitution.

Courtney, a 1971 graduate of George Washington University law school, worked in securities law and transportation before moving to the Department of Labor to prosecute coal companies on behalf of victims of black- lung disease.

By 1978, he found his niche in organized-crime prosecutions. Since then, he's had a role in major cases: The "Pizza Connection" Sicilian drug case, a Russian fuel-oil scam and cases against mob families headed by John Stanfa, Joey Merlino and Ralph Natale.

In nearly every case, Courtney said, there was an international angle, where American suspects were working with foreign counterparts.

"I've seen how important it is for U.S. law enforcement to have a strong working relationship with foreign law enforcement," he said. "We need them to help us get strong admissible evidence in our courts. If we're going to get, we need to give and help them in their cases.

"Those experiences segue into why this [new] position is important and why it is attractive to me." *


mobbed up - January 30, 2008 01:30 PM (GMT)
Posted on Sat, Aug. 18, 2007


Ex-Flyer avoids jail in gambling case
By George Anastasia

Inquirer Staff Writer

Former Flyers star Rick Tocchet avoided time in the ultimate penalty box yesterday when a Superior Court judge sentenced him to two years' probation for his admitted role in a multimillion-dollar sports-betting ring.

"I regret I was involved in this," the one-time hockey standout said before Judge Thomas S. Smith Jr. imposed sentence.

In May, Tocchet pleaded guilty to conspiracy and gambling charges, admitting he partnered with a New Jersey state trooper in a bookmaking operation that took millions of dollars in bets on professional and college football games between September 2002 and February 2006.

Each charge carried a maximum sentence of five years in prison, but under his plea agreement and because he had no prior criminal record, authorities had said Tocchet was not expected to receive any jail time.

His chief codefendant in the case, former trooper James Harney, was sentenced to five years in prison this month.

During yesterday's 15-minute sentencing hearing, Kevin Marino, Tocchet's lawyer, described his client as a "man of integrity" who had made a mistake for which he was sorry.

But Marino emphasized that Tocchet had never jeopardized the game of hockey.

"It seems like this is the season for sports scandals," Marino told the judge in a Mount Holly courtroom. "This is not a case where someone has compromised his sport or betrayed his fans."

Marino said it was "essential for the world to know" that the gambling case did not involve betting on professional hockey.

He also said that Tocchet had taken a "self-imposed leave" from his job as assistant coach with the NHL's Phoenix Coyotes after he was arrested because of his concern for the integrity of the sport.

Outside the courthouse after the hearing, Marino said Tocchet hoped to have a conversation with NHL officials about his status. Tocchet declined to comment.

As he has in the past, Marino chided the New Jersey State Police for their handling of the investigation, which had been dubbed Operation Slapshot.

Marino said the designation implied that there was betting on hockey, which was not the case. He also said investigators implied at the time of the arrests in February 2006 that there was an organized crime connection to the betting ring.

That, Marino said, also was untrue.

"Rick Tocchet was a man who for 18 years played hard . . . and played fair," Marino said of his client's career in the NHL. "To hear his name mentioned in the same sentence with 'Mafia,' 'organized crime,' 'mob' is . . . emotionally trying.

"Was it fair? I'm sorry, it was not. . . . This case was overstated from the beginning."

New Jersey Attorney General Anne Milgram, in a news release issued after the hearing, said the sentence "reflects the fact that Mr. Tocchet is a first-time offender."

"But make no mistake, he is paying a heavy price for his foray into the world of illegal bookmaking. He now must live with the stigma and consequences of being a convicted felon."

A third defendant in the case, James Ulmer, who played a minor role in the operation, is scheduled to be sentenced next week.

The state alleged that Tocchet financed a betting operation organized by Harney, and that Harney, among other things, took bets while on duty in his cruiser.

Authorities said the operation processed $1.7 million in bets during one 40-day period that included the 2006 Super Bowl and college bowl games.

They also alleged that on Jan. 1, 2006, the operation took 17 bets totaling $40,000 on professional football games from one customer.

The fact that the bookmaking operation did not involve professional hockey could help Tocchet avoid a ban from the NHL.

A league spokesman said yesterday's sentencing would pave the way for Robert Cleary, a former federal prosecutor hired by the league, to complete his independent investigation of the situation and submit a report to NHL commissioner Gary Bettman.

"Once the commissioner receives Mr. Cleary's report, it is probable that he [Bettman] will want to meet with Mr. Tocchet before making a determination," said Frank Brown, vice president for media relations of the NHL.

At his sentencing hearing on Aug. 3, Harney, 41, an eight-year veteran of the state police, described how he and Tocchet ran the bookmaking operation. He said Tocchet often supplied the cash to cover losses and that he routinely gave Tocchet "a bag of cash" from their profits.

Both Tocchet and Ulmer pleaded guilty after Harney agreed to cooperate with authorities a few months after his arrest.

Harney had to forfeit $700,000 in cash and property under his agreement, in which he pleaded guilty to conspiracy, promoting gambling and official misconduct. There was no mention of forfeiture in Tocchet's plea deal.

While authorities have never identified who placed wagers with the betting ring, sources have said regular customers included a recognizable list of professional athletes and celebrities, including former Flyer Jeremy Roenick and the actress Janet Jones, wife of hockey great Wayne Gretzky. Gretzky is the coach of the Coyotes, where Tocchet was his assistant.

Tocchet reportedly met Harney nearly 20 years ago while he was playing for the Flyers and Harney was working as a bartender in a hotel near the South Philadelphia sports complex.

Tocchet starred for the Flyers in the late 1980s and early 1990s. He was traded to the Pittsburgh Penguins during the 1991-92 season. His career also included stops in Los Angeles, Boston, Washington and Phoenix before he returned to the Flyers in 1999.

He retired as a player after the 2001-02 season. At the time, he was only the second player in NHL history to have both scored 400 goals and collected 2,000 penalty minutes.


mobbed up - February 4, 2008 01:50 PM (GMT)
Albert J. Wicks, mob prosecutor
By KITTY CAPARELLA
Philadelphia Daily News

caparek@phillynews.com 215-854-5880

ALBERT J. WICKS, a tough mob prosecutor who put legendary Mafia figures Nicodemo "Little Nicky" Scarfo, Santo Idone and John Stanfa behind bars, died Jan. 9 of a heart attack while on vacation in Maui. He was 67.
Last weekend, he was buried where he was born, in Woodstock, Ill.

In 1974, Wicks began his 21-year career in Philadelphia as a federal prosecutor on the Organized Crime Strike Force.

"For more than 20 years, I valued his advice and hard work," said Joel Friedman, chief of the Organized Crime Office during Wicks tenure. "He was a leader in our office and contributed greatly in our successes. Society benefited from his tireless efforts."

It was a heady time, four years after the federal Racketeering Influenced-Corrupt Organization Act, known as RICO, was passed and prosecutors and investigators were still figuring out how best to use it. In 1981, Wicks became one of the first prosecutors to use the law in "Operation Gangplank," a federal probe of 10 mobsters accused of gambling and loan-sharking.

He quickly learned the impact on the first defendants charged with RICO. Before trial, then-mob boss Phillip "Chicken Man" Testa and capo Frank "Chickie" Narducci were killed, but later, six defendants were convicted.

"He had a dry sense of humor," recalled Assistant U.S. Attorney David Fritchey, co-counsel on high-profile cases. "He had a sharp mind, was well-organized and had a good sense of trial tactics."

Wicks was persistent in pursuing organized gangsters. Stanfa lied before a federal grand jury about his role in driving mob boss Angelo Bruno home the night he was assassinated in 1980. He disappeared for several months. The feds found him in a Maryland pizza shop. And Wicks' prosecution landed Stanfa in prison for eight years. As crime boss in 1995, Stanfa was convicted of murder and racketeering, and sentenced to seven life terms.

In 1986, Wicks asked Arnold Gordon, then chief of homicide in the district attorney's office, to prosecute Harry Riccobene - the oldest "made" mobster in the United States - and his gang for killing Frank Monte, mob consigliere, or adviser, during the Riccobene-Scarfo war.

"It was highly unusual," said Gordon of the joint probe. "Al gathered evidence in a federal grand jury, but it was not a RICO case. They didn't have federal jurisdiction in the murder, and we did."

By 1988, Wicks, Fritchey and Gordon worked together with two other federal prosecutors in a 2 1/2-month racketeering trial that put Scarfo and 18 others behind bars for 24 to 55 years.

But the Scarfo trial team won the Justice Department's prestigious John Marshall Award for Outstanding Legal Achievement in 1990.

In 1989, Wicks successfully prosecuted mob capo Santo Idone and three others from Delaware County.

During summers, Wicks mentored law interns, including Richard Zack, who followed him into the U.S. Attorney's Office and prosecuted recent public corruption cases.

Born and raised in Woodstock, Ill., Wicks graduated from the University of Illinois before entering the Navy. He served two tours in Vietnam, rising to the rank of lieutenant.

In 1973, he graduated from William and Mary Law School, where he was editor of the Law Review. He was accepted into the honors program at the U.S. Department of Justice, where he served briefly before moving to Springfield, Delaware County, and joining the strike force.

In 1995, Wicks retired as a career federal prosecutor, and moved to New England. He traveled widely with his wife, whose name is being withheld because of concern for her safety. The couple had no children. *


mobbed up - February 14, 2008 03:17 PM (GMT)
Gossiped Girls
Despite an apparent mob fetish, Alycia isn't the only local TV gal to (allegedly) go wild.
by Gabriele Valentine


print email reply rss feed
Published: Jan 9, 2008




Deposed local-TV-news babe Alycia Lane has some newfound friends and fans in the mafia. "Tell Alycia, welcome to the criminal enterprise. She doesn't want to cover us; she wants to be one of us," says Ruth Ann Seccio, former mistress of mob-boss-turned-rat Ralph Natale. In fact, Seccio thinks more highly of Lane since she was arrested last month for allegedly slugging a female New York City police officer.

Charged with second-degree assault, a felony, she faces one to seven years in prison if convicted. And if that wasn't bad enough, the CBS-affiliate anchorwoman learned Monday that the station terminated her contract even though her attorney says the whole "I'm a reporter, you fucking dyke" incident never happened. (As of press time, a lawsuit by Lane was reportedly in the works.) The mob, however, would prefer to fantasize that it did happen.



(CLICK IMAGE FOR LARGER VERSION)
"Who knew Alycia had it in her? I like her better now!" one mob associate of reputed crime leader Joseph "Uncle Joe" Ligambi tells City Paper. But this same gangster is disappointed in Alycia's date, local radio host Chris Booker. "What kind of man lets his girl take a pinch? Alycia's got bigger balls than her boyfriend. A real man would've gotten locked up, maybe cracked the cop hisself. What's she doing wit' such a pussy?"

The latest news may have the local underworld abuzz, but they've long been fans. One associate claims he met Lane several years ago as she pursued an interview with Joseph "Skinny Joey" Merlino. "Alycia was nice," he says. "She was serious about getting Baba [Merlino] to talk to her on TV."

Lane visited Merlino at the Hudson County prison in South Kearny, N.J., in December 2003. There, the charismatic 40-year-old mob boss was awaiting trial for the 1996 murder of Joseph Sodano, a member of the local mob's North Jersey faction. Merlino told friends that Lane's arrival at the prison was the highlight of visiting day. She had to go through a metal detector and into a large waiting room where 70 prisoners sat in cubicles behind thick Plexiglas windows. As would be expected, the head-turner stopped prisoners' conversations midsentence as they paused to stare. Merlino and Lane had a friendly chat and he promised to consider doing an interview with her after the trial. (Merlino was eventually found not guilty of ordering the Sodano hit; he'll remain in federal custody in Marion, Ill. on other charges until 2011, according to the inmate locator on the Bureau of Prison's Web site.)

Some of Lane's male TV colleagues supposedly felt a little slighted by Merlino's willingness to sit down because he had turned down more than a half-dozen similar requests. Many figured the mobster's willingness to meet had something to do with a schoolboy crush rather than an interest in appearing on the local news.

ADVERTISEMENT

Lane also lunched with Merlino attorney Chris Warren at Brasserie Perrier in an effort to nail down the Merlino interview. Sources claim Lane met with several associates for drinks at Buddakan to discuss Merlino, and that she corresponded with him in prison. But Lane finally abandoned her efforts when it became clear that Merlino and pals were more interested in opportunities to eyeball her than be interviewed. Merlino didn't walk away empty-handed, though. Rumor has it he keeps an autographed photo of Lane, and letters she sent, in his cell.

Although Lane came closest to scoring the interview — Fox 29's Dave Schratwieser, Action News and the CBS Evening News all got him on camera prior to his 1999 arrest — media sources claim that four years later,local news stations continue to besiege the imprisoned mobster with interview requests.

While Lane's alleged antics — i.e. e-mailing bikini pics to a married sportscaster — remain front-page material, they're not nearly as shocking as some of her TV colleagues' more scandalous behavior that tends to remain industry secrets. When the cameras go off, sex scandals, drugs and dates with thugs start going on. (Names have been withheld to protect the kinky.)

Like, for instance, another sexy local anchor who used to love partying with a member of the Warlocks motorcycle gang. The couple openly used drugs and got hot and heavy in Headhouse Square. Bikers are bad news when they are the subject of TV reports, but a female reporter's decision to do some bar-top dirty dancing at a local Pagans hangout never made the air. (The dark-haired vixen broke up with her boyfriend and stopped coming by the bar when concerned colleagues pointed out that partying after hours with drug dealers and roughneck bikers was not a good career move.)

Until the city padlocked Club Kama Sutra in November 2005, the illegal sex club on South Street was a favorite haunt for one bold-and-beautiful on-air personality who had a thing for orgies and nude pole dancing. A female reporter shacked up with a South Philly drug dealer and wannabe rapper after covering a hip-hop event. The reporter, who no longer works in the market, continued palling around with the thug even after learning he was a suspect in a drug murder. Yes, rappers and news readers seem to have a thing for each other. Back in 2003, a part-time news anchor started sipping Cristal with Tommy Hill after interviewing him about his music and former life of crime. Hill, a one-time leader of the local rap group RAM SQUAD, was also a reputed member of North Philly's Richard Allen Mob, named for the housing project where he grew up.In his brief career, Hill allegedly got help from Merlino to get a recording contract and dated the daughter of Muslim cleric Shamsud-din Ali, a central figure in the FBI corruption probe of City Hall. The female newsie told friends that she was tutoring Hill in how to be less "ghetto" and to not treat her like "an around-the-way girl."She claimed that Hill had sworn off his old ways. But after several dates out and about in Old City, Hill was arrested for selling 51 grams of crack cocaine to a government informant in a fast-food restaurant's parking lot. He pleaded guilty and agreed to cooperate with the feds.

Perhaps the most titillating example of TV girls going wild is the case of a buxom bottle blond who worked behind the scenes in a City Line Avenue news department. Prettier than her colleagues but bored with local TV news, this kinky exhibitionist quit her job to get naked at a very popular gentlemen's club. Named the club's headliner of the year, she attracted all kinds of potential suitors, from mobsters to CEO moguls, but turned them all down to take up with a South Jersey club owner. Alas, her new career didn't last long after she was allegedly caught using and selling drugs to other strippers.

Such tales are not limited to the underworld. During the last decade, several pretty and very single on-air types have crossed the thin blue line to have affairs with married police officers. Some of the torrid trysts have wreaked havoc on the personal lives of the policemen, but others have been able to have their cake and eat it, too. So, what's the payoff? Insider information and the chance to break big stories for the fillies, and bragging rights for the boys in blue.

(editorial@citypaper.net)






Underworld From Previous Weeks 02/07/2008 : Rat Trapped? 01/10/2008 : Gossiped Girls 12/20/2007 : Family Dinner 11/29/2007 : War Crimes 10/25/2007 : The Fat Rat is Back 09/27/2007 : Ganging Up? 09/06/2007 : Freedom Fighters Gone Wild 08/16/2007 : Happy Birthday to Joe

No comments have been posted for this article


All reader comments are subject to our Terms of Use. By clicking Post Comment, you acknowledge that you have reviewed and agree to these Terms.

Name
please enter your name
Email (will not be published)
please enter a valid email
Comment
please enter a comment
Enter the security code on the right in the textbox below.
Security Code
please enter the code
Join the City Paper Mailing List



Home | Opinion | News | Blogs | Agenda | Arts | Music | Movies | Food | Classifieds | Personals
Win | I Love You, I Hate You | CP Choice | Write to the Editor | Archives | Contact Us
Advertise With Us | Privacy Policy | Join Our Mailing List


© Copyright 1995 – 2007 Philadelphia City Paper. All rights reserved.