Title: Future of GX?
Description: Explain the article or bring the rest
Shinobi Phoenix - April 18, 2009 06:28 PM (GMT)
While 5D's is awesome and the image in VJ of Saviour Star Dragon has me very excited...
... I've got to know...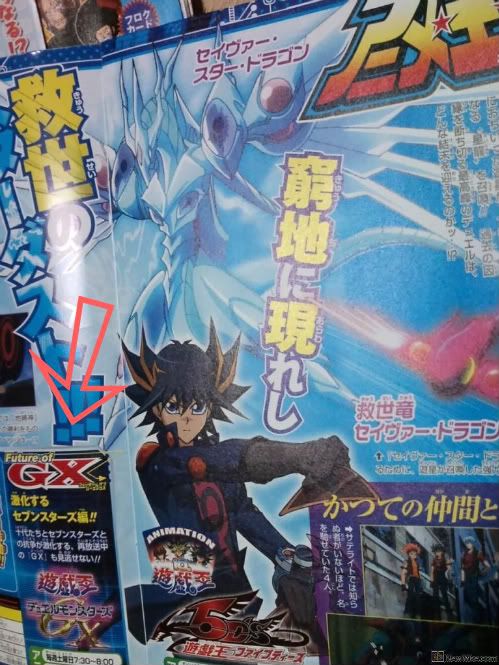 WHAT IS THAT?!!
There's a timeslot listed on it (7:30 to 8:00), but that not 5D's slot (which is 6:00PM to 6:30PM on Wednesdays).
Someone suggested (or rather wished) it would be nice if that was some OVA for the Manga, which I even think might actually be watchable since the GX Manga is so much better than the anime.
Can someone translate that please.
Danieru Lynx - April 18, 2009 07:11 PM (GMT)
Reruns of GX are airing in Japan, and they've just hit the Seven Stars arc. That's all it is. Nothing exciting, sadly.
SearchmanDS - April 18, 2009 07:16 PM (GMT)
Curses. I was hoping for OVA of the manga. Well, give it a few years and it might happen. A man can dream.
Danieru Lynx - April 18, 2009 07:26 PM (GMT)
I'd much rather have an OVA of R first though, >:3
a-hole w/ 9000atk - April 19, 2009 01:43 AM (GMT)
The manga is worlds better than the anime, and an OVA would make up for NAS' gazillions of mistakes. But, alas, not yet............
david0925 - April 19, 2009 02:18 AM (GMT)
Seems like the tuner for Savior Star Dragon is going to be Savior Dragon. It'll be nice to have a good Syncro monster that isn't just being meshed into the extra deck (namely actually having specific tuning requirements)