Well... perhaps this topic would be better to discuss creation and creativity instead. It certainly would make this less off-topic. Plus, there's isn't really a section for things like fanfics or creating anything outside of cards anyway, so now is as good a time and it can just be moved if needed later.
Anyway. Interesting thing I do with my proxies, because I can't do anything without a backdrop is for all the sets I make, I design (at least in my head if not detailed out on paper) exactly the character I intend to have those cards. Their personality, how they react to situations, why they have those cards or what those cards symbolize with that person.
Again, if I could draw again, I would draw these people.
For example: My "new" (because it's been in production for months) Darkness set is owned by a guy who is essentially Luke Atmey from Ace Attorney 3 (Justice for All).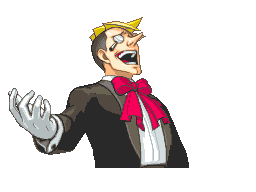 (Except my guy never laughs like that, more Dick Chaney thing going)
Similar in looks and very similar in attitude right down to the habit of always talking to people with his nose sticking up in the air while tilting his eyes down in that condescending way. He's a pretty boy of sort and well-educated, but his attitude is atrocious. The zombies and demons he uses basically symbolize that even though he's attractive and enchanting to a degree, his soul is rotting and decaying and ugly and twisted; so underneath, he pretty much looks like his monsters. His deck, monsters, and play-style also symbolize how much of a twisted individual he really is as well as how manipulative and grotesque. Truly, a "winner."
Yes, he's an antagonist. So much so, that even the other original antagonist hates him to the point of becoming an anti-hero (though still a villain, he actually runs Angels and Thunder). Trust me, I don't do redemption stories much. Both stay evil.
EDIT: I just noticed there is a such a section for fanfics and such. Though, I guess that neither of us noticed that. Also, that means I almost expect this thread to be moved there.