The above slide was my initial presentation of the five named Florida Oyster Drills on 7/20/10. It followed Abbott (
American Seashells
1974) and Rosenberg's current edition (4.1.1) of
Malacolog: A Database of Western Atlantic Marine Mollusca
and placed three of the five in the genus
Urosalpinx
and two in
Eupleura
. The three in
Urosalpinx
included
U. tampaensis
. There has been quite a bit of informal opinion expressed in recent years that
tampaensis
really belongs in the genus
Eupleura
. And, specifically in response to my presentation, G. Thomas Watters, PhD, Department of Evolution, Ecology and Organismal Biology, the Ohio State University Museum of Biological Diversity, commented:
"Herbert [Herbert, Gregory S. 2005.
Systematic revision of the genus Eupleura H. & A. Adams, 1853 (Gastropoda: Muricidae) in the Neogene to Recent of tropical America
. Veliger 47: 294-331] reviewed Eupleura. I believe (but I don't have it in front of me) that he placed tampaensis in Eupleura, which seems plausible to me."
So, with the help of Emilio Fabian and other generous Conch-Lers, I soon had a copy of Dr. Herbert's paper. However, it did not mention the Florida
Eupleura
or
tampaensis
in particular. I sent an inquiry to Dr. Herbert (immediately responding simply as "Greg") and an exchange of communications followed in which he graciously answered questions, reviewed my work and shared his findings and opinions as to why
tampaensis
best fits in the genus
Eupleura
. As a result, I have adopted the point of view that
tampaensis
should be included in the genus
Eupleura
and my presentation is revised below accordingly. However, first I'll present my reasons.
There are numerous characters that distinguish the genera
Eupleura
and
Urosalpinx
. But, most often when popular shell guides/books even address the generic level, only one or two characters are noted that are considered as significant or sufficiently consistent as to distinguish these two genera. For
Eupleura
, the characters mentioned are lateral varices creating a dorso-ventrally compressed appearance. For
Urosalpinx
, the key characters mentioned are "longitudinally ribbed or undulated"/"with rounded axial undulations," and "lack of varices." So, for what has been called
U. tampaensis
to be categorized as a
Eupleura
(and excluded from
Urosalpinx
), it would have to be accepted that it has varices, since it is clear that this key character is present in
Eupleura
, but not
Urosalpinx
. The single character of having varices would not necessarily make
tampaensis
a
Eupleura
, but their absence would exclude it, since varices were a key character of
Eupleura
described by H. and A. Adams. Both
Eupleura
and
Urosalpinx
display axial structures that have been described as "ribs." The principle issue I'm addressing here is whether some of the axial structures found on
tampaensis
go beyond the concept of "rib" and adequately fit the definition of a "varix." As many of you have found when reviewing the numerous shell morphology glossaries in books and online, shell character definitions can be quite variable, with minute distinctions giving rise to different labels for structures that look quite similar. There is plenty of room for interpretation, especially as terminology has evolved and differing authors apply "new" labels to old concepts. I'll give just one example (this is a sore subject with me and I have to stop myself from running on). Until recently shell sculpture on fan-shaped bivalves that ran parallel to the ventral margin was described as "concentric." The most recent bivalve book in my library (2008) utilizes the label "commarginal."
Here are some definitions from popular glossaries.
mmmmmmmmmmmmmmmmmmmmmmmmmmm
Rib
Projecting ridge on shell, usually transverse.

Structural elements forming a well-defined, narrow ridge in gastropod shells.

Round-topped elevated ridge of moderate width and prominence. An elongated structural element.
mmmmmmmmmmmmmmmnmmmmmmmmmmm
Varix
A thickened axial ridge in some families of gastropods. A varix is located at intervals around the whorl, and is formed by considerable thickening of the outer lip at a resting stage in the growth of the shell. In gastropods whose shells have varices, the shells are characterized by episodic growth - the shell grows in spurts and during the resting phase the varix forms.

An elevated axial structure in certain gastropods, more prominent than ribs and generally more widely spaced, marking periodic resting stages in the animal's growth, during each of which a thickened outer lip developed.

Axial sculptural element that is more prominent than a costa, and usually more widely spaced; evidence of a growth halt during which a thickened lip develops.
Now to the issue of whether
tampaensis
has varices. Gregory S. Herbert, Ph.D., Department of Geology, University of South Florida, has studied
Eupleura
and
Urosalpinx
extensively, although has not published yet on the living Florida species. In email correspondence Greg has indicated his position that
tampaensis
has varices (in addition to several other characters found in
Eupleura
) and, therefore, is more properly classified as a
Eupleura
rather than an
Urosalpinx
. We discussed his interpretation of rib versus varix. Greg explained:
"I don't use axial "ridge" because it's ambiguous - I prefer "rib," "lamella," and "varix." A rib, to me, is a broad, low axial feature as in U. cinerea. This contrasts with the sharp axial "lamellae" which is what we often see in E. tampaensis. IN other species of Eupleura, the intervarical axial elements can be ribs or lamellae, depending on the specimen. E. sulcidentata and E. caudata show quite a bit of variation. In most Eupleura, though, the earliest teleoconch whorls have sharp, thin lamellae whereas the later whorls have low, rounded ribs.
Varices are thickened structures comprising many adjacent lamellae. It's essentially a lamella that has been thickened with subsequent layers
. (Emphasis added) E. tampaensis has this. Urosalpinx never has anything like this."
To better understand all these different kinds of axial ridges and structures, I looked up two more definitions. A
lamella
is generally defined as a thin plate, ridge, scale or blade-like projection, generally more or less erect. And, a
costa
is generally defined as a round-topped sculptural element of moderate width and prominence, stronger than a cord, usually formed by periodic thickening of the outer lip in gastropods; a ridge across a whorl, at right angles to the direction of coiling. (Note: I'd try to define a "cord," but it will only confuse. Since most definitions of a cord indicate it is a "spiral" feature, it's kind of strange that the word would be used in conjunction with the outer lip, which is commonly considered an axial feature.)
So, it appears those axial ridges we see on some univalves can be a lamella (thin), a rib (narrow or moderate width), a costa (moderate width) or a varix (thick). However, what apparently distinguishes the former three from a varix is that they result from a brief pause or slowdown in spiral growth giving rise to a single lamella, costa or rib, but the varix results from an extended pause in spiral growth during which time the animal continues to produce shell material resulting in a thickened and/or more elevated axial structure relatively more prominent than axial structures that might occur during normal, uninterrupted spiral growth. The prominence and nature of structures created at varices are quite variable and differ as a function of the peculiar growth patterns characteristic of genera. Some may merely be an episodic thickening and swelling of the shell (
Cassinae
, many
Cerithium
, Cymatiidae, Bursidae, others), some may be characterized by elaborate ruffles, frills or spines (
Murex
,
Chicoreus
,
Hexaplex
, others), and some varices, as Greg indicated, may be comprised of many adjacent or fused lamellae (
Eupleura
).
Specifically, as regards
Eupleura tampaensis
, Greg indicated:
"Urosalpinx and Eupleura are quite distinct. Eupleura goes back to the Early Miocene, maybe 20 million years before present, while Urosalpinx may be even older, and the last common ancestor even older still (we don't know). U. tampaensis, however, is without question a Eupleura. It lacks the bivaricate shell morphology (sometimes), but in all other features, it's indistinguishable from Eupleura. The varices of this species are the only confusing issue. Sometimes it has just one varix, but I've found them with 2, 3, and even 4 varices. Only the juveniles lack any varices. Urosalpinx never produces varices, even as adults. Fossil shells that may be ancestral to U. tampaensis or an extinct sister species from the Pleistocene have 2 varices, like a typical Eupleura."
Greg then went on to illustrate the presence of varices (many adjacent lamellae layered together as a result of a spiral growth pause) on
tampaensis
by referring to photos at
Jaxshells
, reproduced here.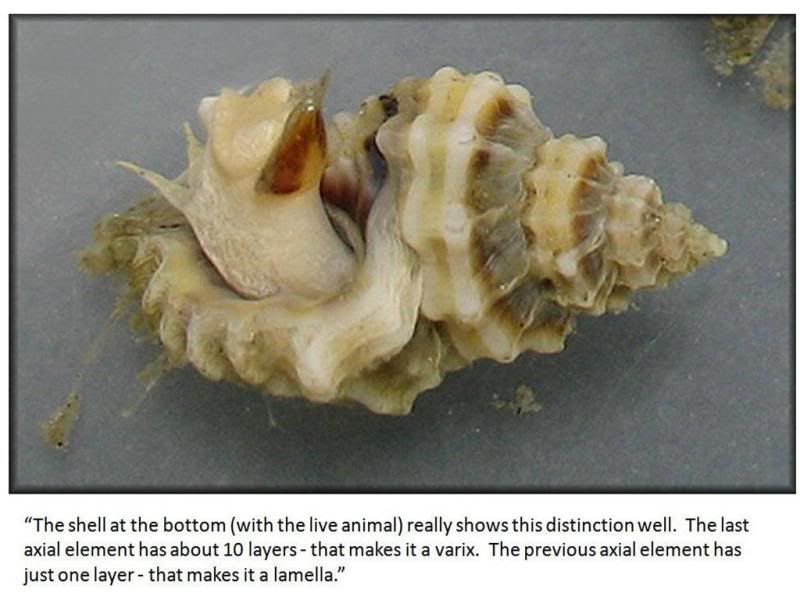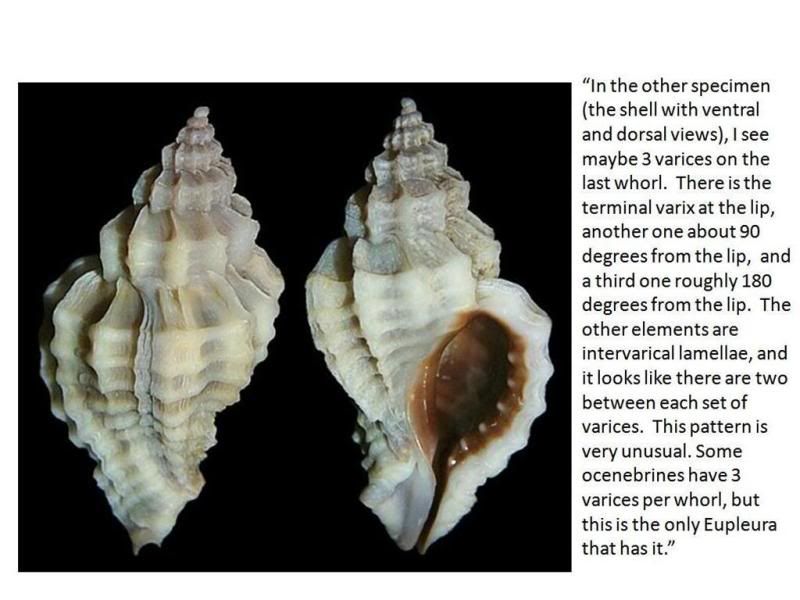 After considering Greg's comments, I examined several dozen
tampaensis
in my collection. Many displayed only what he described as single layer lamellae, including the outer lip. These shells were clearly not fully mature and at maturity the outer lip would thicken and these shells would fall in the category Greg indicated would have only one varix. Many clearly mature shells did indeed display all single-layer lamellae on the whorls plus a thickened outer lip comprised of many adjacent or fused lamellae. Several were bivaricate with one varix at the outer lip and another approximately 180° opposite on the body whorl. A few displayed 3-4 varices on the final teleoconch whorl and body whorl. The following series of slides apply Greg's concepts to a Cedar Key shell with at least 4 obvious varices and a bivaricate shell from the Banana River Lagoon in Brevard County.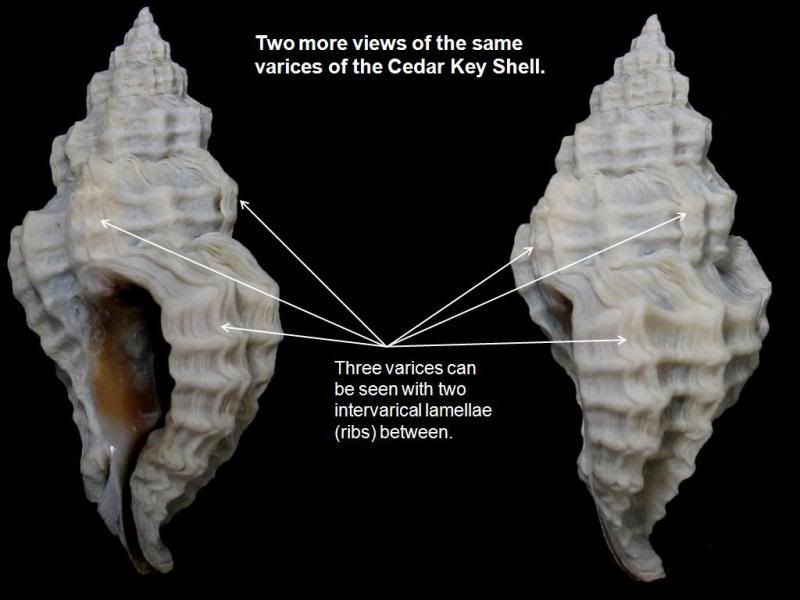 The above analyses of shells in my collection applying Greg's concepts regarding varices indicates that
tampaensis
does have varices (although their presence and distribution is quite variable) and at least this key character of
Eupleura
is present. Greg's additional comments regarding the unique qualities of
tampaensis
were:
"It's actually quite difficult evolutionarily to switch the number of varices per whorl. That seems to be hard-wired into the genetics and development of the species. If you take a sample of E. caudata or E. sulcidentata, measure how often adults deviate from the two-varices-per-whorl condition. Never. Try that for a three-varixed Ceratostoma or Chicoreus or Murex. No variation ever. So E. tampaensis is very special in that it deviates from the two per whorl pattern AND that there is a lot of variation from one individual to the next. Some have 4, some have 2, some have 1. I am pretty sure the ability to evolve a new pattern and this type of intraspecific variation are part of the same phenomenon. If you're an evolutionary biologist, this stuff is pretty cool."
In addition to the presence of varices in
Eupleura
, when I asked Greg if there were additional distinguishers he utilized, he commented as follows:
"As for additional comments, the differences between Eupleura and Urosalpinx go beyond what we discussed, but it gets a little more technical. The axial ribs in Urosalpinx start at the suture but in Eupleura they tend to start below the shoulder (the first primary spiral cord). Also the periphery of whorl (the shoulder) in Florida Eupleura is defined by what we call the P1 or first primary cord, whereas it is the 2nd or 3rd primary cord (i.e., further away from the suture) in Urosalpinx. These are terms defined by Didier Merle in his papers on muricids, but they are standard use now."
Examination of the axial structure of the several score Florida
Eupleura
and
Urosalpinx
in my collection found that the axial ribs of
U. cinerea
and
perrugata
do indeed consistently start at the suture. I also found that the axial ribs of
E. caudata
,
sulcidentata
and
tampaensis
more often than not also start at the suture and, although sometimes greatly diminished, a total lack of axial structure between the suture and first primary spiral cord (the periphery) was quite infrequent. Whatever label you might give them, I found that
Eupleura
have axial structures that start at the sutures. The distinction I would make is that in
Urosalpinx
the axial structures start as a convex curve at the suture and follow a smoother, continuous convex curve across the periphery, as opposed to those in
Eupleura
that initially follow a flattish plateau sloping from the suture, end or diminish at the periphery, and start again or make a dramatic angular turn at the angled periphery.
Greg's second comment that in Florida
Eupleura
P1 is at the periphery, but in
Urosalpinx
PI is between the suture and the periphery and the cord at the periphery may be P2 or P3, is 100% correct and should be considered a key discriminator. Although, some
Eupleura
may display a very weak spiral cord (or merely a spiral line) on the sloping plateau between the suture and the periphery, it is consistently too weak and indistinct to be described as a P1 (the first primary spiral cord).
Urosalpinx perrugata
and
cinerea
consistently display numerous spiral cords between the suture and the periphery, one or two of which can readily be identified as P1 and P2, with the spiral cord at the periphery being P2 or P3.
mmmmmmmmmmmmmmmmmmmmmmmmmm
In Summary
My conclusion is that the morphological characters of
tampaensis
are more consistent with those of a
Eupleura
. The key characters of
Eupleura
I find in
tampaensis
are:
- The presence of varices
- The first primary spiral cord occurs at the periphery
- A flattish, sloping plateau between the suture and the periphery
- Axial structures often absent or greatly diminished on the sloping plateau between the suture and the periphery
- The pronounced angulation at the periphery
- The more sharp-edged, lamella-like axial structures (especially in juvenile shells) as compared to the wider, rounded ribs (both axially and spirally) of
Urosalpinx
in both juveniles and adults
- The only slightly concave curvature of the base of
Eupleura
that gives the anterior end a more pointed appearance than
Urosalpinx
So, here's my revised presentation of the
Florida Oyster Drills
: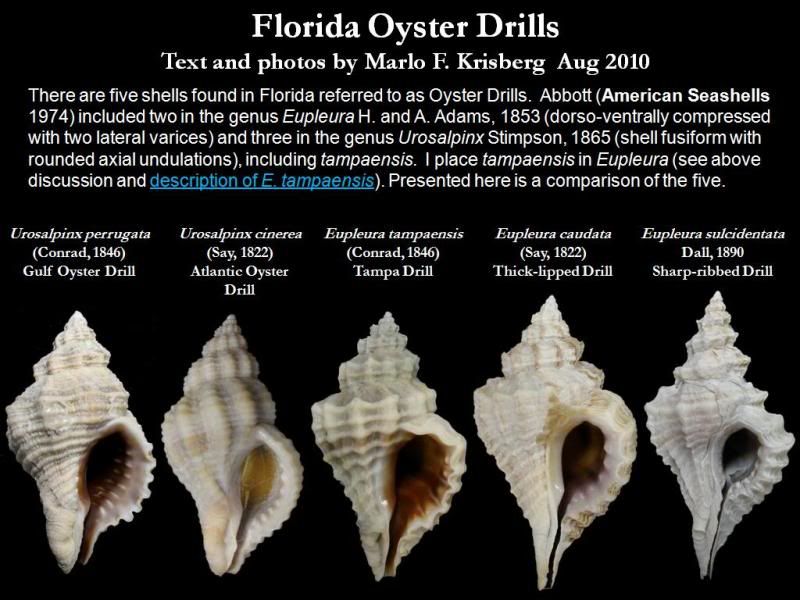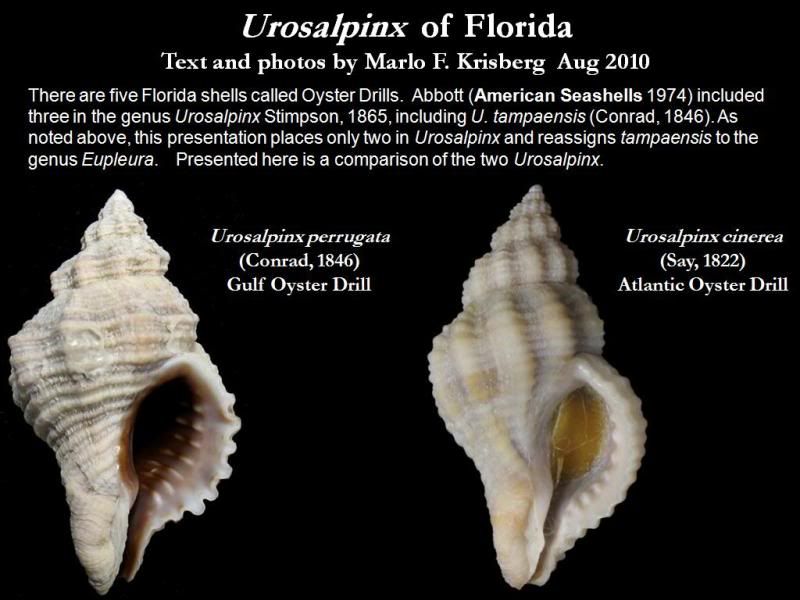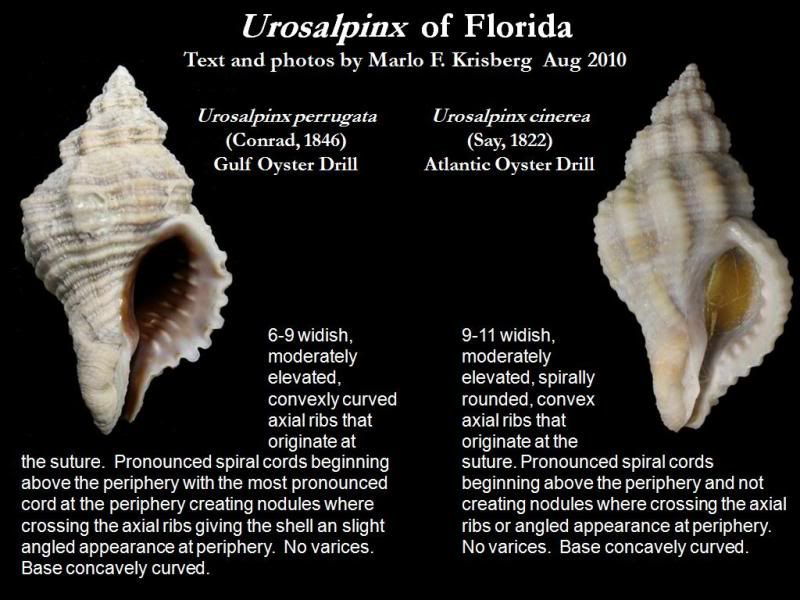 CLICK ON SPECIES NAME FOR DETAILED DESCRIPTION AND MORE PHOTOS:
Urosalpinx perrugata (Conrad, 1846)
Urosalpinx cinerea (Say, 1822)
Eupleura tampaensis (Conrad, 1846)
Eupleura caudata (Say, 1822)
Eupleura sulcidentata Dall, 1890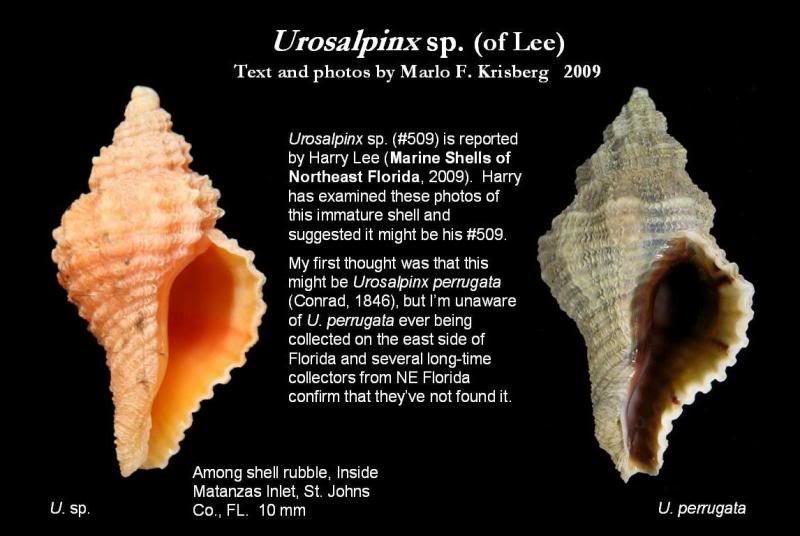 CLICK HERE for more about Uropsalpinx sp. (of Lee).