Title: Capri RS2600 and RS3100
Description: a History
Autofive - March 10, 2008 10:59 PM (GMT)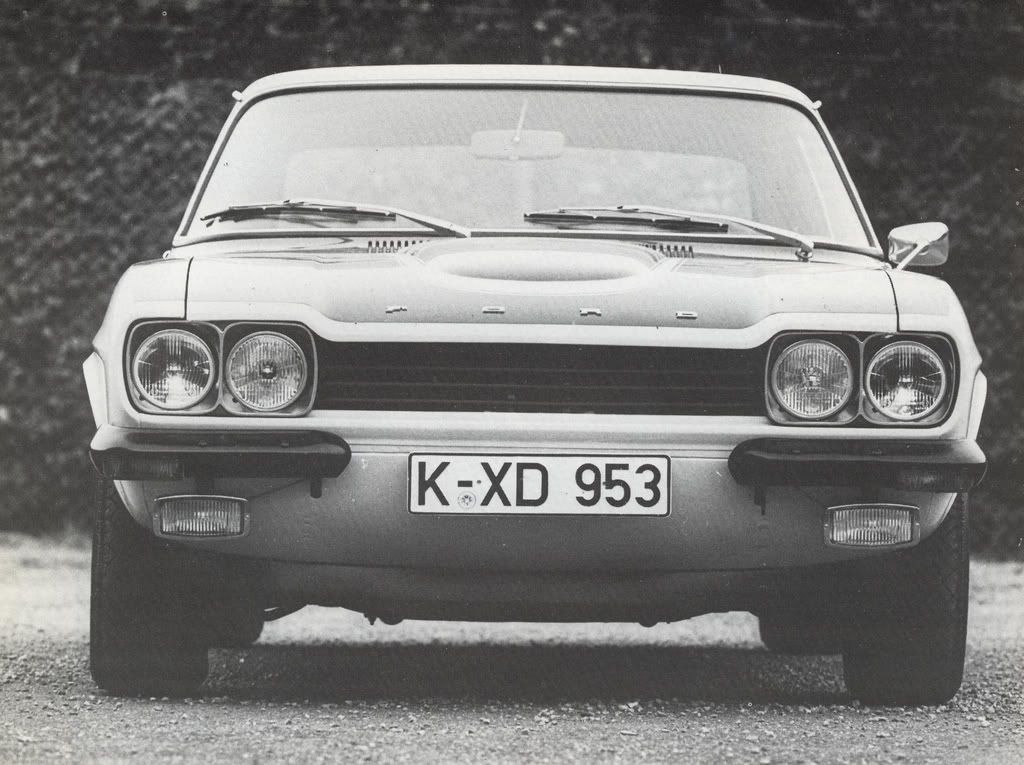 Capri RS2600 and RS3100
Over the years they came in every variety from relatively simple rear-drive machines to much more complex turbocharged and fuel-injected front-wheel-drive cars. But there were always those at Ford who argued that the RS factor could successfully be applied elsewhere too. In the case of the Capri, which was, after all, Ford's most overtly sporting production car, the most enthusiastic advocate was Jochen Neerpasch.
A former Porsche works racing driver, Neerpasch managed the German Ford Motorsport department that was established on January 7, 1968 as a Continental counterpart to Ford Competitions at Boreham. The department was housed in two-storey workshops and offices within the Ford Cologne factory at Niehl, on the Rhine, and the staff included Michael Kranefuss, who has subsequently become Ford's World Motorsport chief. Their competition successes with Escort and Taunus models included victory on the 1969 East African Safari using a Weslake-modified V6 engine in the Taunus 20M RS saloon. But what concerns us here is the development of the Capri as a competition car, a story which embraces both high and low moments — such low points that Jochen Neerpasch offered his resignation prior to the 1971 season. It was not accepted, but that the proud and competitive Neerpasch should have felt such a step was necessary indicates the depths to which the Capri's reliability in endurance racing sank. But then came the golden years, with the Capri in dominant form in the 1971 and 1972 European Touring Car Championship seasons.
First German competition moves with the Capri concerned the 2300GT, which appeared on the Lyons-Charbonnières rally as a prototype in March 1969. That model was the first use of the V6 engine from the Taunus saloons in the larger-capacity German Capris. Later this iron-block V6 family — which the production Capri used in every capacity from 2.0 to 2.6 litres — became the base on which the RS2600 was constructed for road and competition use. Later still, drawing on expertise gained during the European Touring Car Championship campaign, the production block was strengthened as a basis for the Federal 2.8 Arizona V6 that was seen in Capris and Mustangs for the USA. Finally, it is worth remembering that the iron-block pushrod OHV 2.8 became the propulsion for a range of European Fords in the 1970s and 1980s, including the Granada 2.8i, Capri injection, Sierra XRs and the Granada/Scorpio line.
That first competition Capri back in March 1969 ran with Weslake engine modifications that boosted it from the standard 108bhp (later in 1969 some 125 horsepower was offered) at 5,100rpm to 170bhp at 6,500 revs. The changes to the 2,293cc (90mm x 60.1mm) V6 included triple Solex downdraught carburettors, and high compression (10:1 instead of 9:1) for the Weslake iron heads, which retained Siamese porting, as did the production engines right up until the advent of the 2.9 V6 seen in 1987-specification Granada/ Scorpios. However, the competition development of the Capri soon saw far more adventurous schemes than those early efforts with what were basically modified road-registered cars...
The 2300GT Capri's debut was marked by a fourth overall for Dieter Glemser/Klaus Kaiser and the factory were encouraged to keep on rallying the Ford coupe through 1969. The 2300GT motor was constantly uprated, making 192bhp at 7,200rpm with Lucas fuel injection and a 10.5:1 compression ratio for the Tour de France, in which Jean-Francois Piot grasped an encouraging sixth overall against high-quality opposition.
The best 1969 result for the German-entered Capri GTs came on the Tour de Corse, the fast Corsican road event which is now part of the World Championship. A Group 6 prototype Capri 2600GT (2,550cc, 90mm x 66.8mm) for Piot and Jean Todt (Peugeot-Talbot competition boss in the 1980s) finished an outstanding third overall. That 2600GT had some 200 horsepower at its disposal at just 6,000rpm (compared with 125bhp for the street 2600GT).
The Corsican result, plus the unexpected win for Robin Hillyar/Jock Aird in the Safari Taunus, sent the Ford Competitions department up something of a blind alley in 1970, rallying the Capri on the East African Safari and tackling the European Touring Car Championship. In both cases, the 2300GT model was deployed, evolving to the point where it had 2,397cc and an official 230bhp on Kugelfischer fuel injection to propel ever-larger front spoilers and wheelarch extensions, with a kerb weight for racing of 940kg/2,0161b.
Back in Britain, the RS Capri plan was being executed. . . A month after Ford managerial approval was granted for the establishment of FAVO in October 1969, agreement to go ahead on the project to build the first RS Capri was received. Bob Howe, the first engineering chief for FAVO, recalled the project's starting point:
Jochen Neerpasch had identified the need for a sporting Capri to support his racing programme. We had already looked at the 3-litre, but the 2,600cc-plus capacity was what Jochen wanted, based on the engines that Ford of Germany had already been using in the sport. We didn't need the fuel injection for the competition department, but we did feel we needed it for usable road power.
Autofive - March 10, 2008 11:03 PM (GMT)
Cutaway drawing reveals the salient features of the RS2600 in full race trim, with wide, slick-shod alloy wheels and large ventilated disc brakes at each corner. Weslake-developed V6 power unit has Kugelfischer fuel injection, the large, belt-driven injector pump clearly visible in the engine compartment. Live rear axle is suspended on coil springs and located by radius rods: vestigial leaf springs serve only to maintain a tenuous link with the road car's specification and so satisfy the regulations. Sturdy tubular roll cage is integrated into the structure to provide additional stiffness. Large spare wheel, rapid fuel filler and dry-sump oil tank occupy the boot.
An incidental effect of choosing the RS2600 route was that there was no future in international competitions for the 3-litre Capri with its British V6 engine (a distinct and separate design from the German unit, sharing only the basic 60-degree V layout), though it did continue to appear at club level and in some national events. The 3-litre racing Capris came into their own, though, for the Group 1 category of 1974-S2, winning both internationally and within Britain.
By December 1969, the first employees of the FAVO engineering department were at work on left-hand-drive Capri RS prototypes, with two important targets of diverse character to aim for. First priority was the manufacture of a flyweight Capri which could be homologated for racing at 900kg/1,9801b, with an engine bigger than 2.6 litres so that it could subsequently be enlarged within the permitted allowance, by increasing the bore size, to something nearer 3 litres. The second target was to have a car to exhibit at the Geneva motor show in March 1970 in order to convince press and public of its existence as a road going model.
The version of the German V6 developed to meet these needs for the RS2600 as offered to the public kept the production 2600GT bore of 90mm with a stroke lengthened by 2.2mm to 69mm to give a standard capacity of 2,637cc. It is worth remembering that the road car had siamese-port iron cylinder heads, not the special alloy heads of Weslake parentage that were allowed under Group 2 regulations for international competition.
The road going engine had a compression ratio of 10:1 (also quoted as 10.5:1 in some company documentation) — on the high side for the period. The camshaft was that used to boost the production 2300GT Capri's output from 108 to 125bhp. The four-bearing crankshaft was safe to 6,500rpm, but the maximum power output of 150bhp was available at between 5,600 and 5,800rpm, with 165lb/ft of torque at 3,500rpm. Those were the official figures in 1972, anyway, and the specific power output of 56.9bhp per litre was creditable enough by the standards of the time, particularly as the car conformed to prevailing European emission control regulations. For comparison, the 2.8-litre V6s found in much more recent Fords were rated at 150bhp (Sierra XR) or 160bhp (Capri 2.8i).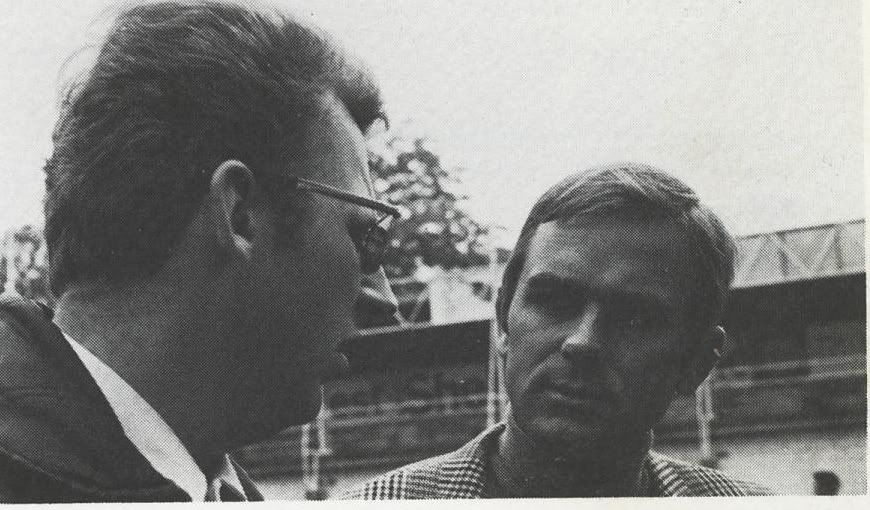 Capri characters: Jochen Neerpasch, above right, the first Cologne competition manager, is chatting to Martin Braungart, responsible for all competition engineering outside the engine bay.
Both later went to BMW, leaving Michael Kranefuss, below (in 1972 headgear!), to face their onslaught in 1973. Kranefuss is Ford's worldwide Motorsport boss in 1987.
Autofive - March 10, 2008 11:04 PM (GMT)
The racing versions of the RS2600 were aimed at developing more than 100bhp per litre. In full-blooded Group 2 trim they had dry-sump lubrication and an 11.3:1 compression ratio. The stroke was restricted to 69mm, but the bore size was progressively increased and by 1973 it had reached 96mm, giving 2,995cc, and officially quoted power outputs in excess of 320bhp.
The development of the power unit had drawn heavily on the tuning expertise and manufacturing capabilities of Weslake at Rye, in Sussex, their engineers working not only to adapt the Kugel-fischer fuel-injection system to the V6, but also evolving ever more powerful competition engines, which came complete with those alloy cylinder heads and 8,000rpm limits.
Weslake were still in business in 1983, the original company ceased trading, but Weslake Developments Ltd, under the managerial care of former Weslake technical manager Brian Lovell, carries out research into many aspects of engine behaviour, both petrol and diesel, from new premises in Rye. They were not involved in motorsports when I talked to them in 1987, and none of the key Capri components remained. However, they had decided that their expanding engine research facility and its 32 employees were capable of tackling competition again; it seemed possible they would return to working on motorsport engines during the late 1980s.
Kugelfischer was the leading brand of competition injection in Germany, as well as being used on mad cars by manufacturers as diverse as BMW, Peugeot and Lancia, and the company has since been absorbed within the Stuttgart-based Robert Bosch GmbH.
While the evolution of the RS Capri proceeded rapidly, the public saw the CT versions still competing in 1970 — a brace of second places were the best European Championship racing results, their power and durability being disappointing. The first display example of the RS2600 did make it to Switzerland for its debut on March 12, 1970 at the Geneva show, but only because a well-connected FAVO employee chartered a special plane to get it there!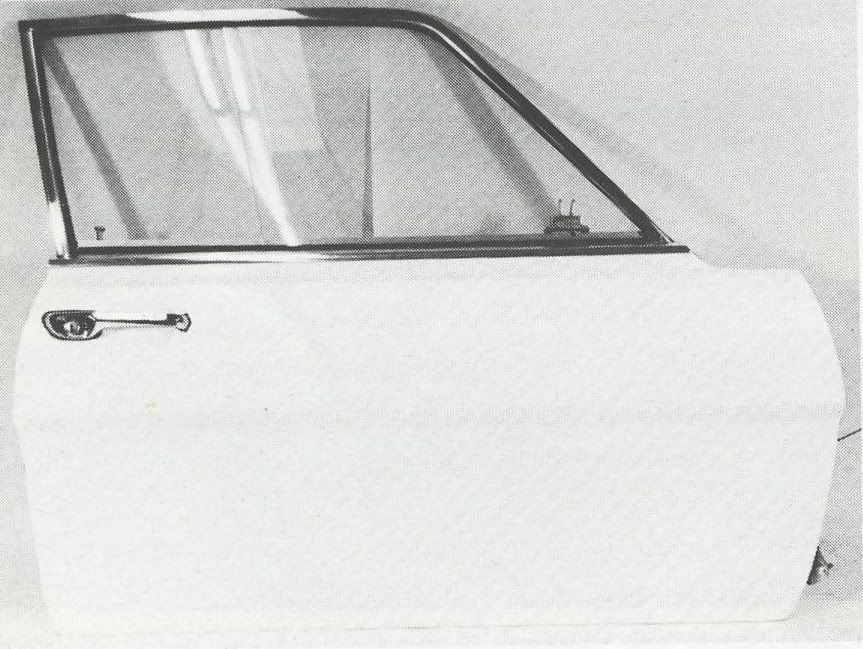 Only the first 'plastikbombe' competition cars had the lightweight glassfibre doors with sliding plastic windows
Autofive - March 10, 2008 11:04 PM (GMT)
The first RS2600s had no bumpers, but subsequent cars had quarter bumpers in front and a full-width blade at the rear, chrome at first, black later. While quadruple headlamps and contrasting bonnet colour made the front view very distinctive, the rear was closer to other Capris, with the decal stripe carrying injection and RS lettering as the principal identification.
Just over a month later, the first of 50 lightweight Capri RS2600s, minus the injection system but complete with the all-important long-throw crankshaft, were built on the line at the Cologne-Niehl plant. Those original lightweights were illegal for sale in Germany on a number of counts. Weight-saving was the major concern in their specification and to get down to a figure that defied most subsequent works Capris a number of drastic measures were applied.
Those first RS2600s had no bumpers. They were removed in the cause of the racing diet and the displaced front flashers incorporated beneath a then-unique quadruple round headlamp system. The British engineers bought in number-plate lamps from Halfords to provide rear plate illumination on either side. Usually the Capri's blade rear bumper carried the number-plate light. The cars also had no heater (FAVO employed an electrically heated rear screen to overcome the lack of demisting), no carpets, Perspex sliding panels for the side windows and thinner glass wherever possible. Other significant points were the use of Minilite magnesium-alloy wheels and fixed-back bucket seats. Even single-coat paint was applied to the machines that would be weighed by the international sporting authority — the last gram counted, so undercoat was out!
Glassfibre panels replaced doors, bonnet and boot. They were made by the BBS company, who later became best known for their racing and road wheels. Ford Cologne development engineer Martin Braungart had then just established a partnership in the company that today occupies him full time; Then, BBS were just learning about body panels and the Ford quality inspectors were not amused. .. Early Capri RS2600s were usually painted silver, the works livery in 1970 and early 1971. Official Ford managerial approval of the RS2600 body modifications came in July 1970. There was an aerodynamic spoiler blade beneath the nose, and sheet metal changes to the front panelwork, originally intended for export Capris to American Federal requirements, allowed the installation of Cibié Biode headlamps.
By August 1970, FAVO had engineering approval of the running gear. That encompassed the injection engine, single-leaf rear springs and a redrilled front cross-member to relocate the lower track control arms outward, introducing negative camber angles. Bilstein gas damping for the front strut inserts and rear telescopics was an integral part of the RS2600 recipe.
Autofive - March 10, 2008 11:05 PM (GMT)
RS2600 of 1973-74, with four-spoke alloy wheels and clean duo-tone lines. Added to these later cars were the bonnet-top injection logo and ornate rear quarter-panel decal.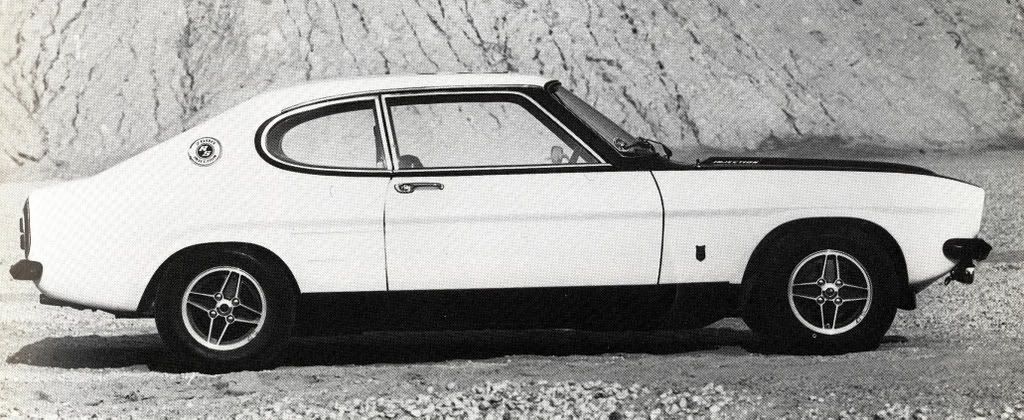 The first production fuel-injection RS2600 Capris clambered from the Cologne factory on September 14, 1970. They were in immediate trouble! The front wings had to be attacked to make clearance for fat tyres on lowered suspension. With all the legal features installed, instead of the parts that had led to the original lightweight car being dubbed Plastikbombe, The RS2600 for general sale weighed 1,060kg. Those 2600s distributed in the big selling years of 1972 and 1973 were more like 1,080kg, or 180kg heavier than the first flyweights!
While racing RS Capris all took a leaf out of the successful Escort RS competition book and employed ZF five-speed gearboxes, the production road cars only ever had four speeds. There were two types of box used in the 2600's production run. The first had gearing based on Ford Germany's Taunus line. It contained the following ratios: first 3.65:1; second, 1.97:1; third, 1.37:1; fourth, 1:1. From September 1973, a second ratio set, shared by the 3-litre Capris of the period, featured a 3.16:1 first gear, 1.94:1 second, 1.41:1 third and the usual direct fourth.
Originally, the clutch was modified to accept hydraulic operation, but later examples with Capri 3-litre transmission should have cable operation. Initially, the axle ratio was that of the first 3-litre Capris (3.22:1) but it later moved on with the British V6 to a 3.09:1 ratio. A limited-slip differential was a widely sold option, but not part of the standard specification.
Suspension was initially based on whatever racing parts (such as the single-leaf rear springs) FAVO could find on the shelf, but as the car became a commercial success more civilization for road use was desirable, so spring rates and ride heights were progressively modified and the settings of the Bilstein dampers were softened off considerably during the production run. Basic principles were, of course, typical Ford rear-drive with MacPherson-strut front suspension utilizing a single track control arm each side jointed into the forward anti-roll bar.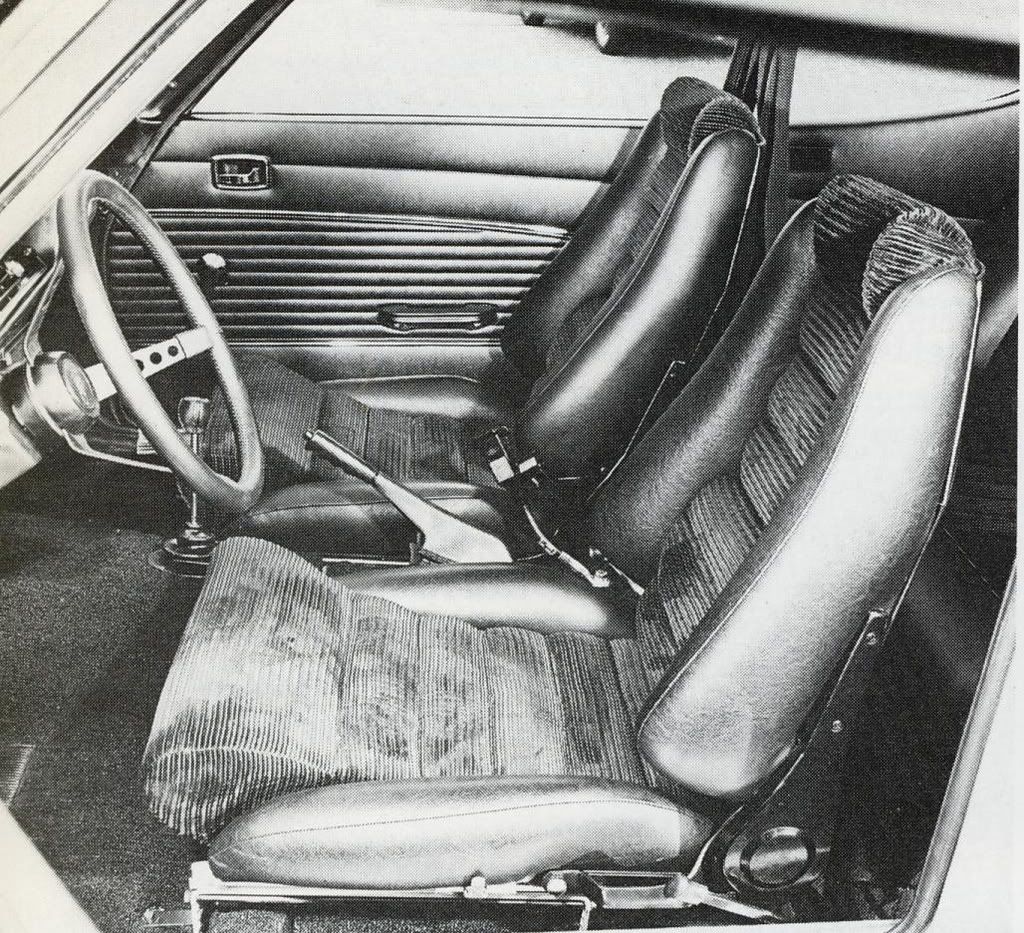 RS2600 interior changed as the mainstream Capri was altered, but always had better-than-standard seating and a sporty steering wheel. The dished wheel was widely used on earlier FAVO cars, and is seen in a car with comfortable cord seats, whilst the fiat wheel is in front of the facia design introduced in autumn 1972.
Kugeltischer fuel injection and neat cast alloy plenum chamber are evidence of Weslake's work on the road car's 2.6-litre engine, but it lacks the alloy cylinder heads which were strictly reserved for the Group 2 competition version. An honest 150bhp was delivered by the all-iron V6, enough for 125mph.
Autofive - March 10, 2008 11:08 PM (GMT)
The 1971 racing team line up with drivers, left to right: Dieter Glemser; Alex Soler Roig; John Fitzpatrick Francois Mazet; Jochen Mass; and Helmut Marko.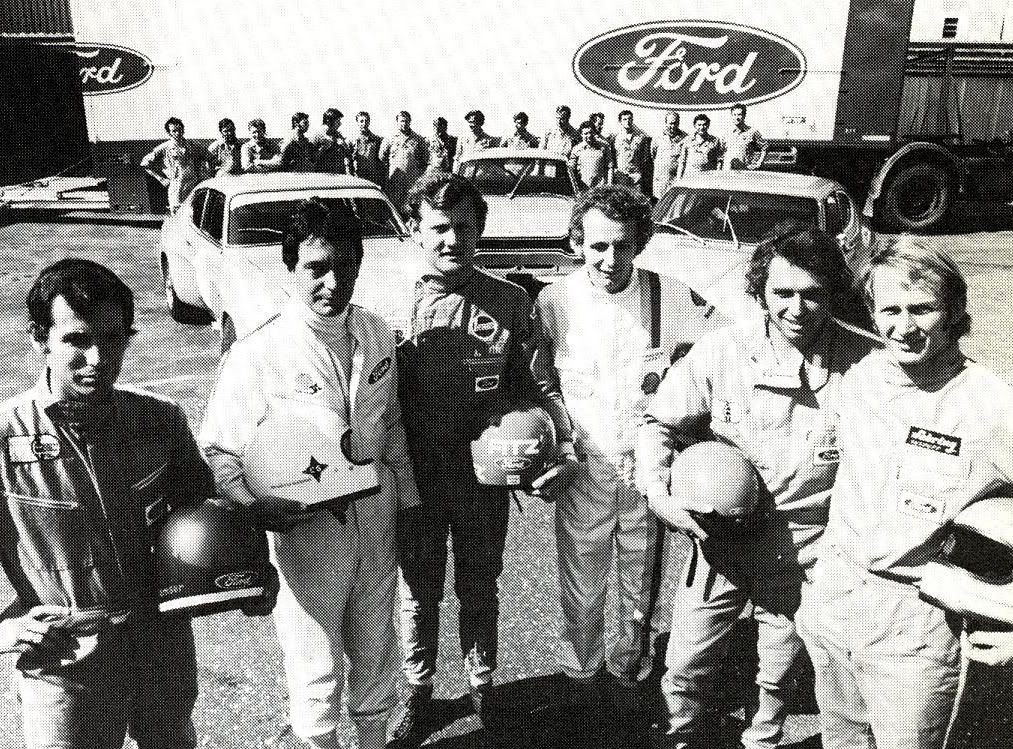 Those single-leaf springs at the back had been developed for competition Escorts and Capris and they were combined on the roadgoing Capri RS with the usual Capri/Mustang staggered damper layout on either side of the rear axle to assist location, along with short radius links. What minimal rear axle travel the Capri did allow was cut down in the RS versions, thus carrying heavy passengers in the back could be uncomfortable for them and the nervous driver!
In October 1971, a number of important running changes were made to the RS2600 as it became more of a mass-production catalogue model and less a racing parts-bin special. The suspension was unchanged in layout, but the ride height was raised from its original underbelly-bruising level and the springs were swopped from competition to road ratings that were later adopted for the RS3100 too. Externally, the original Richard Grant alloy wheels were rejected in favour of FAVO four-spoke alloys in the same 6J x 13 dimensions. The radial-ply tyres remained the same 185/70 HR size, and most cars were supplied on Pirelli CN36 tyres.
Bumpers, chromium ones, were also fitted in this autumn 1971 refit. At the front, these were the traditional Ford performance items, the quarter-width type, but at the rear, a full-width unit was installed. Later in the run, these bumpers became matt black, just like those of many other mid1970s Fords.
Inside the new alloy wheels were important changes to the brakes. Originally, the RS2600 was sold with solid front discs and big back drums, as seen in the British 3-litre Capri and Germany's 2600GT. Harry Worrall, project engineer at FAVO and SVE, recalled:
The new wheels gave us an opportunity to adopt the Cortina 3-lifre disc brake conversion we had been engineering. This was based on a unique ventilated front disc, unique hub and an ordinary Ml6J disc caliper, for the new Granada of the period.
The RS2600 was ahead of many contemporary rivals in offering an improved interior, too. There was an initial combination of ribbed cord seat trim and a dished Springalex three-spoke steering wheel. Then the front seats, with adjustable back-rests, were slightly revamped with less intrusive headrests; the basic design and manufacture was still by Scheel. The later seats sported a smoother cord finish and were complemented by the flat sports steering wheel that was widely used in other Fords, performance or otherwise, in later years.
RS Capri instrumentation was the same as on other V6 LHD Capris. That meant a matching 7,000rpm tachometer (red warning band from
6,000 onward) and 220km/h speedometer, plus four minor dials measuring volts, oil pressure, water temperature and fuel tank contents.
Autofive - March 10, 2008 11:09 PM (GMT)
The RS Capri's rump wore distinctive twin oval exhaust pipes — and that was the view drivers of a good many other cars were most likely to see. The factory stated that the RS2600 Capri was able to romp from 0-60mph in 8.2 seconds and reach 124mph. In 1971, I was privileged to accompany John Fitzpatrick in an original lightweight silver RS2600 that covered a measured quarter-mile on the Silverstone Club straight in less than 15.5 seconds and ran from 0-60mph in less than 7.5 seconds. I have also been able to secure accurate fifth-wheel performance figures for the production RS2600, quoted in the appendix. I must thank Road & Track editor John Dinkel for allowing us this opportunity to see what Ford's first European fuel-injection car was capable of. Yes, I have seen German acceleration figures for the RS2600 before, but they do not exactly align with our mph measurements, 0-100km/h always taking disproportionately longer than 0-60mph, mainly because 'Sod's Law' always seems to dictate an extra gear change. The figures make satisfying reading, exceptionally close to the factory claims, putting some flesh on those bald statistics.

The RS2600 was marketed in many European LHD markets, becoming a familiar sight in Belgium, France and Austria, as well as Germany, and reached about 4,000 sales according to former FAVO employees. It inspired the development of the RHD RS3100 and ceased production in 1973, along with the rest of the 'Mkl' Capri range. The hot-selling two-door Capri — the millionth car was an RS2600, made 4 Y2 years after the model's debut— was replaced by the Capri II hatchback in February 1974.

Only three RS2600 Capris were converted to RHD for British use: Walter Hayes had a full production model in blue and white corporate livery, as did Stuart Turner, and Mr Hayes earlier mongrel 2600GT/ RS2600, a carburettor-equipped car uprated by Weslake and finished in Boss Mustang yellow, complete with rear window slats and a vinyl roof, later sold to Formula 3/3000 team owner Murray Taylor in September 1972.

The only current RS2600 road car owner in Britain is Ford RS Owners Club secretary Jacques le Clainche, and the only racing RS2600 in the UK belongs to London advertising executive Jeremy Nightingale and is lodged at Kirbymoorside, Yorkshire, where it has resided in a perpetual state of restoration for much of the 1980s. This Capri was the Kent Cigarettes/Frami Racing ex-works machine driven by Gerry Birrell on a number of outings in 1972.

Autofive - March 10, 2008 11:10 PM (GMT)
So much for the RS2600 as a road car. It had been conceived to form the basis for a competition machine, and as the first examples went on sale to the public Ford's motorsport departments began a process of Anglo-German co-operation to fulfill that intention.

The relevant paperwork for homologation was stamped from October 1, 1970, allowing Ford the right to compete in Group 2 (1,000 units annual production) with a number of specified options. Ford assembled roughly 20 of the first lightweight RS Capris for inspection: five made it under 900kg, with only 880kg recorded. The rest averaged 900kg, with the heaviest on 920kg. Even the lightest of the production cars which followed were positively obese at 940kg...

The V6 engine was first prepared for competition in 2.7-litre form, but initial trials went poorly. By November 1970 Jochen Neerpasch had called on Stuart Turner for help, with the result that Peter Ashcroft, at that time senior engine builder at Boreham, now Competition Manager, was sent to the Cologne department to offer practical assistance.

Mr Ashcroft found a dismal selection of wetsump V6s with non-standard 'ventilation' holes all over the place, each marking the abrupt departure of yet another damaged component. First priorities were to strengthen the moving parts —crankshaft, connecting rods, pistons — by upgrading their materials. Ford engineers also set about enhancing the prospects of lubricant reaching afflicted areas at high cornering speeds by adopting dry-sump lubrication. These basic competition strategies were well established in the works Escorts, but a V6 posed special problems of dynamic balance that were only resolved when Peter Ashcroft telephoned Keith Duckworth of Cosworth Engineering for some 'back-to-basics' advice.

Another fundamental change was to increase the rigidity with which the cylinder block encased all these higher-rewing components. Filling a sample block with Plasticine, Peter Ashcroft was able to demonstrate how the block should be cast. Not only was that a successful exercise for racing, but the basic lessons were also utilized to provide a rigid block for the later Ford 2.8-litre V6 production engines.

Autofive - March 10, 2008 11:11 PM (GMT)
Ford Cologne competition centre, above left, with the 1972 cars in preparation.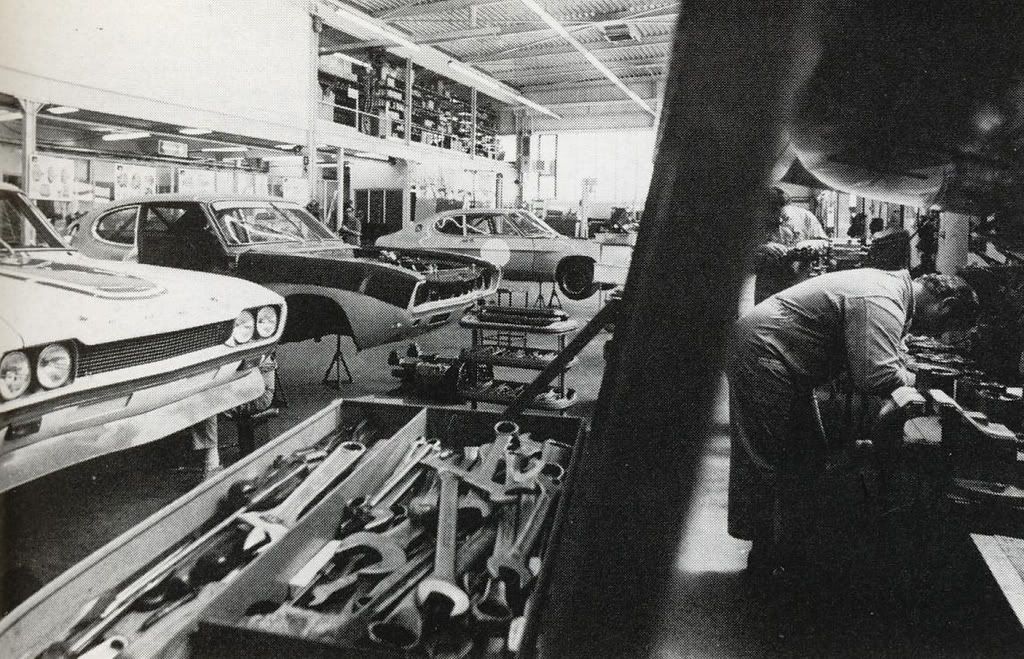 First European Championship success for the works RS2600s was a 1-2 at the Salzburgring in 1971; Helmut Marko's silver and light blue second place car, above right, leads its predecessor, a 1970-model 2300GT.
Below: an evocative shot of the field streaming through the first corner at the start of the Spa 24-hour race in July 1971. The Glemser/Soler Roig RS2600 is pursued by Camaro, AMG Mercedes, Ford Cologne RS1600, Steinmetz Opel, Alpina BMW CS, striped Broadspeed RS1600 and the rest. Ford won at an average of over 113mph.
Autofive - March 10, 2008 11:12 PM (GMT)
The ultimate road Capris in convoy on the open road: Tour de France, September 1971. This RS2600, on German tax-free export number plates, is that of Dieter Glemser and Klaus Kaiser, which retired, but the car in the background, crewed by Jean Francois Plot and Jim Porter, won its class and was seventh overall against top class sports and sports-racing opposition.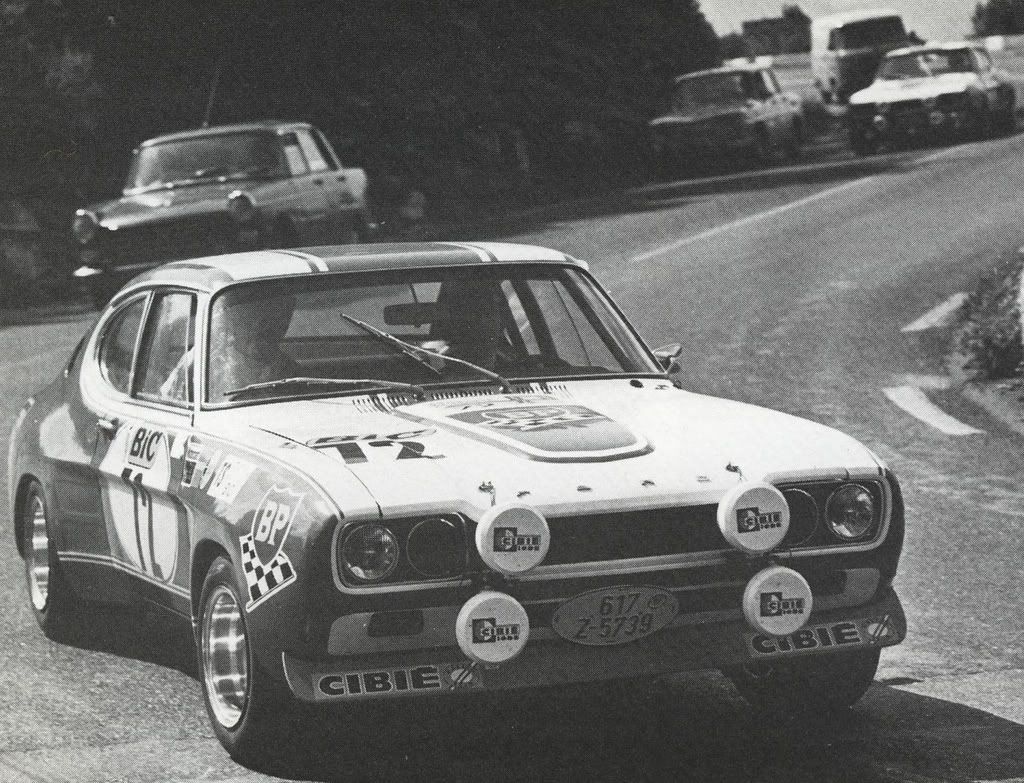 Complete with steel caps for the four crankshaft bearings and a new crank from Weslake attached to a lighter flywheel, the RS2600 unit was ready for further competition modification. Brand new cylinder heads in aluminium alloy sported larger valves and a compression ratio that varied over the years from 10.5:1 for 24-hour racing to 11.3:1 for shorter events in 1973. A range of competition camshafts worked in alliance with the mechanical Kugelfischer fuel injection to provide performance at up to 7,500rpm, and the RS Capris ventured into the 1971 European Touring Car season with approximately 260bhp on tap.
The engine capacity grew over the years, but the stroke — restricted under Group 2 regulations —remained at a stubby 69mm. Initially, the RS2600 raced with a 94mm bore, giving 2,873cc, instead of the production 90mm. During that opening season it went out to 95mm and 2,940cc.
Finally, equipped with additional under-bonnet cooling and moved well back against the bulkhead in pursuit of balanced handling, the toughened block was scraped out to 95.8mm and some 2,995cc for 1973. By then it sported huge
48.2mm inlet valves, 38mm exhausts and a regular 11:1 compression ratio. That gave an official 320bhp at 7,600rpm, getting on for triple the roadgoing output, and some 2391b/ft of torque at 5,500rpm. In that last season the Ford drivers were told to use no more than 7,800-8,000rpm.
By the standards of 1971 saloon car racing, the Capri was an extremely sophisticated competitor, one that opened the eyes of BMW and others to the principle of constructing a competition car dressed as a saloon, rather than converting a road car for racing.
Ford also employed the best in driving talent over the three seasons they campaigned the Capri RS2600. Mainstays were Dieter Glemser, John Fitzpatrick, Helmut Marko, Jochen Mass and Hans Joachim Stuck, plus Scotland's Gerry Birrell. The headlines were made by Jackie Stewart, most regular and successful of a number of Grand Prix drivers employed, plus Jody Scheckter, Emerson Fittipaldi, John Surtees, Graham Hill and Francois Cevert.
Autofive - March 10, 2008 11:13 PM (GMT)
You had only to look at the Capri's replacement wings, cuddling over racing slicks 10 inches wide at the front and 11.5 inches at the rear, to know this was a very special Ford indeed. It had the same suspension layout as a road car — MacPherson strut front, live axle rear — but every component was replaced by a purpose-built racing item. Thus it was no surprise to find also that the rear leaf springs were dummies in plastic, the real work being done by coil springs above the axle line. These elongated rear struts with concentric coils and massive Bilstein alloy-cased dampers fed their incoming loads into increasingly sophisticated rollover cages. These welded tubular structures gradually evolved to the point where they took over the bulk of the bodyshell's stress-bearing duties.

Naturally, all four wheels were disc-braked, massive units being needed to restrain a vehicle capable of 158mph early on and closer to 170mph in its final form. Acceleration from 0-100km/h (62mph) was measured by Auto Motor und Sport in 4.6sec, and 0-200km/h (124mph) in 14.3sec. At that point the Capris sported 295bhp for the 1972 season.

Although the works Capris were not successful on their debut at Monza in March 1971, they soon settled into a pattern of race-winning durability. The first win came in April and it was a 1-2-3 for Dieter Glemser, Helmut Marko and Alex SolerRoig in the Austrian qualifying round of the European Touring Car Championship at the Salzburgring. After that, nothing seemed able to challenge the Capris. The 1971 season saw them go on to win before huge crowds at Czechoslovakia's fabulous Brno street circuit, and on the old 14-mile Nurburgring in Germany.

The engine durability bugs had been completely conquered, as evidenced by Dieter Glemser/Alex Soler-Roig's 113.5mph average for 24 hours on the Spa-Francorchamps road circuit in July 1971. They didn't win in Holland (BMW got a look in there), but a 1-2 at the Circuit Paul Ricard in France provided compensation. The 1971 European drivers' title went to Dieter Glemser. Capris also won that year's German national title for Jochen Mass, and the same driver racked up enough results in the 1971 South African Springbok series to gain Ford the manufacturers' cup.
Autofive - March 10, 2008 11:13 PM (GMT)
Familiar RS2600 racer in Britain in 1972 was this blue 'Wiggins Teape Peacemaker' prepared by Ted Grace and driven by the late Brian Muir. He and John Miles took the car abroad for its greatest victory ahead of the works Capris at Paul Ricard that season
The 1972 season was even better for Ford fans. Now proven, the blue and white RS wonders overwhelmed any sign of opposition in all but one round of that year's European Touring Car Championship. Unfortunately, that one was the Championship round to win for a German-based team: Nurburgring. It also highlighted the fact that Jochen Neerpasch and the talented engineer Martin Braungart had departed for BMW in Munich, a move that would bring BMW into major league motorsport again by 1973.
Nevertheless, 1972 was a year to savour. Titles won by Capri RS2600 drivers encompassed an astonishing variety. Jochen Mass won the European Championship, Stuck the German, and Claude Bourgoignie the Belgian. Most astonishing of all was Timo Makinen winning the Finnish ice racing title in an RS2600 loaned by Boreham, complete with non-standard rectangular headlamps. In the 24-hour race at Spa the works prepared Fords had perhaps their finest success, with a 1-2-3 led by Hans Stuck and Jochen Mass at an average of 116.4mph for the day and night racing, over 3mph faster than in the previous year.
These were all saloon car events, and it is surprising today to recall that the Capri RS could also happily compete in the long-distance sports car races of the day, finishing seventh and eighth in the prestigious Nurburgring 1,000kms, and 10th and 11th overall in the Le Mans 24 hours.
At first the arrival of BMW Motorsport GmbH in 1973 did not seem to threaten the end of the Capri RS2600's racing world. The well-developed RS held on to second at Monza and showed excellent qualifying speed. The works Capri showed well, too, in a classic non-championship battle between Jochen Mass and Niki Lauda (BMW) at Spa and improved to sixth overall in the Nurburgring 1,000kms. The races at the Salzburgring and at Mantorp Park in Sweden saw the Capri winning again.
But in July 1973 BMW's employment of Martin Braungart was amply rewarded. The BMWs sprouted the infamous Batmobile wing kits, developed by the former Ford employee and homologated just at the right time to prevent a Ford reply, even if one could have been argued through an obstructive British hierarchy. The lap times posted by the BMW CSL coupes dropped to the point where Ford RS Capri drivers knew they were in for a thrashing.
As the BMWs settled into reliability, with power outputs from their inline 3.5-litre engines climbing beyond 350bhp, Ford's RS Capri was simply outpaced. Some of the drivers responded. magnificently, notably Jochen Mass, who could wrestle a Capri round to equal BMW lap times, wings or no wings. However, the long-distance winning was over until Ford could deploy the next RS Capri RS3100.
Autofive - March 10, 2008 11:14 PM (GMT)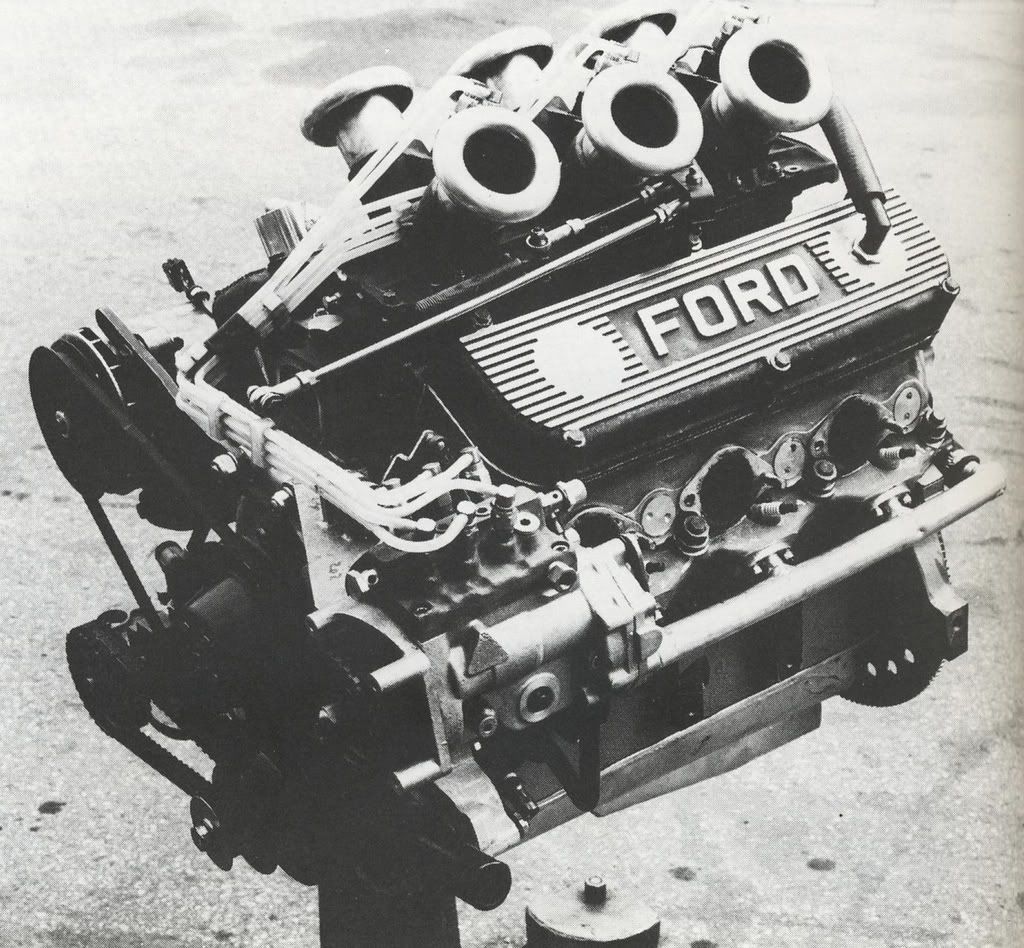 For its last season, 1973, the RS2600's V6 engine in racing form, with alloy heads and bored out to 2.9 litres, was credited with 320bhp, progressive development having nearly tripled the output of the roadgoing unit.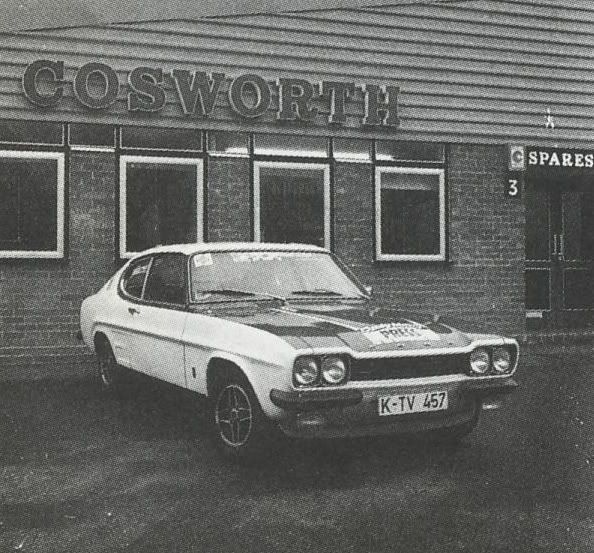 Rarity: not many RS2600s, press fleet cars or otherwise, visited Britain, never mind calling at Cosworth in St James Mill Road, Northampton. In evidence are the quarter bumpers and the subsequently widely imitated front spoiler.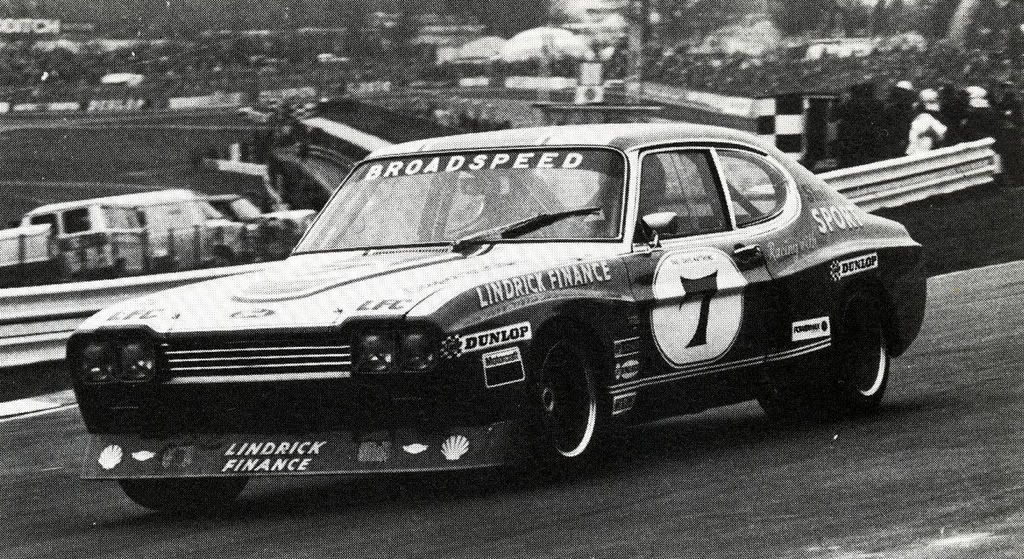 Broadspeed RS2600 racer backed by Lindrick Finance appeared in Britain and Belgium, regularly driven by Dave Matthews until its demise at the 1973 British GP meeting, and was one of two built by Ralph Broad's team at Southam, the other, with RI-ID, being driven byAndy Rouse.

The 1973 racing Capri featured the squared-off wide-arch look that would become popular for road cars in the 1980s. John Fitzpatrick waves a wheel during the Silverstone Tourist Trophy.
Autofive - March 10, 2008 11:15 PM (GMT)
On September 25, 1973 a Ford Product Strategy Committee gave its approval for the long-awaited right-hand-drive Capri RS. What became available to British customers was something of a hastily concocted homologation special rather than the developed road car that the RS2600 represented in its final form, but it was a significant step forward for the British-market Capri. Especially praiseworthy were its outstanding stability, the extra performance provided by nearly 150bhp, increased braking power and better handling.

Mike Moreton, the product planner at FAVO, outlined the basis of the RS3100 project. The instructions were: To produce a limited-volume Capri RS derivative at Halewood during November/December. The car will be designated in sales literature, but not badged, as Capri RS3100 and will be sold through Rallye Sport dealers only. The vehicle is to be based on the Capri 3-litre GT but with an engine over-bored to 3.1 litres, a front air dam and rear spoiler, with suspension, brakes and alloy road wheels carried over from the AVO Capri RS2600.

The 3-litre Capri's Essex V6 engine had bore and stroke dimensions of 93.76mm x 72.42mm to give 2,993cc and the capacity enlargement was needed to qualify the Capri in the over-3-litre racing class. It was achieved by a maximum service overbore (always referred to as '60 thou' — 60 thousandths of an inch) which left the official cubic capacity as 3,091cc: 95.19mm bore with the stroke unchanged at 72.42mm.

The competition version of the RS3100 to be run by Ford in Cologne would carry a massive 3.4-litre Ford Cosworth 100mm x 72.42mm 'big bore' version of the Essex V6, a 400bhp-plus package of which more later.

Ford at Boreham had built half-a-dozen road-going RS3100s by November 1973, and these duly appeared at strategic points around the route of the RAC Rally whilst the homologation inspection proceeded for approval to compete internationally in 1974. Production at Halewood, possibly of an initial 50 RS3100s, began, according to the records of RS3100 registrar Dennis Sellars, with NHK 281M (chassis number BBECNDO7322), a vehicle actually registered on November 2, 1973. The production process continued into 1974 despite the advent of the Capri II.

The Boreham-built RS3100s all looked slightly different, some lacking the quadruple Capri 3000GXL headlamps (a cheap alternative to the RS2600's original Cibiës), and one that I borrowed to cover that year's RAC Rally had 165 burbling horsepower. This was achieved with a replacement higher-lift camshaft and specially-fabricated dual exhaust system, but the production RS3100s (mostly constructed in the early months of 1974) lacked such power-boosting modifications.

Utilizing standard 3-litre Capri ancillaries, including the Weber 38 EGAS twin-choke carburettor, the 3.1-litre V6 was rated at 148bhp at 5,000rpm and 1871b/ft of torque at 3,000rpm. This compared with 138bhp and 1741b/ft at the same revs for the standard production 3.0 V6.

Ford felt they could claim some 10% extra on the power figures because the inlet manifolding and porting had been polished, along with the exhaust ports; compression, camshaft and exhaust manifolding were left as for the 3-litre of the period. Although the changes to the engine were slight, Ford did use their nostalgic blue rocker covers to signal that this was no ordinary 3-litre.

Autofive - March 10, 2008 11:15 PM (GMT)
Speed and stability were improved by employing the RS2600's simple blade under-bumper front air dam. A unique black rear spoiler served critical competition purpose in holding the back wheels on the tarmac at the racing model's quoted 180mph-plus velocities. For public-road customers, the improvement in motorway crosswind stability was most noticeable — and the spoiler was a useful parking guide, too.
The front and rear spoiler combination, plus the use of lowered RS2600-style suspension, provided a MIRA-measured wind-tunnel drag factor of 0.375. That is the best figure I have on record for the original Capri outline and an excellent achievement, for the first Ford to benefit from extensive use of wind-tunnel time, the front-drive Escort of September 1980, did little more than match that figure, even in XR3 guise.

Capri RS2600 influence continued with the re-drilled front cross-member to provide some negative camber at the front wheels. Also employed from the later RS2600 Capris were the 6 x l3in FAVO four-spoke alloy wheels and the 185/70 radials, usually provided by Goodyear or Pirelli.

When FAVO in Britain started work on the RS3100, the suspension was softer than that first offered on the RS2600, but still with a stiffish 1421b/in front spring rate and 1 121b/in rear. A 1-inch chop in ride height meant that even the modified rear bumpstop rubbers (one section was removed in an effort to find extra clearance) came into abrupt and immediate contact when back seat passengers were carried.

The rear suspension featured the later production anti-roll bar-cum-axle linkage that mainstream 3-litre Capris used, rather than the RS2600's initial set-up with short axle radius links. Single-leaf springs remained a common feature between RS2600 and 3100. Bilstein gas damping was used, but the damper settings were coded 'director's' and aimed at comfort, as distinct from the first RS2600's competition-orientated suspension, a system so low that spoiler-to-ground clearance checks had to be carried out on the engineer's local driveways during development.

Also borrowed from the RS2600 were the 9.75in vented front discs. The improved servo assistance that the British V6 Capri deployed had been introduced during the RS2600's production run. A pair of 9.Oin x 2.25in back drums came as part of the 3-litre base on which the RS3100 was built, as did the 309:1 axle ratio that can be found even in the last Capri 2.8s.
Autofive - March 10, 2008 11:18 PM (GMT)
The Capri RS3100 road car had many visual affinities to the RS2600, but was built only in RHD form. Ducktail rear spoiler was vital to enable the car's racing cousins to use all their power. Stripe decals were adapted from late RS2600, with lettering deleted. The overbored V6 nestled beneath a single Weber twin-choke carburettor, and was rated at 148bhp, just 10bhp more than the standard 3-litre unit. Interior of this example sports a three-spoke RS steering wheel, but the two-spoke production item was often used, as were those ribbed seats and 3-litre Capri GT furnishings.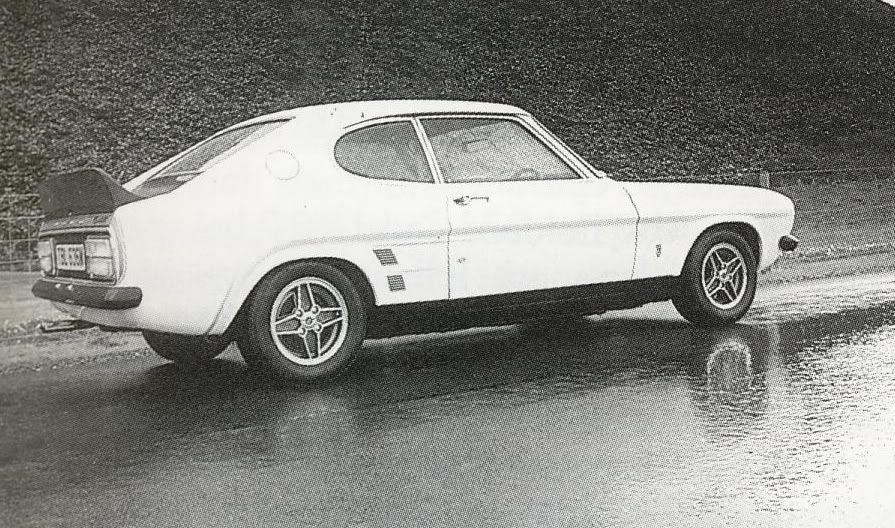 Autofive - March 10, 2008 11:19 PM (GMT)
Production Capri RS3100 showroom features at the debut asking price of £2,450 included a flat, l4in diameter, three-spoke sports steering wheel and a modified version of the decalling used on the RS2600 of the period — Ford just removed the RS2600 and injection references! Such decals are becoming impossible to obtain from new stock for the concours competitor, so have to be made up using the originals for patterns. The traditional quarter-bumpers were preserved for the front of the RS3100. As with the 2600, both chrome and matt-black examples were owned and photographed by Ford: the catalogue specification was matt-black. I am told Escort 1100 Mk2 Popular bolts can be used to replace any absent originals.

Capri RS3100 performance? There are fifth-wheel figures from Motor in the appendix. An average result from weekly and monthly magazines in the UK was a maximum of 124mph, 0-60mph in the 7-second bracket and around 22mpg overall,

Only two officially badged RS Capris made it into production, but there were quite a few other attempts to bring RS and Capri together over the years that followed the RS3100's brief production run. Some of the following, like the Escort Mexicos, were sold only by RS dealers. Some were conceived by German Motorsport personnel and then only sold through RS outlets. Some were proposed as RS products, but never quite achieved anything more than limited Ford mainstream approval, with some sections of the normal warranty absent in deference to radically increased engine power.

The closure of Ford Advanced Vehicle Operations was a protracted affair. Various departments stayed operational into 1975 (notably engineering; and the Motorsport parts operation still operates from this site in 1987) despite the closure of the production line and the dispersal of the majority of the workforce of 200 or so during
1974.

Product planner Mike Moreton prepared a plan in 1975 to produce a fuel-injected 2.8-litre RS Capri that should have reached the production lines along with the Escort RS2000. Management approval was given for this project, but the car was never made, owing to the time-consuming business of putting the RS2000 into production in a mainstream facility, rather than at the FAVO plant for which it had originally been conceived.

However, prototype RS2800 Capri us were constructed, with help from Thomas Ammerschlager in Ford Germany's Motorsport department, and such cars were subsequently demonstrated to the press in Capn III trim. At the time it was said that it was not worth the cost of development and crash testing to combine the 2.8 with the Capri hatchback shell, but sales buoyancy in Britain eventually changed all that and the 2.8 injection appeared, going on to achieve a very high ratio of profitable sales.

Autofive - March 10, 2008 11:20 PM (GMT)
There is some logic in owners of Capri 2.8 Injection, Special or 280 versions feeling they have a genuine RS car, but the project lacked any intention on the part of the factory to use it in competition. It was, though, a product of many of the same engineers who were at FAVO. Men who conceived the RS2600/3100 went to work on the 2.8 Injection, the first car handled by the Special Vehicle Engineering group.

That the resulting vehicle did not carry an RS badge was simply a marketing decision. For the 2.8i was as thoroughly modified from a production base as many RS types have been. In fact, a former engineering chief at FAVO told me: When I drove an injection Capri for the first time, I thought it was the perfect development of the RS2600 series. Suspension, brakes, engine, all felt like developed versions of that first RS Capri

A similar lack of competition intention was the reason why the Ford of Germany/Zakspeed Capri turbo did not become an official RS product, despite being sold by RS dealers and developed by
Motorsport personnel. The Zakspeed-Ford alliance had already produced a breed of phenomenally successful 1.4 and 1.7-litre turbo Capri racers based on Cosworth BDA technology, but aside from Zakspeed's work in its production and engineering, the Capri 2.8 Turbo sold by RS dealers in Germany in 1981-82 had few features in common with the turbocharged, 16-valve racing cars. Just 200 of these 134mph road cars were made by the Zakspeed-Ford co-operation, though a run of 300 to 400 was originally envisaged. Ford of Europe Vice President Karl Ludvigsen did have one brought over to Britain. All were LHD and their carburettor-equipped 2.8-litre V6s were given only a modest boost of 0.38 bar by a KKK turbo at first For later production, a Garrett AiResearch turbine was adopted, when boost was apparently increased to nearly 0.5 bar. With the higher boost figure these special Capris gave 188bhp at 5,500rpm and at least 200lb/ft of torque was on tap at a highish 4,500 revs.

Externally they were the wildest Capris ever to be offered by a Ford dealership. They had a very large rear wing in the style of the 16-valve racers, high and wide. The popular X-pack/RS body kit inflated the wheel-arches over alloy wheels 6.5 or 7.5in wide. The front spoiler was the largest German authorities would allow, and it was usually removed when transporting new vehicles! The price, at the close of production in September 1982, was just under £8,900 without options.

There have also been turbo Capris on sale through Ford dealerships in Britain that might well have achieved RS status, for SVE were very interested and co-operative in their formative stages. First was the Tickford Capri 2.8T, based on the 2.81 with a Japanese IHI turbo conversion giving 205bhp. This package, of which less than 90 had been made when I checked in 1986, included disc brakes for the back axle and comprehensive body modifications, its price creeping up from something over £15,000 closer to £20,000 for the final batch in 1986-87.

Autofive - March 10, 2008 11:24 PM (GMT)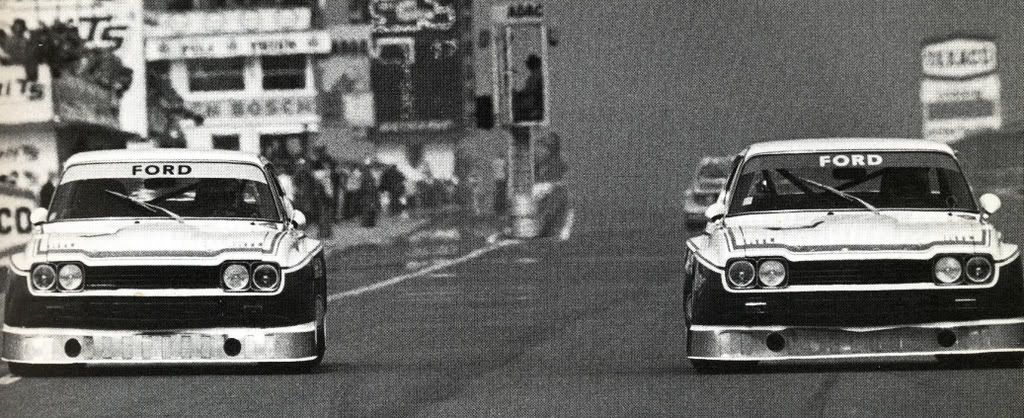 The Capri RS3100 was created to race, but its appearances were limited by the fuel crisis of the 1973-74 winter. Here the two works team cars of Roif Stommelen (right) and Tome Hezemans storm the 1974 Eifelrennen, Stommelen leading a 1-2 finish.
The second Ford-approved Capri Turbo was an engine conversion only (with optional braking and handling improvements) from Turbo Technics, prices starting at £1,400 without VAT.
Back in 1974, the RS3100 Capri, with its 100mph cruising capabilities and 3.1-litre flexibility, was priced in the same £2,500 sector of the market as BMW's 2002 saloon, Alfa Romeo's 2000 GTV Bertone coupe and the 3.5-litre MGB V8 GT. In fact the RS3100 was not a commercial success, but that was not the car's fault. It simply arrived at the wrong moment both in Ford terms (they were preoccupied with launching Capri II) and during that traumatic fuel crisis when many British garages rationed petrol and prices per gallon rocketed. Only in the 1980s has appreciation of the model's worth begun to spread. We can estimate that 150, or perhaps less, original examples remain in use.
Additionally, some RS3100 clones have been constructed, based on 3-litre Capris of the period.
Development of the racing Capri RS3100 was shared between Cosworth Engineering at Northampton and Ford Motorsport in Cologne. Responsible for the engine work at Cosworth was Michael Hall, whilst the Ford engineer on the Capri that would surround that uprated V6 was Thomas Ammerschlager, who has also worked with NSU and Audi and at the time of writing was the BMW Motorsport executive engineer with responsibility for the M3. Development driving and a little race mileage came from the Dutchman Tome Hezemans, who had been 1973 European Touring Car Champion with BMW.
The Cosworth-Ford GM engine developed in 1973 for the car retained the four-bearing 60-degreeV6 iron Essex block to conform with Group 2 regulations, but everything else was new. The cylinder heads, cast in LM25 aluminium alloy, contained four valves per cylinder, in the well-established Cosworth manner, operated by four overhead camshafts driven by toothed belts. The steel crankshaft and all the other moving parts were to Cosworth racing specification. A nicely-engineered dry-sump pan, again in light alloy, enclosed the bottom end. Lucas mechanical fuel injection was used.
The production V6 stroke dimension of 72.4mm was combined with a bore size enlarged to 100mm to give the racing engine a capacity of 3,412.5cc, and the compression ratio was 12:1. With a safe maximum of 9,000rpm, it developed peak power at 8,500rpm and initial trials produced just over 400bhp. Further development was limited until Ford were able to ensure the co-operation of the foundry at Dagenham in providing top-quality cylinder blocks for durability under racing conditions.
Autofive - March 10, 2008 11:57 PM (GMT)
Forceful appearance of the Group 2 racing Capri is displayed by the works RS3100 of Glemser and Hezemans at the Nurburgring in 1974. Delayed by axle repairs, they finished second to the winning Zakspeed Escort.
Stronger blocks were completed after a few initial upsets of the 'well ventilated engine' variety and 440bhp at 8,500rpm, plus 280lb/ft of torque at 7,000rpm were quoted later in the RS3100's racing career. At first, the specific power output corresponded to 121.6bhp per litre compared to the 108.5 of the last Weslake 12-valve V6s (that is at a generous 325bhp for the latter), but during 1974 Cosworth were certainly supplying units giving over 129bhp per litre.
Cosworth had to make enough parts for a run of 100 GAA engines in order to satisfy the Group 2 homotogation requirements, but the cutback in racing activities in 1974, which was one result of the fuel crisis, meant that few of them were used in racing Capris. Many found their way into Formula 5000 single-seaters and thence into a variety of specials. Development has continued, too, with Cosworth-approved builders such as Swindon Racing Engines extracting over 136bhp per litre from the unit in the 1980s. That meant around 465bhp for the rear-wheel-drive Mk3 Escort I was able to fry! Torque delivery felt rather more awesome and spread wider throughout the rev range than the figures would suggest, and the engine had an attractive six-cylinder note and surprising smoothness in operation.
First trials of the racing RS3100 were held with the old 12-valve Weslake-Ford installed and a rear-mounted radiator. However, this had obvious disadvantages in close combat, so side radiators were deployed. As ever, Thomas Ammerschlager spent time on wind-tunnel testing to discover the optimum front spoiler and wheelarch arrangements, the RS Capri emerging with a blanked-off grille and the side rads to produce over 170mph on the 415bhp that was initially available.
Handling was assisted by the rear spoiler that came as part of the RS3 100 package, but weight was up considerably and a lot of it was just where racing saloons loathe avoirdupois: in their noses! The old Weslake weighed 3601b, versus 385lb for the new motor, and so the RS3100 raced at 2,315lb/1,OSOkg, rather than the sub-1,000kg kerb weights of the 1973 Capri RS racers. Hence the need to shift all movable mass rearward, including radiators for oil and water.
Although suspension layout remained as for the racing RS2600, spring rates continued to climb as Ford fought to contain the roll angles that developed as their coupe got faster, heavier and more powerful. BBS centre-lock alloy wheels grew to l6in diameter and carried 10.8in and 13.8in wide Dunlop slick tyres. Also improved were the disc brakes: four ventilated ATE units, 11 .9in/ 302mm front and 11.5in/292mm rear, powered by an electro-hydraulic pump that was later developed for production cars such as BMWs.
Autofive - March 11, 2008 12:00 AM (GMT)
No British testers measured the performance of these new wave Capri RS racers, but Auto Motor und Sport in Germany recorded 0-100km/h (0-62mph) in 4.2 seconds and 0-200km/h (0-124mph) in 13.1 seconds. Not that much of a gain over the RS2600 on paper, but lap times were considerably reduced thanks to the extra pulling power and the stability conferred by the back wing and other 1974 aerodynamics. To demonstrate the point, the 1972 works Capri RS2600 lapped the ultra quick 4.2-mile Hockenheimring in 2mm 24.7sec (104.9mph average). The lap time two years later in a parallel practice session was 2mm 15.4sec (112.09mph).
The works RS3100s made their first appearance in April 1974 for both German and European Championships. In the European series at Salzburgring there were two RS3100s against a single works BMW CSL (which also featured an injection 24-valve six, but in-line). The faster Capri was that of Tome Hezemans/Dieter Glemser (1mm 17.44sec versus the pole position BMW's 1mm 17.l4sec) and the other was crewed by Niki Lauda/Jochen Mass. The Capris led, but both broke their engines.
Just four days later, the Capris wreaked vengeance before their home crowd at the Nurburgring, finishing 1-2, but opposition from BMW was patchy in that year's home series. In fact the German series was a bit of a Ford benefit, for Dieter Glemser won the outright German national title for the Zakspeed Escort RS1600 and the over 3-litre class was headed 1-2 by Klaus Ludwig and Rolf Stommelen in the corporate blue and white RS3100s.
The first European Championship win for the factory Ford Capri RS3100 was recorded on August 11, 1974 at Zandvoort. A pair of works Capris faced the SCA Freight Chevrolet Camaro of Aussies Frank Gardner/Brian Muir and Jochen Mass/Rolf Stommelen were the winners.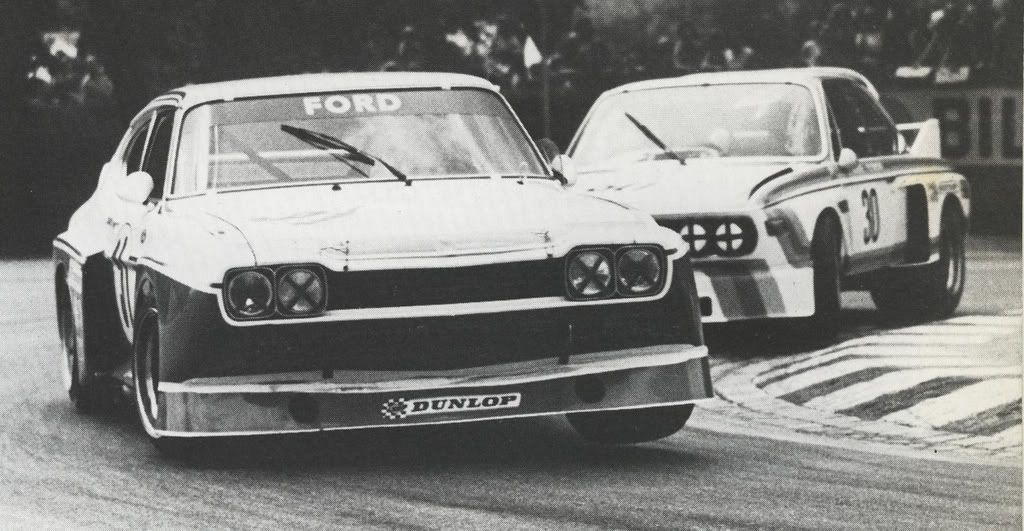 Perhaps the greatest duel of the 1970s Ford versus BMW battles: the fourth round of the German Championship at the Norisring in June 1975, where Jochen Mass (RS3100) repeatedly swopped the lead with Hans Joachim Stuck (BMWCSL).The Capri driver won and set fastest lap, but that year's title went to the Zakspeed RS1800 of Hans Heyer.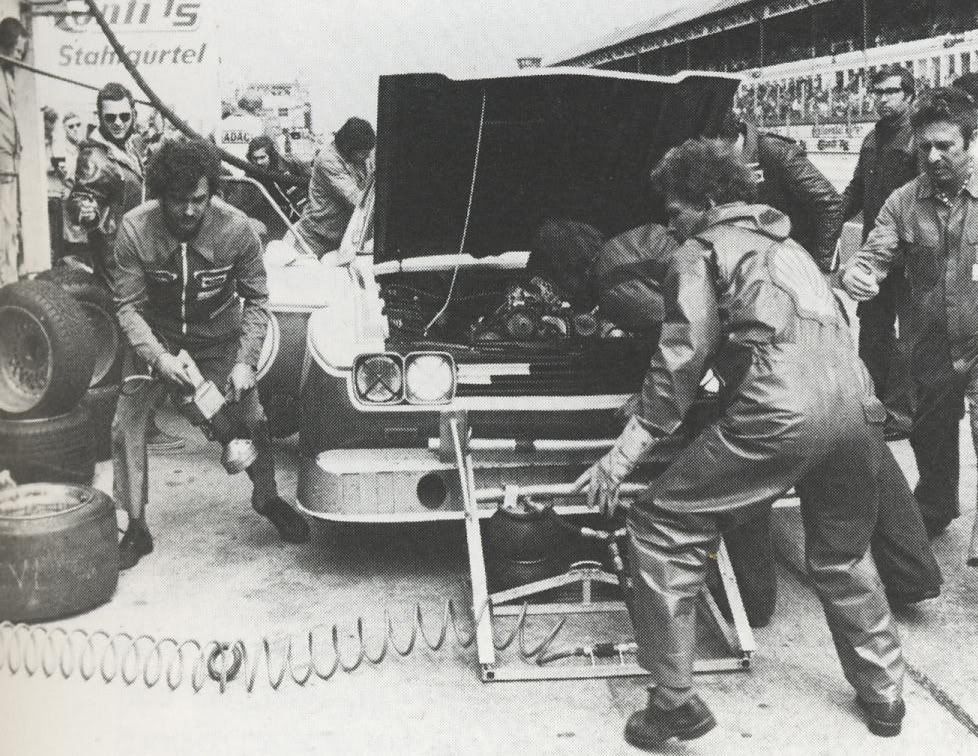 Works Ford team pit stop at the 1974 Nurburgring 6 hours, directed by Thomas Ammerschlager, in spectacles to the right, to be found in 1987 overseeing the engineering of BMW's successful M3 racer.
Autofive - March 11, 2008 12:03 AM (GMT)
The works RS3100s also won their next engagement, at Jarama in Spain, when Hezemans/Heyer with Klaus Ludwig ensured that the Zakspeed Escort won Ford's first title as a manufacturer in the European series since the days of the Lotus Cortinas. Drivers' titles were easier than beating the small class manufacturers to an overall Makes award...Finally, in 1974, the works went to South Africa again and finished fifth overall in the 9-hour sports car race at Kyalami, Mass and Hezemans winning the saloon car class.
Ford Cologne did manage to race the RS3100 into 1975, but only German and South African events were tackled as a factory team, and then subsidiary sponsorship was needed. Ford were not really gaining anything by racing the obsolete two-door body. In the European series BMW were absent, too. The legendary confrontation between Capri RS and BMW CSL for premier league European honours last occured in July 1974, when neither six-cylinder car won: a Zakspeed Escort took that Nurburgring result after a dramatic race.
In German Championship racing, the BMW-versus-Ford fight continued into 1975, but sporadically. The 1975 works Capri RS3 100, now with Kugelfischer injection adopted during a South African winter sojourn, began with a win on June 29 at the televized Norisring meeting for Jochen Mass after a battle with Hans Stuck's BMW.
Klaus Ludwig showed well at Kassel-Calden in August, setting fastest training and race laps in the works Capri to lead the opening 13 laps, but finally finished ninth after a collision with the winning BMW. Later that month the good Klaus won an international German round at Hockenheim, the Capri now capable of lapping in 2mm 12.5sec (114.5mph,) so lap speeds were still going up even if the RS3 100 was obsolete by factory standards.
As the season closed at Hockenheim in September, Ludwig clinched another victory, but did not lap quite so quickly as in August. Was this the last outright win for a works-run Capri? Mmm, Ford followers could debate the merits of that statement: the RS3100 was entered by Team
GeneralAnzeiger
, a Bonn newspaper.
Cosworth-Ford GAA engine, with four valves per cylinder and twin camshafts on each bank, was an impressive sight with its shining Lucas fuel injection intake stacks. Minimum target output of 400bhp was exceeded on the first test-bed run.
Autofive - March 11, 2008 12:04 AM (GMT)
Capri RS that might have been: Tom Walkinshaw, the man behind the TWR Rover and Jaguar winners in the 1980s, seen here back in 1975 outside the admin building at Boreham leaning on a Capri II with flared arches and rear spoiler which could have become the RS2800, five years before the 2.8 injection model appeared, had the need to produce the RS2000 for a larger potential market not taken precedence.
However, the important point was that the works RS3100 beat a strong field of Porsches and BMWs to finish second overall in the points totals for the 1975 Deutsche Rennsport Meisterschaft, beaten, by just eight points, by the Hans Heyer Zakspeed Escort RS. It was Zakspeed's third successive German Championship year with the Escort.
The last record I had of the works running their Capri RS3100 was for the Wynns 1,000km in South Africa on November 1, 1975, when Jochen Mass and Klaus Ludwig retired. However, information from Australia in 1987 indicated that Derek Bell and Jody Scheckter also competed in that South African Capri finale. A fire in practice, and a lost wheel, did not prevent them finishing fifth overall behind 'pure' sports cars.
That seems an honourable ending for the Capri's works career. Yet, that RS3100 was not destined for peaceful retirement.
The Bell/Scheckter Capri was the ex-Cologne RS3100 that Australian-domiciled saloon car folk hero Allan Moffat had secured. He ran it in 1975 against highly modified local V8s with some success and returned it to the tracks in 1976 when his Chevrolet Monza hit eligibility problems. Thus the Capri RS3100, still in Ford colours but with additional Pan Am airline backing, was the car which ensured that the 1976 Australian Sport Sedan Championship was won by Allan Moffat.
Mr Moffat retains that car in his collection of past winners from his long career, but even that is not the end of the ex-works RS3100 tale. For 1985, former Ford dealer Vince Wood-man paired up with current dealer Jonathan Buncombe and they won eight out of eight Shell Thunder saloon qualifying rounds in Great Britain in Vince's ex-works RS3100. That car was prepared by Dave Cook in York, one of many successful Capris engineered over the years by this gentleman and his close-knit band of helpers, and it was propelled by 465bhp from Swindon Racing's updated version of the 3.4-litre Cosworth Ford V6.
Some old racing saloons just get better by the season...
Autofive - March 11, 2008 12:05 AM (GMT)
Capri RS on the road

The only British owner we have been able to contact was 38-year-old teacher and Ford RSOC official, Jacques le Clainche. Now living in Peterborough, Jacques was an ideal candidate for RS2600 ownership, having swopped an RS3100 for the 2600 as a private exchange in June 1986.

As he reported somewhat wryly: I do have a lot of information about spares for RS Capri cars...I have to, as I was always looking for parts for myRS3100 and now for my 2600

His RS2600 arrived with the equivalent of 25,000 miles registered and Jacques covered just over 1,800 miles before entrusting the restoration of standard specification bodywork (it came with extended wheel-arches) to Unit 5 in Brimington, Chesterfield. The car was being restored when this was written and the owner was beginning to get to grips with costs such as £50 for engine gaskets from Germany and £75 per wing.

Aside from my own driving impressions, later in the book, I do know of one contracted racer, Frank Mazet, who exceeded 50,000 miles quite happily in his RS2600, re-registered in Monaco, before the factory doctors descended upon it.

If you feel as though only an RS2600 will do as your RS, then the only realistic way I can see of getting any sort of choice is to fry and find one in Germany, France or Belgium. Prices naturally vary sharply with fluctuations in the exchange rate. However, it seems certain that the RS2600 is more highly valued in Germany than we value the 3100 in the UK, for the car originally cost about £1,800 to £2,000 in 1971, whereas the example I found in March 1987, far from standard, was £5,500 in round figures. Then you have got to import personally, paying import duties on the way...so it is unlikely we'll see even the keenest RS seekers duplicating Jacques le Clainche's purchase in significant numbers.

Response from RS3100 Capri owners was excellent, but before I detail some of their experiences I must thank Dennis Sellars, RS3100 registrar of the AVO Owners Club, who provided much of the detail information that has helped me keep in touch with the realities of owning such a Capri in the 1980s. As of summer 1986, Mr Sellars kept track of 103 club-registered RS3 100 Capris, whilst 17 Capri RS3100 owners had registered with Ford RSOC in Britain.

Autofive - March 11, 2008 12:06 AM (GMT)
My thanks also to Australians Tom Chaplin and Norman 'Norm' Walls for their extensive contributions. As a result of their work it is possible to estimate that total RS3100 production was closer to 250 than the 200 to 225 I have usually accepted as accurate.

Australia was particularly relevant to these calculations as 14 RS3100s are now registered with the Australian Ford RS Owners Club, of which Tom Chaplin is the secretary, based in Narara. Official records suggest that 50 RS3100s went to Australia, but some sources say that only 25 actually made it down under: if the latter is true a tremendous percentage have survived that rigorous decade of motoring! Incidentally, the Australians also have two examples of the factory RS Capri racing breed: the ex-Alan Moffat RS3100 and a 1972 Capri RS2600 in full works colours at a museum in Perth, Western Australia.

First, the more typical British owners such as M. J. Parkinson of Winsford in Cheshire have their say. Mr Parkinson bought his 1974 RS3100 privately for £3,000 in July
1984, when it had covered 40,000 miles. By the spring of 1987 it had registered 48,245 miles and had continued to supply the great enjoyment that this 33-year-old HGV fitter expected from previous ownership of a Mexico and an RS2000.

Mr Parkinson reported exemplary reliability, but the car was a very special find. He explained: A Janspeed exhaust system was fitted bythe previous owner, but the car is otherwise completely original. It has not been restored in any way, but the body panels are original, and in immaculate con-dillon. This is mostly due to the fact that the previous owner stored this Capri for four years. In over 2½ years ownership I have had no trouble with it, part from renewing the exhaust manifolds. These I obtained from Withers of Winsford, who stock most parts for RS cars.
Autofive - March 11, 2008 12:08 AM (GMT)
A more problematic approach was chosen by AVO Owners Club member Tony Llyn-Jones, who restored a shabby RS3100, now registered AGU 209N. It was the subject of an informative article in their club magazine, Havoc, quoted here with permission from club secretary Peter Williams.

Mr Llyn-Jones started with the advantage of a 'spare' 1974 Capri GXL of the same colour as the RS3100 to be restored. He confirmed that the negative camber front suspension means the wheels do foul the standard front wings on even the slightest amount of steering lock. As Fords were out of stock of flared RS Capri wings, Tony went to Withers of Winsford and purchased a pair. Tony Whiting in Plumstead fitted the wings, resprayed it all, and did a marvellous job, as confirmed by subsequent show outings.

Tony spent one year and 10,000 miles with this RS, but not without incident. I slipped into third and floored the throttle. Not a lot happened, except the engine note which immediately took to imitating a demented sewing machine! Accompanied by prodigious quantities of smoke from under the bonnet, we slowly limped home on considerably less than a full quota of cylinders.

The engine malfunction was a blown head gasket, but since the oversize 3.1-litre unit was well past its best, it was entrusted to Auriga Racing Engines in Swanley, Kent, for a comprehensive rebuild. The famed constructors of Formula Ford engines balanced the bottom end components, gas-flowed the cylinder heads and installed a Kent V63 fast road cam. The required oversize pistons came from Powermax.

Commenting that the engine now seemed more like a V8 than a six; Tony Llyn-Jones was delighted. Unfortunately the feeling was short-lived, for scarcely had the engine been run-in when the fibre timing wheel decided to shed all its teeth. This problem, not uncommon on the Ford Essex V6 (usually at higher mileages than average), cost three bent valves and deposited much debris in the sump.

Auriga met the cost of the rebuild and Llyn-Jones again became a regular RS Capri driver with a Sebring Red machine worthy of its classic show dates. Before he sold it to return to Mexico motoring, Tony Llyn-Jones made some very pertinent comments on owning this model. He liked the turbine-like power delivery and immense torque and found that the spoilers really do keep the car straight and quite indifferent to side winds. He found the handling perfectly acceptable and adequate...despite the big V6 up front.

A more critical note after that year's experience was: Fuel consumption can obviously be a problem. 28mpg maybe obtained with considerable restraint, dropping to about 18 for fast cross-country driving, with an average probably about 21 -22mpg.

Autofive - March 11, 2008 12:09 AM (GMT)
The braking scored a lukewarm adequate, yet never gave cause for concern, provided you were prepared to shove on the pedal hard enough. The ride is certainly choppy with the standard Bilstein set-up, but not uncomfortably so. Mr Llyn-Jones felt the Capri was probably more comfortable than a similarly equipped Escort over the bumps, because of the longer wheelbase, and put forward the idea that: A good variable-rate power steering system would greatly enhance the car's handling and make the initial understeer less of a problem.
In the wake of recent accidents that have destroyed some outstanding examples of the RS3100, Tony Llyn-Jones' warning about driving this Capri (or any of the V6 breed): The RS3100 is a car that needs, indeed in wet or damp weather demands, to be treated with respect Even under ideal conditions it can be something of a handful for the unwary.

Finally we came to the well-known concours Capri RS3100 of Norman Walls, which has been winning awards spread over eight UK shows since 1984. This machine is probably the finest advertisement for the RS3100's durability, for it was never a glass-case preservation item, experiencing Australia's rough roads before the owner brought it back to England.

Forklift engineer Walls (42) bought the 1974 RS3100 in Australia, with 29,000 miles recorded, in August 1977. Still going strong after 88,500 miles, this remarkable RS3100 has an American-manufactured sunroof and a ZF limited-slip differential. Because of Australian conditions — which can reduce a 10,000-mile Rover to driving like a 100,000-mile car in my experience - Norman made some further sensible changes. These included a stainless steel dual-pipe exhaust tucked up and away from outback ripples, and German Scheel 501S seating in fabric a la Capri RS2600. These were vital, replacing Ford's standard vinyl finish which became positively adhesive at 46 degrees centigrade

These and the provision of four seat belts with head-restraints in line with Australian regulations are understandable. I'm not sure if Norman exhibits the Capri RS on Simmons spun alloy wheels and Pirelli P6 low profiles on their l4in diameters, a combination acquired with the understandable aim of increasing grip.

Complete with extra Australian-market RS3100 decalling, Norman's RS Capri has had two engine rebuilds but the main parts (bores and crank) are still virtually original sizes. He feels synthetic oils such as Castrol R synthetic and Mobil 1 helped in this respect.

Autofive - March 11, 2008 12:55 AM (GMT)