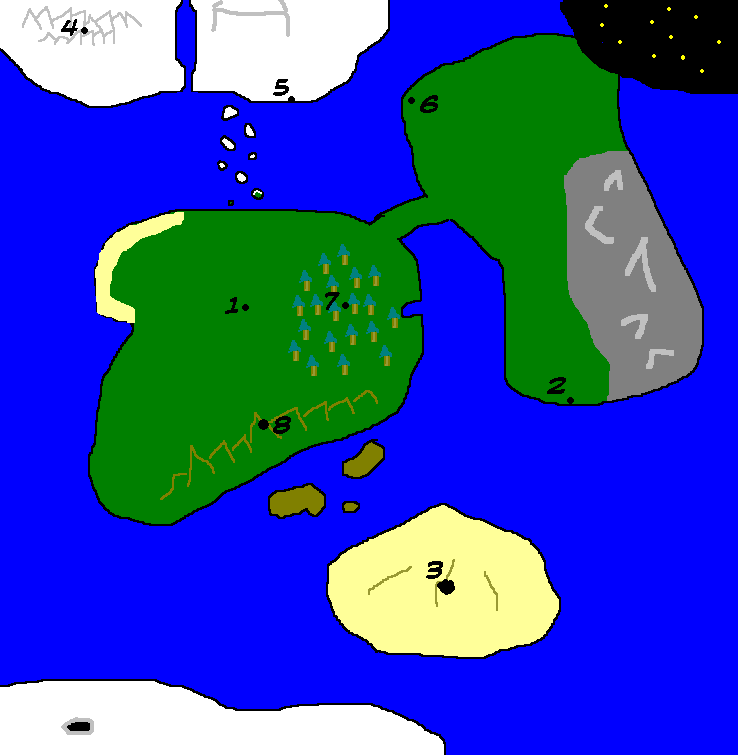 This is the wonderful world of Metica. Yeah.
Starting Cities
:
1. Rauchterre
: The human home city, near the central of the center continent and west of the Great Forest. The center of commerce and industry in the whole world, it is a massive hub, containing great amounts of every race except the Runics, who are scared of the humans there
Common races: Erisei, Kliniste, Human, Esconse, a few of the more human Inula.
2. Rikhaz
: A bustling port-city of the humans, located on the southern tip on the Eastern continent. Few Esconse are seen here due to the vast distance between the two societies. The Runics feel slightly more at home here because its closer to their capital.
Common races: Kliniste, Erisei, Human, Runic, (a few Inula)
3. Mendev
: The Kliniste hometown. It's the biggest city in the entire world, due to the huge concentration of Kliniste living behind its walls. The underground spaces are even more massive than the city itself, most of the underground is like one giant mall.
Common races: Kliniste, (a few) Human.
4. Junheid
: The beautiful Esconse home, though the Esconse are more dispersed than the Kliniste, many, many Esconse live here. It's a tough journey, many people who come come by small 'flying machines' a recent joint discovery by humans and Erisei.
Common races: Runic, Erisei, Esconse, Inula
5. Sonfreid
: The Esconse port to the east of the main city, this is where Esconse tend to sail from in their boats made of iron. Due to the closeness of the Runic capital, and the sentence by the humans after the war, this is also a shared city with the Runics
Common races: Runic, Esconse
6. Scivira
: Runic homeland, half of the city is preserved in ruins to remember and honor those who died in the great war. The other half has been beautifully reconstructed by members of all races, making this city a great haven for all.
Common races: Runic, Esconse, Kliniste, Erisei, Human, Inula
7. A'rthbod
: The hidden Inula hometown. The majority of the Inula live not inside the city, but spread out in numerous small towns throughout the forest. The Runics are the only other race who confirm they know the existence of this city.
Common races: Runic, Inula.
8. Aneidar
: The floating city of the Erisei. The only way for non-Erisei people to get up there is the new flying machines or with an Erisei escort. A place to shop for magic relics and items, but no weapons, this floating utopia in the sky makes for an excellent vacation spot.
Common races: Erisei (a few of the other races)
---
These are only but a few of the wonderous places in Metica. More will be posted as found.