Platform: WiiWare (costs 1,500 WiiPoints)
--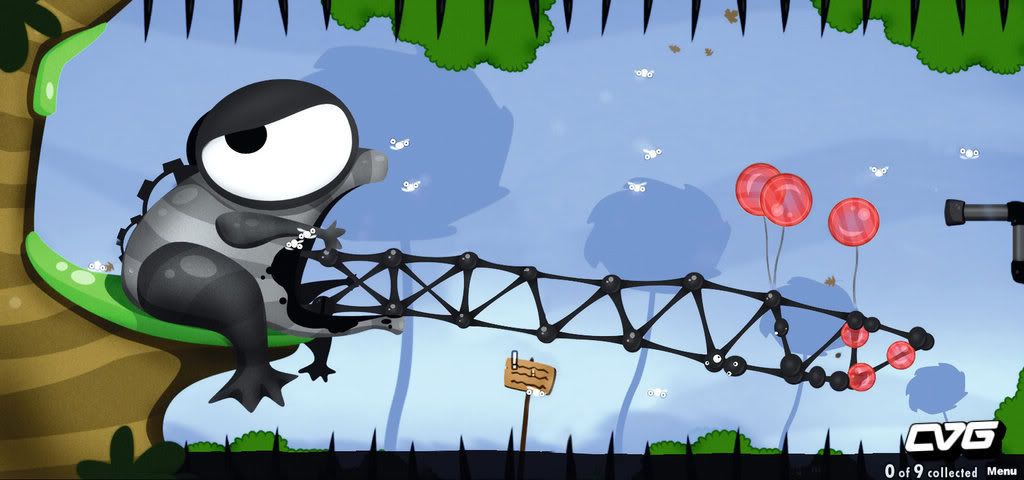 GAMEPLAY: 9/10
World of Goo is a somewhat simple game to summarize: It's like physics class meets The Nightmare Before Christmas. The goal of the game is to arrange semi-intelligent balls of goo into structures (think grade school, with marshmallows and toothpicks) in order to reach an ominous pipe at the end or top of each stage, into which all your extra balls of goo will be sucked away. Get a certain amount of extra goo balls, and you win the stage.
Sounds simple, but this game quickly graduates from simple tower-building to amazingly complex and difficult tasks, all running on a beautifully realistic and smooth physics engine. Green goo balls can be pulled from their position and reapplied, making it possible to brace your structure between two walls and slowly climb. Balloons help you float into the air for complex air maneuvers or keep a long bridge from falling into a pit of spikes. Red goo balls will light on fire and explode, while water-drop goo balls will only dangle downward. Giant goo balls need to be broken down into tinier pieces by big grinders before they can be put into the pipe. In a digital level, your goo balls can fire themselves from a structure and fly around a tiny planet with its own center of gravity.
But where do the extra goo balls go? Why, to the World of Goo! This is an extra area of the game where you collect up to 300 extra goo balls and compete with other real players to see who can build the tallest tower without letting it fall over.
VISUALS: 8/10
The gameplay is not the only innovative aspect of this wonderful little game. As I mentioned before, physics class is only one half of this wonderfully strange equation. The visual style of the game is very reminiscent of Tim Burton's the Nightmare Before Christmas or The Corpse Bride. In some ways, it also resembles the cartoon Invader Zim. Everything looks haphazardly hand-drawn with ink and what few people there are in the game have pale skin, red lips, and overly huge eyeballs. The little black balls of goo you work with only add to this strangely dark but inviting atmosphere.
AUDIO: 8/10
The music is also strongly Danny Elfman-esque at times. There are lots of strings and choirs singing "oohs" and "aahs" in the background. It rarely gets repetitive, though, and the music between various stages is different enough to stay interesting. The sounds the little balls of goo make as you lead them to their uncertain fate give them a lot of personality and actually makes you feel a little sorry for them toward the end.
VALUE: 7/10
While World of Goo is not a particularly long game (the main puzzles might only take you five to ten hours to get through, depending on your skill level), it has the added bonus of the World of Goo feature, where you can constantly build and rebuild your tower and find new ways to reach higher than everyone else. There are also extra challenges on each board, such as getting a much higher count of extra goo balls or completing the level in a certain number of moves or seconds. Trying to get these "OCD" awards, as they are called, can be very challenging and might keep all but the most skilled player occupied for even longer than they spent making their way through the main game.
It also doesn't feel tiring or repetitive to start over, as the game begins quickly and lets you revisit boards you had forgotten about the first time through.
STORY: 7/10
So where are all these balls of goo really going? Where do the mysterious pipes lead to? And do you think that goo might taste particularly delicious on a slice of toast? All of these questions and more are answered as you progress through the wacky, surreal storyline, once again akin to something you might expect from The Nightmare Before Christmas or The Corpse Bride. It is perhaps not as long as one might hope, but what is there is whimsical and intriguing, and actually becomes somewhat epic.
--
Sound like something you might enjoy? Just hop on your Wii Shop channel and download it straight to your Wii! (I think it might also be available for PC, but I'm not sure--it seems like it would be best on the Wii.)
Visit the website here:
www.worldofgoo.com