Title: ABS v.2 WIT COLORRZ WIP
Miffed - October 1, 2007 01:21 AM (GMT)
After learning how to use photoshop I finally decided to get back to work on this. Was trying to adapt my pencil shading style to it, but it's proving to be quite difficult. Also color theory is fun. I'll do a quick and easy tutorial on it sometime.
To do:
Arms
Shorts
Head
Smokey stuff
A simple background
Ribs on my left
To re-do:
Forearm
Abs
Oblique
a small section of the ribs on my right
linked cause it's big.
http://img.photobucket.com/albums/v236/mif...copycolored.jpg
Hadn't drawn my pwn bots in awhile so I drew the ABS. Then I noticed it was a bit bland and needed something to give it a more robotic feel. So I just added little air vents.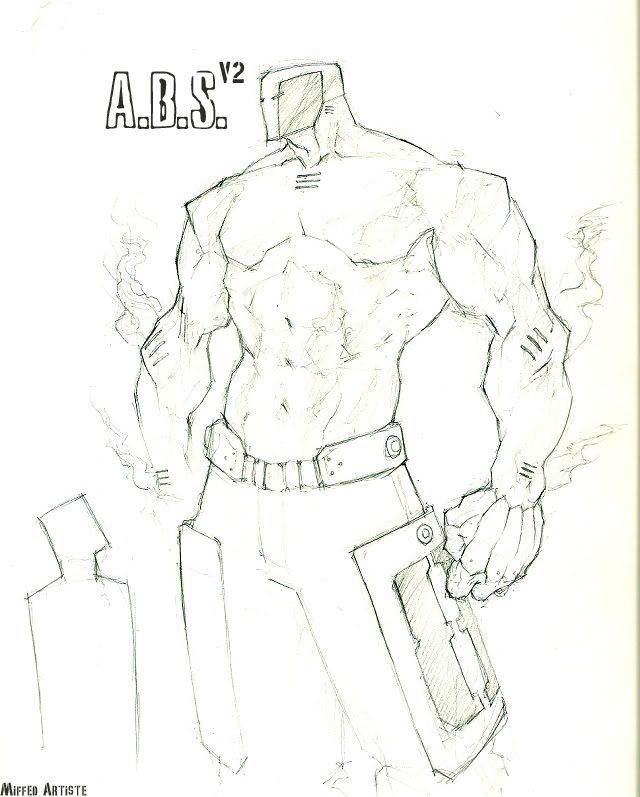 I'm working on cell shading it in photoshop. might be awhile considering I need to get the hang of it.
kizanko - October 8, 2007 09:43 AM (GMT)
amazing!!!!!!
Nice work i can't w8 to see it colored :ysmile:
Fish on a Stick - October 8, 2007 11:41 AM (GMT)
I gotta do a fanart of one of these one day.
Blue Farce - October 8, 2007 12:03 PM (GMT)
It's head is tinier than before.
Miffed - October 8, 2007 05:51 PM (GMT)
@Kizanko, just don't expect it anytime soon. school's been getting in the way. :yowned:

@blue, yeah thats to give it a much larger feel so that without a scale guy you could still get a sense of size.
Miffed - January 25, 2008 07:15 PM (GMT)
SHAZAM!BUMPDATEDANDDOUBLEPOSTEDZOMG!
Shinigami Nabeshin - January 25, 2008 08:33 PM (GMT)
ahhh awesome... its like a bad guy you wanna see in a movie, ya just wanna see this thing kick the crap outta everything =D
Shrikatetsu - January 28, 2008 12:06 AM (GMT)
...except the protagonist lol
Piano - January 30, 2008 04:06 PM (GMT)
It's so awesome, really can't wait to see it done >3 I like the air vents.

Even the protagonist >P
Balcom - February 1, 2008 01:29 AM (GMT)
oh hohohooo! yessir! dig it. and it would appear that you and I share a similar appreciation of air-vents?